Arugula Microgreen Market Research, 2031
The global arugula microgreen market size was valued at $165.2 million in 2021, and is projected to reach $402.6 million by 2031, growing at a CAGR of 9% from 2022 to 2031.
Arugula microgreens are tiny and immature edible greens. They are harvested 7-20 days after seedling emergence and before the full growth of the first pair of leaves. Their length can reach 10 cm. Arugula microgreens are rich in nutrients and pack an abundance of phytonutrients such as vitamins B1, K1, and C, carotenoids, minerals as well as antioxidants, which are known to improve immunity and have protective benefits against cancer. Arugula microgreens have an aromatic flavor and concentrated nutrient content and come in a variety of colors and textures. They are considered baby plants, falling somewhere between a sprout and baby green.  
The arugula microgreen market was impacted slightly negatively during the pandemic. The loss of supply chains and distribution channels in the initial months of the pandemic had caused small losses for the market; however, these losses were recovered in the later phases. COVID-19 pandemic has interrupted the supply chain of food products at local level as well, with only essential food items were allowed to transport. The emerging economies, such as China and India, were not able to meet the demand for arugula microgreen, especially broccoli.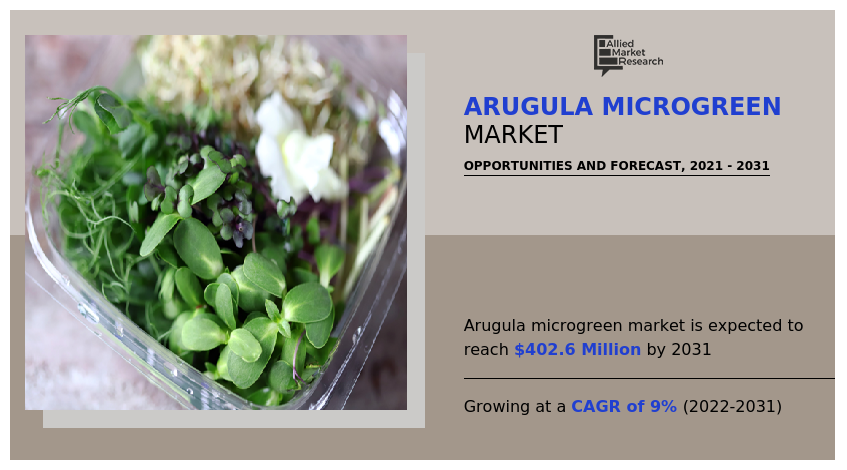 The arugula microgreen market is segmented into Farming and Distribution Channel.
Indoor cultivation is nothing but the cultivation of food crops in a controlled environment so that the crops can be produced in any season with high productivity. An increase in food demand and reduction in agriculture food production have been leading farmers to use indoor farming. The reduction in agriculture production is mainly due to decreasing fertile land, unfavorable climatic conditions, and limitations for use of natural resources. With such factors, production by conventional farming is not sufficient to satisfy the demand for a growing population. For instance, according to the United Nations (UN), the current world population of 7.6 billion is expected to reach 9.8 billion by 2050 and 11.2 billion in 2100 (UN, 2017). Greenhouses and indoor vertical farming are majorly used farming practices for the production of arugula microgreen, owing to benefits associated such as increase in productivity of farming land, control against extreme weather conditions, more efficient use of productive resources, and minimize the risk of pests, weeds, and crop diseases. Furthermore, the rise in technological innovations in indoor farming including the insurgence of information technology in vertical farming and greenhouses are further promoting farmers to adopt farming, which indirectly supports for the growth of the global arugula microgreen market during the forecast period.
Arugula microgreens, considered an emerging functional food, are young seedlings of vegetables and herbs, produced in seven to fourteen days. They have gained popularity in restaurants, but are still relatively unknown and not well understood, owing to lack of awareness regarding the health benefits and lack of proper technical knowledge for its cultivation. It has huge potential to satisfy the growing demand for vegetables and highly nutritious food.
Various types of young vegetables, such as sprouts, arugula microgreens, and baby greens, are becoming very popular due to their higher nutritional value than their mature plants or seeds. They are gaining popularity as a new culinary ingredient and are used to enhance salads or as edible garnishes to embellish a wide variety of other dishes. Due to higher price points at retail, arugula microgreens are considered a premium product. With rise in the adoption of protected cultivation farming, people are becoming aware of high-valued crops and their immense demand in developed countries including the U.S., Spain, and Japan.
Indoor vertical farming is one of the emerging technologies in indoor farming. Most of the farmers are unaware of this technology and crops that can be cultivated through this farming type. Vertical farming and greenhouses farming involve various technologies such as sensors, artificial intelligence, automatic systems, hydroponic, aquaponics, and aeroponic systems. To operate these advanced systems, a knowledgeable and skilled workforce is essential. Maintenance of machines and computers too requires people who are technically well-trained.
Lack of skilled workforce has affected different sectors at a global level, and vertical farming is not an exception. In addition, most of the farmers venture into this market with their systems, which are not efficient in terms of design and are costly. There are very limited range of arugula microgreen types. Arugula microgreen not yet available in the range of vegetable as vegetables are found with various types and species. These factors are expected to restrain the market growth.
Changes in lifestyle of consumers has been one of the major factors that have contributed to the growing popularity of arugula microgreen in developing economies. In Asia-Pacific countries, surge in per capita income has led to changing food habits of customers. Rise in aspiration and penchant for luxury lifestyle has led to manifold increase in market size and overall demand. Moreover, in Latin America and the Middle East, per capita income has increased considerably over a decade, which is expected to rapidly boost the demand for luxury food in upcoming years; thereby, providing lucrative opportunities for the market.        
Arugula microgreen not only requires advertisement for its awareness but also wide area distribution network. The rapidly increasing number of large Retail including supermarkets and hypermarkets in developing economies has enabled easier availability of arugula microgreen, as these stores help increase the sales of functional food. Supermarkets & hypermarkets and grocery stores have served as a better distribution point for various agricultural food products such as packaged fruits and vegetables. Growth in urbanization is expected to boost the growth of the retail sector, which in turn, generates the Arugula Microgreen Market Demand.
Furthermore, arugula microgreen growers are operating their own websites for selling arugula microgreen. Online Food service and online stores are supporting the Arugula Microgreen Market Growth.
The key players and the vendors are facing problems due to poor logistics, traffic control, and restrictions on public movement in the affected countries across the globe, which can lead to supply disruptions. Trade restrictions imposed by several countries across the globe to curb the outbreak of COVID-19 has significantly affected global logistics and transportation, which has affected the functional food market. Restrictions have had a direct impact on the food supply chain with the tightening of transportation and port capacities, while also leading to an increase in shipping and freight costs. Furthermore, this has resulted in the shortage of food supply, which is likely leading to choked production and affected availability of food & beverage products at retail level. A prolonged restriction on trade and logistic challenges is expected to have a significant impact on the revenue of functional food businesses.
The arugula microgreen market is segmented on the basis of farming, end user, and region. By farming, it is segregated into indoor vertical farming, commercial greenhouses, and other. By end user, the market is segmented into retail, food service, and others. Region-wise, it is analyzed across North America (the U.S., Canada, and Mexico), Europe (Russia, Spain, Italy, France, Germany, UK, Rest of Europe), Asia-Pacific (China, Japan, India, Singapore, South Korea, Australia and Rest of Asia-Pacific), and LAMEA (Latin America, Middle East, Africa).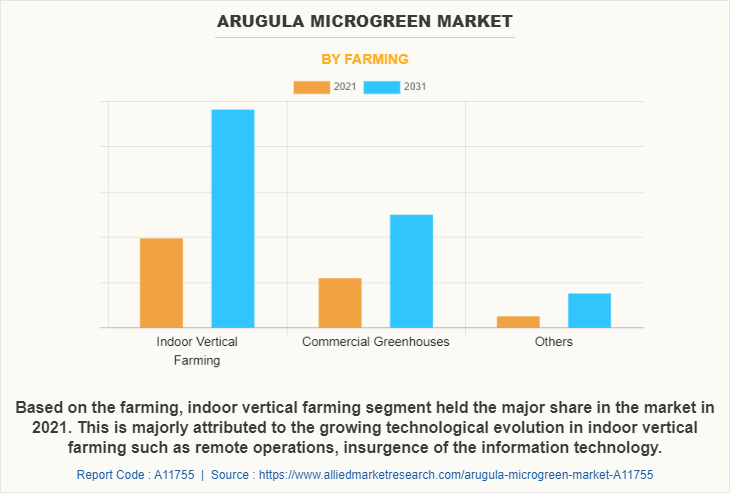 Based on farming, the commercial greenhouse segment witness a major growth rate during the forecast period. Greenhouses mainly depend on sunlight and require a horizontal arrangement of plants to access equal exposure of sunlight. This means that they require a large amount of space and are therefore best suited for rural or suburban areas. In the production of arugula microgreen, the greenhouse has been gaining a significant share and is expected to sustain its share during the forecast period. This is majorly attributed to benefits associated such as it allows to establish most suitable climatic conditions for each crop and stage of plant growth, greater control over pests, weeds, and diseases, and more efficient use of productive resources.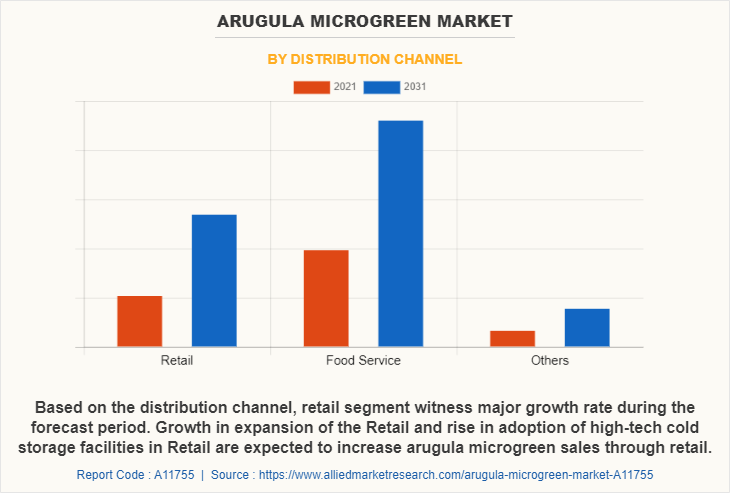 Based on the distribution channel, the food service segment led the market and accounted for 59.2% of the global arugula microgreen market in 2021, and is expected to maintain its dominance throughout the Arugula Microgreen Market Forecast period. Microgreen products are majorly used in restaurants as flavoring and garnishing agent, owing to their spicy taste and crunchy texture. They enhance taste and color of various food items prepared in the restaurants such as mix salad, juice, pasta, and omelets. Key players in the market are continuously evolving requirements for the commercial industry by modifying and innovating existing microgreens just like non-microgreens products. As a result, frequent product launches, especially for the food service segment have been witnessed in the past few years.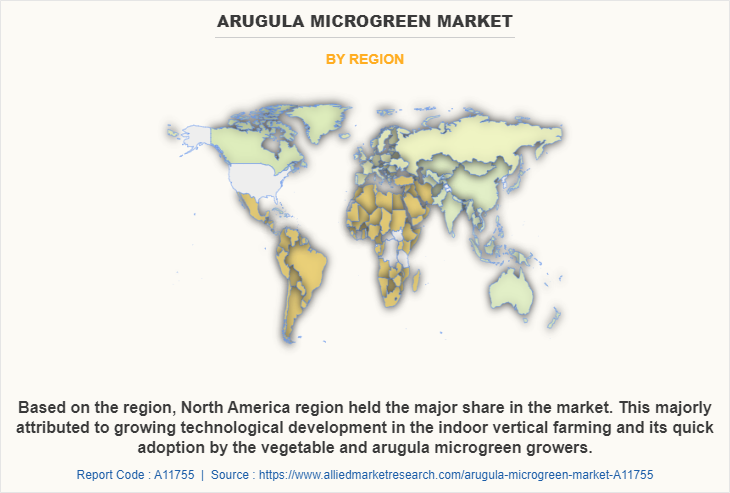 Region-wise, North America has been holding the highest Arugula Microgreen Market Share and is expected sustain its share during the forecast period. This is majorly attributed to growing technological development in indoor vertical farming and its quick adoption by vegetable and arugula microgreen growers. In the U.S., arugula microgreens are in high demand from chefs as flavor enhancements and as colorful garnishes on the plates of hotels and restaurants that is why organic vegetable growers are tapping into this arugula microgreen market. Furthermore, these organic vegetable growers are getting advantage of the considerably low competition in the market as arugula microgreen is an emerging and untapped market.
The players operating in the arugula microgreen industry have adopted product launch and business expansion as their key developmental strategies to expand their market share, increase profitability, and remain competitive in the market. The key players profiled in this report include AeroFarms, TruLeaf Sustainable Agriculture, Gotham Greens, Madar Farms, 2BFresh, The Chef's Garden Inc., Farmbox Greens LLC, Living Earth Farm, TruLeaf Sustainable Agriculture, and Bowery Farming.
Key Benefits For Stakeholders
This report provides a quantitative analysis of the market segments, current trends, estimations, and dynamics of the arugula microgreen market analysis from 2021 to 2031 to identify the prevailing arugula microgreen market opportunities.
Market research is offered along with information related to key drivers, restraints, and opportunities.
Porter's five forces analysis highlights the potency of buyers and suppliers to enable stakeholders to make profit-oriented business decisions and strengthen their supplier-buyer network.
An in-depth analysis of the arugula microgreen market segmentation assists to determine the prevailing market opportunities.
Major countries in each region are mapped according to their revenue contribution to the global market.
Market player positioning facilitates benchmarking and provides a clear understanding of the present position of the market players.
The report includes the analysis of the regional as well as global arugula microgreen market trends, key players, market segments, application areas, and market growth strategies.
 Arugula Microgreen Market Report Highlights
Aspects
Details
Market Size By 2031
USD 402.6 million
Growth Rate
CAGR of 9%
Forecast period
2021 - 2031
Report Pages
200
By Farming

Indoor Vertical Farming
Commercial Greenhouses
Others

By Distribution Channel

Retail
Food Service
Others

By Region

North America (U.S., Canada, Mexico)
Europe (Spain, Italy, Russia, France, Germany, UK, Netherlands, Rest Of Europe)
Asia-Pacific (China, Japan, India, South Korea, Australia, Rest Of Asia-Pacific)
LAMEA (Rest of Latin America, Middle East, Africa)

Key Market Players
2BFresh, Madar Farms, TruLeaf Sustainable Agriculture, The Chef's Garden Inc, True Leaf Market Seed Company, Living Earth Farm, AeroFarms, Gotham Greens, Bowery Farming, Farmbox Greens LLC