The global bovine gelatin market size was valued at $2,811.5 million in 2020, and is expected to garner $6,153.8 million by 2030, registering a CAGR of 8.2% from 2021 to 2030. Conventional segment is likely to reach $3,920.8 million by 2030.  
Bovine gelatin is a colorless, translucent, flavorless, and brittle food additive derived from collagen present in several animal body parts. Gelatin is generally used as a jelling agent in pharmaceutical drugs, food, photography, vitamin capsules, and production of cosmetic. Moreover, gelatin is also one of the most commonly used food additives especially in the confectionary industry and several dairy products, such as cream desserts, yogurts, and a wide range of low fat dairy products and is used to enhance the stability and texture of the product. Gelatin is the mixture of peptides and proteins produced by partial hydrolysis of collagen extracted from tissues of animal such as chicken, pigs and fish.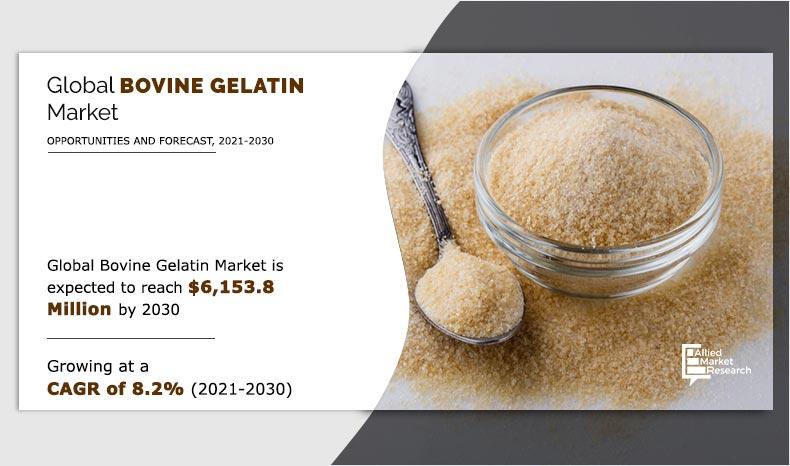 The global bovine gelatin market has been witnessing bright opportunities, owing to increase in concerns regarding wellness and health among the global population. Moreover, rise in demand for dietary supplements, increase in use of gelatin in the food & beverage industry, inclination of consumers toward healthy and protein rich diet, and increase in applications of gelatin in nutri cosmetic, pharmaceutical, and healthcare drive the global bovine gelatin market growth. 
There has been surge in the usage of collagen and gelatin in food supplement industry. Leading players are incorporating collagen into their ingredients in their products to serve the rising demand. The companies are focused on introducing new plant-based collagen food supplements. It is mainly being applied in manufacturing of products which enhance skin, hair, and bone health. For instance, in April 2020, Garden Of Life launched new Grass-Fed Collagen food supplement powder that can be consumed with water, smoothies, shakes, or any food & beverages.
Bovine gelatin is a promising natural ingredient for health products because of rising consumer demand for natural supplements and an ageing population. Many companies are releasing new natural health products. Customers are more willing to try complementary and alternative medications, which is driving up demand for natural products. Customers strongly prefer natural, not other sourced products to prevent ailments. Naturally sourced ingredients are preferred as the customers feel safe. The associated health benefits and customers' inclination towards natural ingredients are the key reason that drive the demand of such products in the bovine gelatin market.
New and changing regulations have a major impact on the bovine gelatin business; for instance, Code of Federal Regulations Title 21, food additives and ingredient have to undergo several food tests to ensure food safety before human consumption. The food additives are rejected if they harm more than 1% of the experimented animal. Moreover, rise in animal disease, such as swine flu, bird flu, mad cow, heavy metal disease, and others, is further anticipated to restrict the growth of the market. 
Bovine Gelatin Market

---
By Form
Powder segment would witness the fastest growth, registering a CAGR of 8.7% during the forecast period.
Many companies have made an investment to expand its reach in the fortified confectionery and supplement markets. The market for fortified confectionery is a strategic move. The new line of fortified confectionery is intended to deliver specific health benefits while preserving superb taste and texture. 
Strong global concerns about the pandemic, coronavirus, have largely but negatively influenced the global bovine gelatin market in 2020. Moreover, due to the high demand and low supply trends, the prices of products increased in 2020 to overcome on economic instability. On the contrary, disruptions to the supply chain in shipping could lead to temporary shortages in the supply, putting upward pressure on prices in the short term.       
Bovine Gelatin Market

---
By Nature
Organic Segment witnssed a major growth rate of 8.7%
COVID-19 Scenario Analysis:
Industries across the globe have been majorly impacted due to the sudden outbreak and widespread of the novel coronavirus.
This has created a demand- supply gap, which is affecting the manufacturing process post lockdown. 
Import and export of raw materials required for the manufacturing of bovine gelatin have also been affected, which has impacted the manufacturing and supply of gelatin. This pandemic has created negative impact on the market
According to the bovine gelatin market analysis, the market is segmented into form, nature, end use industry, and distribution channel. Based on form, the market is segmented into powder, capsule & tablets, and liquid. Based on nature, the market is segmented into organic and conventional. The food & beverages, cosmetics and personal care, pharmaceuticals, and others are the end use industry studied in the report.
Based on distribution channel, business to business and business to consumer are the two channel studied in the report. Furthermore, business to consumer are bifurcated into supermarket/hypermarket, specialty supplement stores, Drug stores & Pharmacies, and online stores. Region wise, it is analyzed across North America (the U.S., Canada, and Mexico), Europe (Germany, France, the UK, Spain, Italy, Russia, and rest of Europe), Asia-Pacific (China, Japan, India, Australia, South Korea, Thailand, Singapore, and rest of Asia-Pacific), and LAMEA (Brazil, Argentina, UAE, Nigeria,  South Africa, Turkey and rest of LAMEA).    
Bovine Gelatin Market

---
By End Use Industry
Nutrition & Supplement Segment held the major share of 43.8% in 2020
On the basis of form, the capsule & tablets segment accounted for the maximum global bovine gelatin market share in 2020, and is expected to remain dominant during the bovine gelatin market forecast period. Bovine gelatin capsules &tablets are a solid oral dose form for the supplementation of life-saving medications. These handy packaging allow for accurate dosing, mobility, and excellent consumer compliance. Moreover, the drugs or dietary supplements are safe and can be safely stored in these dose forms. These benefits of capsules & tablets make gelatin a convenient product and hence capture the market interest towards it.
Based on the nature, conventional segment held the major share in the market in 2020. Conventionally sourced bovine gelatin is comparatively economical for large-scale production, and hence is widely adopted by manufacturers. Consumers in the developing economies are conscious about the price they pay while making purchase decisions, and hence, rise in awareness about the health benefits of bovine gelatins leads to rise in consumption of conventional gelatin in the developing regions. However, the demand for organically sourced bovine gelatin is anticipated to gain higher traction during the forecast period, owing to rise in preference for organic products among the consumers.
Bovine Gelatin Market

---
By Distribution Channel
Organic Segment witnssed a major growth rate of 8.7%
Based on distribution channel, business to consumer held the major bovine gelatin market share and is likely to remain dominant throughout the forecast period. Business to consumer involves the sale of manufacturers' product and services to retailers, which are further sold to consumers. Moreover, increase in government expenditure on retail channels along with pricing concession in medicines is augmenting the growth of the bovine gelatin market.
On the basis of region, Asia-Pacific dominated the bovine gelatin market in 2020, and accounted for maximum bovine gelatin market size. Asia-Pacific currently is one of the leading markets of the bovine gelatin market due to the extreme growing demand for Bovine Gelatin products in food and beverages and nutrition & supplements industry.  
Players in the Bovine Gelatin market have adopted business expansion and product launch as their key developmental strategies to expand their market share, increase profitability, and remain competitive in the market. The key players profiled in the report include Bernard Jensen, Darling Ingredients, Gelita, Gelnex, Great Lakes Wellness, Lapi Gelatine Spa, Nitta Gelatin Inc., Tessenderlo Group, Trobas Gelatine BV, and Weishardt. 
Bovine Gelatin Market

---
By Region
Asia-Pacific held the major share of 38.8% in 2020
Key benefits for stakeholders  
The report provides quantitative analysis of the current bovine gelatin market trends, estimations, and dynamics of the market size from 2020 to 2030 to identify the prevailing bovine gelatin market opportunities. 
Porter's five forces analysis highlights the potency of buyers and suppliers to enable stakeholders to make profit-oriented business decisions and strengthen their supplier–buyer network. 
In-depth analysis and the market size & segmentation assist to determine the market potential.
The major countries in each region are mapped according to their revenue contribution to the market.     
The market player positioning segment facilitates benchmarking and provides a clear understanding of the present position of the market players in the bovine gelatin industry. 
Key market segments 
By form
Powder
Capsule & Tablets
Liquid
By Nature
By Application
Food and beverages
Cosmetics & personal care
Pharmaceuticals 
Others
By Distribution Channel
B2B
B2C
Supermarket/hypermarket
Specialty supplement stores
Drugstore & Pharmacies
Others
By Region
North America
Europe

Germany 
France
UK
Italy
Spain 
Russia
Rest of Europe

Asia-Pacific

China
Japan
Australia
South Korea
Thailand 
Singapore
Rest of Asia-Pacific 

LAMEA 

Brazil
Argentina
UAE
Nigeria
South Africa
Turkey 
Rest of LAMEA
 Bovine Gelatin Market Report Highlights
Aspects
Details
By Form

Powder
Capsule & Tablets
Liquid

By Nature
By End Use Industry

Food and beverages
Cosmetics & personal care
Pharmaceuticals
Others

By Distribution Channel

B2B (Business to Business)
B2C (Business to Consumer)

Supermarket/hypermarket
Drugstore & Pharmacies
Specialty supplement stores
Online stores

By Region

North America (U.S., Canada, Mexico)
Europe (France, Germany, Italy, Spain, UK, Russia, Rest of Europe)
Asia-Pacific (China, Japan, India, South Korea, Australia, Thailand, Malaysia, Indonesia, Rest of Asia-Pacific)
LAMEA (Brazil, South Africa, Saudi Arabia, UAE, Argentina, Rest of LAMEA)

Key Market Players
Weishardt, Gelnex, Gelita, Lapi Gelatine Spa, Tessenderlo Group, Great Lakes Wellness, Nitta Gelatin Inc., Darling Ingredients, Bernard Jensen, Trobas Gelatine BV