The carob market size was valued at $198,363.8 thousand in 2020 and is estimated to reach $384,882.3 thousand by 2030, registering a CAGR of 6.2 from 2021 to 2030.          
Carob (Ceratonia siliqua) is a flowering evergreen tree from the family of legumes, fabaceae. It is widely cultivated in gardens and landscapes for its edible pods, and as an ornamental plant. The carob plant is found in the Mediterranean and Middle East regions. The mature, dry, and often toasted pod is sometimes ground into carob powder, often used as a replacement for cocoa powder. In health food stores, carob bars are found as an alternative to chocolate bars, as well as carob chips as an alternative to chocolate chips, and carob treats are often available. Carob pods are naturally sweet in flavor, not bitter, and do not have caffeine or theobromine. The global carob market has experienced a significant growth, and is expected to grow considerably in the next few years.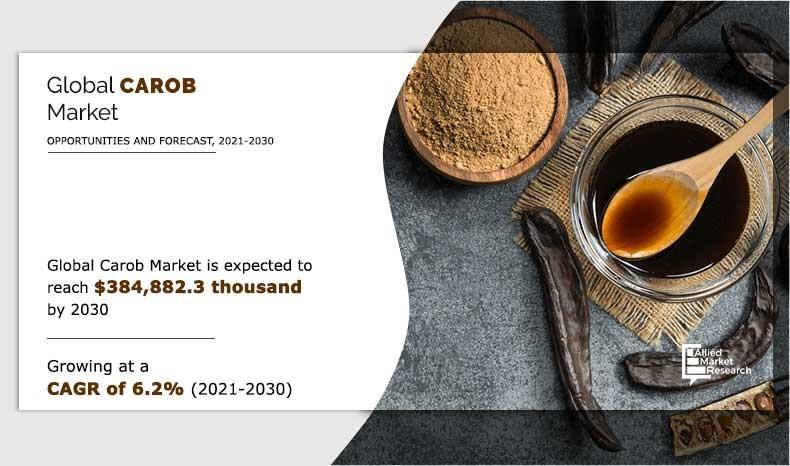 Carob powder has been gaining significant traction in consumer market as it is high in calcium, fiber, and protein, and thus boasts various health benefits. It is considered to be vegan, gluten-free, caffeine-free, and naturally sweet, which eliminates the need to fortify it with sugar. Carob gaining major popularity among health conscious consumers as it is high in fiber, no fat and low cholesterol. 
Carob powder has no sodium. It's a great option for people following a low-sodium diet. Consumption of high sodium may increase risk of high blood pressure, heart attack, stroke, osteoporosis and kidney problems. For instance, According to the Mayo Clinic, the average American gets 3,400 mg of sodium daily. This is much more than the recommended dietary allowance (RDA) of 2,300 mg. The American Heart Association recommends even less, just 1,500 mg daily. Thus, carob is expected to gain significant momentum in North America market during the forecast period.  
The worldwide outbreak of COVID-19 has led to serious implications in all the economic sectors. All over the globe, the pandemic has created medical emergency due to which the demand for food items, hygiene products, and medical product market has grown. In the COVID-19 scenario, people are more inclined toward consuming safe, reliable and healthy foods. Therefore, it has increased the sales of traditional, healthy, and staple food items. The frozen non-vegetarian food, fruits & vegetables, eggs, pulses, flour and whole grains have experienced growth in the pandemic. However, packaged & processed food, coffee, pastries, milkshakes, sweets, chocolates, cheese, and other bakery products have experienced a decline in its sale due to which the demand for carob in these industries has declined. Moreover, the lockdown scenario in various countries has hampered the production and supply chain of the carob products. The consumer buying behavior may change permanently post COVID-19. Companies need to build robust sales plan for recovery. They might have to adopt e-commerce platform and omnichannel in their supply chain.
According to the carob market analysis, the carob market segmented into product type, application, distribution channel and region. On the basis of product type, the market is categorized into powder, gum, and others. By application, it is classified into bakery and confectionery, nutrition and supplements, dairy products, pharmaceuticals and others. On the basis of distribution channel, online retail, retail stores, online b2b and b2b direct supply. Region wise, it is analyzed across North America (the U.S., Canada, and Mexico), Europe (Italy, Spain, Portugal, Greece, Germany, France, UK and Rest of Europe), Asia-Pacific (China, Japan, Australia, South Korea and Rest of Asia-Pacific), and LAMEA (Turkey, Brazil, South Africa, Saudi Arabia and Rest of LAMEA).
On the basis of product type, the gum segment was the highest contributor to the carob market and is expected grow at a CAGR of 5.5% during the forecast period. Carob gum has been gaining major traction in the pharmaceutical industry owing to its medicinal benefits such as lower cholesterol level, improved blood sugar, beneficial for the treatment of gastro reflux disease, diarrhea and help to reduce colon cancer. Carob gum market is majorly driven by nutrition and supplement, bakery and confectionary industry as carob gum is an ideal alternative for the cocoa gum.
According to the carob market trends, on the basis of application, the bakery and confectionery segment has gained major share in global carob market and is estimated to reach $72,756.1 thousand by 2030, at a CAGR of 5.5%.  The bakery & confectionery industry possesses high growth potential, and is anticipated to garner a remarkable position in the food processing sector. This is attributed to surge in demand for bakery & confectionery items, owing to busy lifestyle and increase in preference for fresh & ready-to-eat convenience foods comprising high nutritional values. Upsurge in consumption of bakery products, especially the packaged variety, has augmented the demand for natural food additives and flavors, thereby supplementing the growth of the global carob market.
On the basis of distribution channel, the retail stores segment was the highest contributor to the market, with $105,002.1 thousand in 2020, and is estimated to reach $190,698.7 thousand by 2030, at a CAGR of 5.5% during the forecast period.    Retail stores includes supermarket hypermarket and specialty stores focus on maximizing product sales to increase their profit margins. Supermarket and hypermarkets effectively display variety of carob products of different brands. In North America and Europe, supermarkets and hypermarkets are the most preferred retail outlets for purchase of consumer goods. Increasing urbanization, rising working class population and competitive pricing is boosting the popularity of supermarket and hypermarkets in the developed and developing region. Supermarket and hypermarket is one-stop shop for wide variety of products. Thus, easy accessibility and availability of different brands further increases the consumer base of retail stores.
According to the carob market opportunities. Region wise, Europe garnered a major share in product market in 2020, and is expected to maintain its dominance throughout the carob market forecast period.  The carob products market in Europe is primarily driven by high consumption of bakery & confectioneries and dairy products. Consumers in this region seek products, which contain natural ingredients and additives for preventing health issues. Moreover, increasing use of carob for pet food and other animal feed in Europe has been contributing for the growth of the carob market. The confluence of all these abovementioned facts has encouraged food & beverages as well as animal feed manufacturers to use healthy & natural additives such as stevia.
The players operating in the global product market have adopted various developmental strategies to expand their market share, increase profitability, and remain competitive in the market. The key players profiled in this report include Altrafine Gums, Pedro Perez, Savvy Carob Co. Ltd., DuPont, Carob S.A., Stavros Parpis Foods Ltd., AEP Colloids, TIC Gums Inc., Australian Carobs Pty Ltd. and Tate & Lyle.
Key Benefits For Stakeholders
The report provides a quantitative analysis of the current trends, estimations, and dynamics of the market size from 2020-2030 to identify the prevailing opportunities.
Porter's five forces analysis highlights the potency of buyers and suppliers to enable stakeholders to make profit-oriented business decisions and strengthen their supplier–buyer network.
In-depth analysis and the market size and segmentation assist to determine the prevailing market opportunities.
The major countries in each region are mapped according to their revenue contribution to the Carob market share. 
The market player positioning segment facilitates benchmarking and provides a clear understanding of the present position of the market players in the Carob industry.
Key Market Segments  
By Product Type
By Application
Bakery and Confectionery
Nutrition and Supplements
Dairy products
Pharmaceuticals
Others
Distribution Channel
Online retail
Retail Stores
Online B2B
B2B Direct Supply
By Region
North America
Europe

Italy
Spain
Portugal
Greece
Germany
France
UK
Rest of Europe

Asia-Pacific

China
Japan
Australia
South Korea
Rest of Asia-Pacific

LAMEA

Turkey
Brazil
South Africa
Saudi Arabia
Rest of LAMEA