The collagen drinks market size was valued at $274.8 million in 2020, and is projected to reach $831.8 million by 2030, growing at a CAGR of 12.7% from 2021 to 2030.
The global collagen drinks market is in its initial stages of growth and is thus witnessing significant growth, owing to development of the cosmetic and neutraceutical industry. In addition, there is an increase in demand for collagen drinks due to rise in awareness for health and beauty drinks. However, high veganism trends especially in developing economies hamper the growth of the market.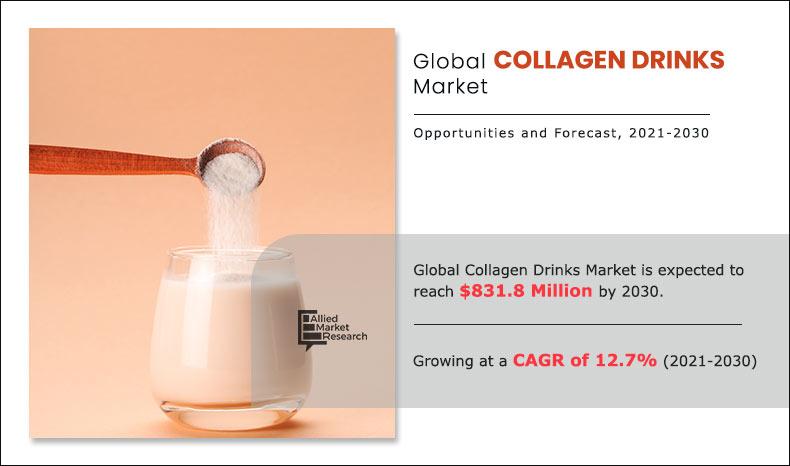 Collagen drinks industry is a part of beauty drink industry. The beauty drinks market is witnessing consistent growth since last few years owing to the rise in beauty consciousness among individuals. This is attributed to inflating income levels in developing countries in addition to strong influence of social media advertising. Moreover, hectic lifestyles, and unhealthy dietary patterns are leading to premature aging issues among the millennial population. Apart from this issue, the level of natural collagen in the body decreases with age, which leads to saggy skin and other skin related issues. Owing to these factors, there is growing willingness among individuals of all age groups to attain youthful skin and this factor fosters the growth of the global collagen drinks market growth. In addition, leading market players are focusing on the introduction of gluten and lactose free as well as vegan product with no added sugars or preservatives and flavorings to expand their market reach. These factors offer lucrative market opportunities for the collagen drinks market to prosper during the forecast time period.
According to collagen drinks market analysis, the market is segmented on the basis of end user, packaging type, distribution channel, and region. On the basis of end user, the market is divided into male and female. On the basis of packaging type, the market is segmented into glass bottle and plastic bottle types. On the basis of distribution channel, the market is classified into supermarkets/hypermarkets, pharmacies, online sales channels, and others. On the regional outlook basis, the market is analyzed for North America, Europe, Asia-Pacific, and LAMEA.
Collagen Drinks Market

---
By End User
Male segment is expected to grow at highest CAGR of 13.1% during the forecast period
On the basis of end user, the female segment led, in terms of the collagen drinks market share in 2020, and is expected to continue to grow with robust CAGR during the collagen drinks market forecast period. Convergence of advancements, beauty, and lifestyle propels the growth of the market. Moreover, the beauty drinks market across the globe has witnessed continuous and sustained growth over years, owing to rise in beauty-conscious female population. This is also benefitting the growth of the collagen drinks market.
North America and Europe are known to be the dominant regions in the collagen drinks market. Europe has witnessed higher rate of traction for different type of beauty drinks owing to their increased demand from the fashion industry and millennial population. Some of the key macroeconomic factors such as rise in internet penetration rate and surge in per-capita income also play an important role in contributing toward the overall growth of the collagen drinks market.
Collagen Drinks Market

---
By Packaging Type
Plastic bottle segment is expected to grow at highest CAGR of 12.9% during the forecast period.
However, Asia-Pacific is expected to exhibit significant growth in the future, owing to rise in demand for beauty drinks in growing fashion and modeling industry in this region. Moreover, majority of the world population resides in this region hence market players are taking efforts on establishing their footprint in the Asian markets. In addition, the region has witnessed considerable surge in the number of millennials, who are the forefront customers of neutraceutical and wellness drinks. Therefore, rise in millennial population is anticipated to offer remunerative opportunities for the global collagen drinks market.
Major market players operating in the collagen drinks market are Shiseido Company Limited, AmorePacific Corporation, Asterism Healthcare, Hangzhou Nutrition Biotechnology Co, Bauer Nutrition, Hangzhou Nutrition Biotechnology Co, Kinohimitsu, Heivy, TCI Co. Ltd., ATP CO.LTD, and Wel-Bloom Bio-Tech Corporation.
Collagen Drinks Market

---
By Distribution Channel
Online sales channel segment is expected to grow at highest CAGR of 12.8% during the forecast period.
COVID-19 Impact on collagen drinks market:
The outbreak of COVID-19 pandemic had led to partial or complete shutdown of production facilities, which do not come under essential goods, owing to prolonged lockdown in major countries such as the U.S., China, Japan, India, and Germany. It has led to either closure or suspension of their production activities in most of the industrial units across the world.
Collagen drinks are majorly consumed as beauty drinks to enhance skin tone and to prevent aging of skin. Beauty industry was hit hard in the first two quarters of 2020 as the pandemic hit almost every country in the world and hence many businesses were shut down for precautionary measures. Beauty industry is an industry where around 70-80% of the sales occur through in store shopping. With the closure of premium beauty-product outlets because of COVID-19, approximately 30% of the beauty-industry market was shut down. Some of these stores will never open again, and new openings will likely be delayed for at least a year.
After the third quarter of 2020, around 60% of drugstores, supermarkets, beauty-product specialty retailers, and department stores had reopened in the world. However, depending on the sector and type of store, traffic remained down 20 to 30% compared with pre-COVID-19 levels. Mall-based stores have proven slower to recover. Even after reopening, around 60% of large malls in leading markets such as China, U.S., UK, and France reported a 30 to 70% decrease in sales, year on year. But with the world of shopping getting to normal with many positives, the beauty industry and indirectly the market is likely to experience growth with the factors such as rise of the global middle class and the use of e-commerce.
Collagen Drinks Market

---
By Regions
Asia-Pacific dominates the market and is expected to grow at highest CAGR of 13.4% during the forecast period.
Key Benefits For Stakeholders
This report provides a quantitative analysis of the current collagen drinks market trends, estimations, and dynamics of the global collagen drinks market from 2021 to 2030 to identify the prevailing collagen drinks market opportunities.
Porter's five forces analysis highlights the potency of buyers and suppliers to enable stakeholders to make profit-oriented business decisions and strengthen their supplier–buyer network.
In-depth analysis of the market segmentation assists to determine the prevailing market opportunities.
Major countries in each region are mapped according to their revenue contribution to the global industry. 
The market player positioning segment facilitates benchmarking while providing a clear understanding of the present position of the key market players.
The report includes analyses of the regional as well as global market, key players, market segments, application areas, and market growth strategies.
 Collagen Drinks Market Report Highlights
Aspects
Details
By End User
By Packaging Type

Glass Bottle
Plastic Bottle

By Distribution Channel

Supermarkets/Hypermarkets
Pharmacies
Online Sales Channel
Others

By Region

North America (U.S, Canada, Mexico)
Europe (Germany, UK, France, Italy, Russia, Rest of Europe)
Asia-Pacific (China, India, Japan, Australia, South Korea, Rest of Asia-Pacific)
LAMEA (Latin America, Middle East, Africa, Rest of the LAMEA)

Key Market Players
AMORE PACIFIC CORPORATION, Asterism Healthcare, ATP CO. LTD, Bauer Nutrition, Hangzhou Nutrition Biotechnology Co, Heivy, Kinohimitsu, SHISEIDO COMPANY, LIMITED, TCI Co, Ltd, WEL-BLOOM BIO-TECH CORPORATION