Crustaceans Market Research, 2031
The global crustaceans market size was valued at $16.4 billion in 2021, and is projected to reach $25.3 billion by 2031, growing at a CAGR of 4.5% from 2022 to 2031.
Crustaceans include crabs, lobsters, crawfish, shrimp, prawns, krill, and barnacles. Protein, omega-3 fatty acids, vitamin B12, essential fats, and minerals are abundant in them, which help to prevent a variety of health problems. Crustacean food helps to lose weight, improve immunity, and improve the overall health of brain and heart when eaten on a regular basis. Increased demand for processed and frozen crustaceans in the international market, as well as expansion of the operation of crustacean food, help to drive considerable growth in the crustacean industry.
The COVID-19 pandemic has resulted in a large sales loss in the crustacean market, with the main reason for the decline in sales and revenue growth throughout the pandemic outbreak period being the suspension of worldwide import and export of crustaceans. Many restaurants and food businesses are closed during the lockdown, affecting the market's supply chain. People will be increasingly interested in health-beneficial food products in the market after the COVID-19 outbreak, which will boost the market for crustaceans.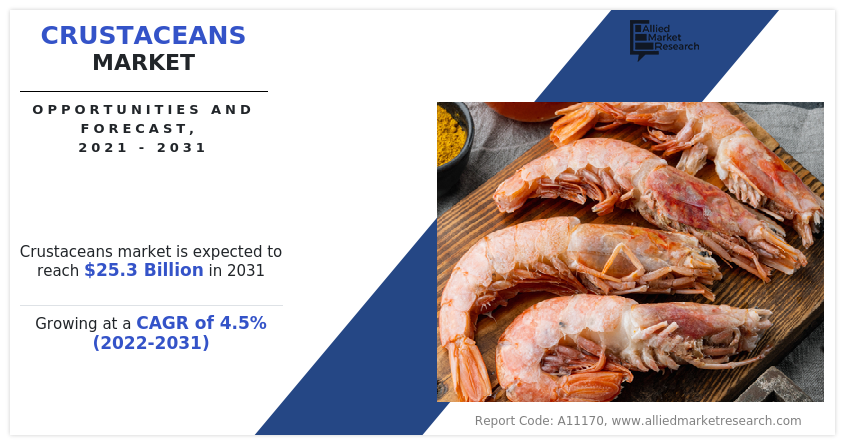 The growth in demand for frozen food products in developing nations is expected to drive significant growth in the worldwide crustacean industry. The growth in market in present times is due to the rise in consumption of seafood around the world. Protein, minerals, and vitamins, which are abundant in crustaceans, are known to have a variety of health benefits. They are low in saturated fat and high in omega-3 fatty acids. Aquaculture output is being boosted by rise in meat consumption and growth in urbanization. Supply in the worldwide market is unaffected by market consumption despite the high cost of processing
The crustaceans market segmented into type, application, distribution channel, and region. On the basis of type, the market is classified into lobsters, shrimps, crabs, and others. On the basis of application, it is categorized into retail, institutions, and food service. On the basis of distribution channel, it is segregated into business to business (B2B) and business to consumer (B2C). On the basis of region, the market is analyzed across North America, Europe, Asia-Pacific, and LAMEA.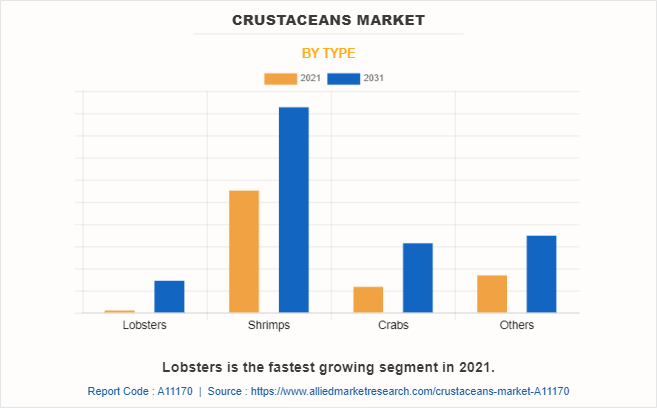 The shrimps segment dominates the global market. Shrimp consumption has been steadily increasing, particularly in nations like India and China, due to the expansion of organized retail chains throughout the area.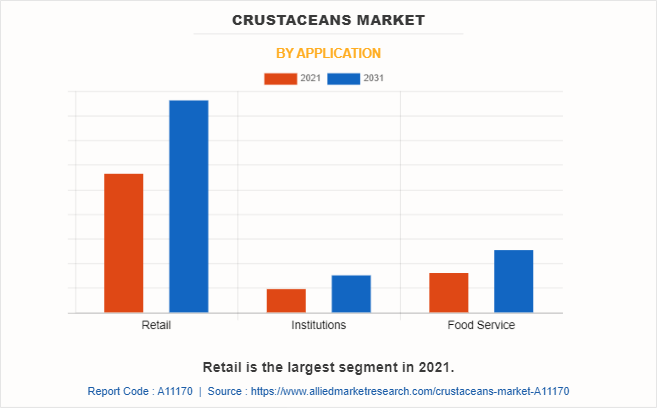 The crustaceans are mostly preferred by retail stores or organizations. This is attributed to the growth in preference for ready-to-eat food products. In addition, crustaceans are also available in form of frozen and canned crustaceans. Thus, the retail segment is the largest segment in the global market.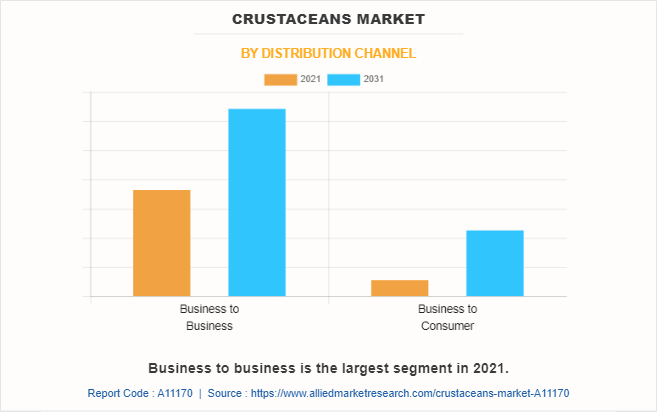 The crustaceans are sold by various distribution channels including business to business (B2B) and business to consumer (B2C). The business to business (B2B) is growing at the highest rate, owing to growth in usage of crustaceans in hotels and restaurants.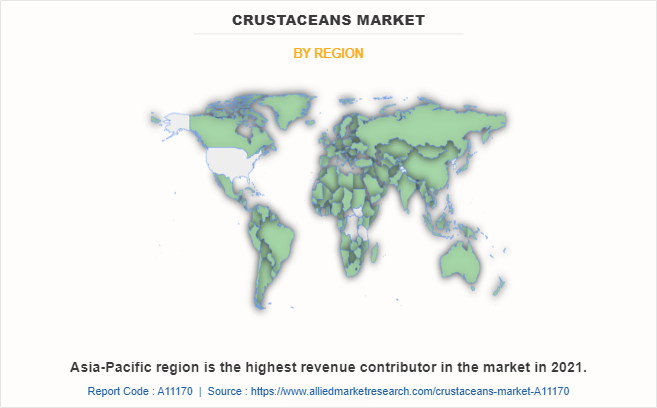 On the basis of region, in terms of volume and revenue growth, Asia-Pacific is predicted to have the greatest crustaceans market share in the crustaceans market. Increased sea-food consumption and a developed economy have resulted in considerable gain of the market in this region. At an international level, Asia-Pacific leads the crustaceans market in terms of crustacean production and freezer processing. China is expected to dominate the global crustaceans market during the crustaceans market forecast period.
In the pharmaceutical sector, crustaceans are employed to create non-viral vectors for genes and medications. It is high in omega-3 fatty acids as well as other nutrients. These are the primary variables that would propel market expansion during the forecast period. Increase in aquaculture farming and effective support from local regulatory agencies to produce crustaceans, as well as a surge in international demand for crustacean goods for medicinal and restaurant food purposes, are new trends that is expected to alter the crustaceans market growth.
Increase in the number of restaurants around the world, as well as rise in demand for frozen crustaceans for food dishes, has resulted in a massive market expansion for crustaceans. In the pharmaceutical industry, crustaceans provide a rich source of medicine content for non-viral vectors of genes and drugs. Crustaceans are also used in cosmetics as colorants. There is a rapid growth in global market as a result of the following wider industrial applications.
The consumption of crustaceans has increased quickly as a result of increased awareness of their health benefits, and because of their high protein content, they are frequently seen as a healthier alternative. Additionally, consuming crustaceans reduces the risk of cancer, high blood pressure, diabetes, obesity, osteoporosis, cardiovascular disease, and osteoporosis. Moreover, because they are a great source of essential micro and macronutrients, people who are concerned about their health are consuming more crustaceans. Crustaceans are currently the most extensively consumed animal protein in the world, and it is anticipated that this trend will continue in the years to come, fueling the expansion of the global market.
Foods that have been cleaned, cooked, and packaged as ready-to-eat products don't require pre-cooking or additional cooking. As more people adopt new eating habits such using packaged or ready-to-eat foods, people's lifestyles are changing more and more. As a result, the market is anticipated to grow as a result of the increased demand for frozen and canned crustaceans, both of which fall under the processed food category. The need for processed crustaceans grows along with the demand for ready-to-eat foods, which is anticipated to develop the crustacean market.
The major players analyzed for the crustaceans industry are Ichiboshi, International Fish Farming and Holding Company, RDM Aquaculture, Seaview Crab Company, Surapon Foods, The Crab Company, Findus Group, Møgster Group, Nireus Aquaculture, Russian Aquaculture and Selonda Aquaculture.
Key Benefits For Stakeholders
This report provides a quantitative analysis of the market segments, current trends, estimations, and dynamics of the crustaceans market analysis from 2021 to 2031 to identify the prevailing crustaceans market opportunities.
The market research is offered along with information related to key drivers, restraints, and opportunities.
Porter's five forces analysis highlights the potency of buyers and suppliers to enable stakeholders make profit-oriented business decisions and strengthen their supplier-buyer network.
In-depth analysis of the crustaceans market segmentation assists to determine the prevailing market opportunities.
Major countries in each region are mapped according to their revenue contribution to the global market.
Market player positioning facilitates benchmarking and provides a clear understanding of the present position of the market players.
The report includes the analysis of the regional as well as global crustaceans market trends, key players, market segments, application areas, and market growth strategies.
 Crustaceans Market Report Highlights
Aspects
Details
Market Size By 2031
USD 25.3 billion
Growth Rate
CAGR of 4.5%
Forecast period
2021 - 2031
Report Pages
250
By Distribution Channel

Business to Business
Business to Consumer

By Type

Shrimps
Lobsters
Crabs
Others

By Application

Food Service
Retail
Institutions

By Region

North America (U.S., Canada, Mexico)
Europe (Germany, U.K., France, Italy, Spain, Rest of Europe)
Asia-Pacific (China, India, Japan, South Korea, Australia, Rest of Asia-Pacific)
LAMEA (Brazil, South Africa, United Arab Emirates, Rest of LAMEA)

Key Market Players
High Liner Foods, Acadia Crawfish, ready seafood, Sogelco International, DNi Group LLC, Maruha Nichiro Corporation, Surapon Foods Public Company Limited, Louisiana Crawfish Co., east coast seafood group, pacific seafood
Analyst Review
According to the insights of CXOs of leading companies, despite substantial hurdles such as global uncertainty, declining fish stocks, and environmental concerns, the crustacean market has continued to grow steadily. Increased consumer awareness of the health advantages of crustaceans, as well as changes in consumer lifestyles, are credited with the expansion of the sector.
CXOs further added that Asia-Pacific is expected to grow strongly during the forecast period. This is due to the fact that the market in this region is in transition, in terms of consumer preferences and purchasing habits, with a greater desire for healthy food options rich in proteins, vitamins, and other nutrients over previously popular fast food. Crustacean consumption has been continuously expanding, particularly in nations like India and China due to established retail chains across Asia-Pacific. Furthermore, because demand for crustacean products is elastic, a steady increase in the number of customers with more disposable income is predicted to boost the growth of the market.
The expansion of the food sector as a result of increased demand for ready-to-eat food items is one of the most notable trends. Rapid urbanization and a shift in eating habits also contribute to the expansion of global market. Furthermore, increased global demand for crustaceans has increased imports, boosting market growth. In addition, an increase in disposable earnings, a rise in consumer health consciousness, and an improvement in living standards are all contributing to rise in demand for crustaceans.