Dialysis Market Overview:
Dialysis is a technique used to remove waste products, such as urea and creatinine from the blood due to abnormal functioning of the kidneys and is usually required for people suffering from chronic renal failure. The procedure is important during the treatment of end-stage renal disease (ESRD) and kidney transplant. In this procedure, the blood is purified, excess fluid and toxins are removed, and electrolyte balance is restored. Dialysis is carried out in two ways, namely, hemodialysis and peritoneal dialysis. In hemodialysis, waste products such as urea are removed extracorporeally from the blood of the patient. In peritoneal dialysis, the peritoneum in the abdomen is used for dialysis.
The global dialysis market size was valued at $91,205.0 million in 2020, and is estimated to reach $129,756.8 million by 2028, registering a CAGR of 4.7% from 2021 to 2028. The market growth is attributed to the increase in number of diabetic and hypertension patients, surge in funding for the development of new products, and a rise in the number of end stage renal disease (ESRD) patients. Furthermore, dialysis is a preferred technique over kidney transplantation, which is expected to further boost the dialysis market growth. Moreover, the rise in geriatric population, increase in healthcare expenditure, and growth in disposable income are expected to fuel the market growth. However, lack of awareness about kidney diseases, product recall, and reduction in reimbursements for dialysis are expected to hinder the market growth.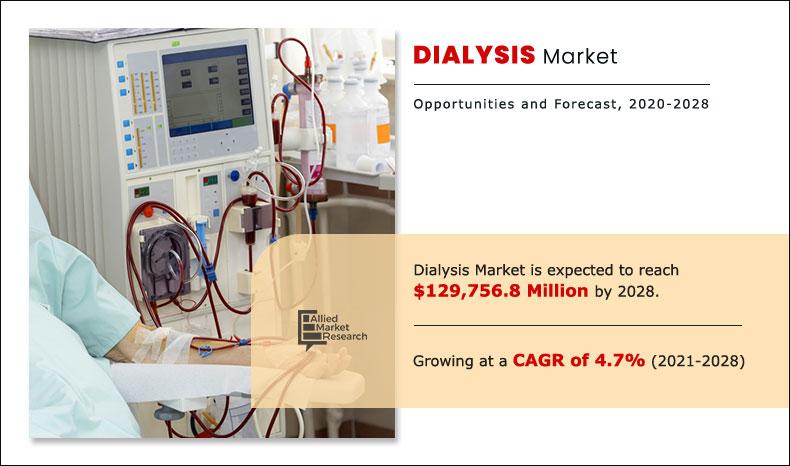 The dialysis market is segmented on the basis of type, Product & Service, end user, and region. On the basis of type, it is bifurcated into hemodialysis and peritoneal dialysis. Hemodialysis is categorized into conventional hemodialysis, short daily hemodialysis, and nocturnal hemodialysis. Peritoneal dialysis is further classified into continuous ambulatory peritoneal dialysis (CAPD) and automated peritoneal dialysis (APD). On the basis of Product & Service, it is divided into equipment, consumables, drugs, and services. Equipment is further categorized into dialysis machines, water treatment systems, and others. Consumables are classified into dialyzers, catheters, and transfer sets. On the basis of end users, it is bifurcated into in-center dialysis and home dialysis. On the basis of region, it is analyzed across North America, Europe, Asia-Pacific, and LAMEA.
Type Segment Review
The hemodialysis segment is the major contributor toward the dialysis market growth, owing to maturity of the market and is a preferred form of approach among healthcare professionals and patients suffering from ESRD. There are two types of hemodialysis, namely, conventional and daily (short daily and nocturnal hemodialysis). Majority of patients opt for hemodialysis, however, owing to efficient removal of toxic substances and rise in demand for homecare among dialysis patients, peritoneal dialysis is expected to be the fastest growing segment during the forecast period.
Hemodialysis segment holds a dominant position in 2020
Product and Service Review
The services segment was the highest contributor toward market growth in 2020 and is expected to maintain its dominance during the forecast period. Increase in number of treatment centers and advancement of home-based services are the factors attributing toward the dominance of the services segment.
Dialysis Market

---
By Products And Services Industry
Services segment is projected as one of the most lucrative segment.
End User Review
Most patients prefer to receive dialysis treatments through services provided by dialysis centers making them the largest contributor to the global dialysis market. Nonetheless, rise in awareness and surge in demand for home healthcare among dialysis patients is expected to make home dialysis the fastest growing segment during the forecast period.
Dialysis Market

---
By End User
In-Center Dialysis hold a dominant position in 2020
Region Segment Review
In 2020, Asia-Pacific accounted for maximum contribution to the total revenue generated owing to high prevalence rate of diabetes and hypertension, presence of high disposable income, and high adoption rate of technologically advanced products. Moreover, the presence of large number of dialysis centers in this region and a rise in number of patients with chronic renal and kidney diseases are expected to boost market growth. Moreover, the Asia-Pacific region is expected to witness the highest CAGR during the analysis period, which is attributed to a surge in the incidence rate of kidney failure, low rate of organ transplantation, and rise in healthcare expenditure.
Dialysis Market

---
By Country
Asia Pacific region would exhibit the highest CAGR of 5.7% during 2021-2028.
Key Benefits For Stakeholders
This report provides a detailed quantitative analysis of the current dialysis market trends and forecast estimations from 2021 to 2028, which assists to identify the prevailing market opportunities. 
An in-depth dialysis market analysis includes analysis of various regions, which is anticipated to provide a detailed understanding of the current trends to enable stakeholders formulate region-specific plans.
A comprehensive analysis of factors that drive and restrain the growth of the global is provided.
The projections in this report are made by analyzing the current trends and future dialysis market potential from 2021 to 2028, in terms of value.
An extensive analysis of various regions provides insights that are expected to allow companies to strategically plan their business moves.
Key market players within the dialysis market are profiled in this report and their strategies are analyzed thoroughly, which helps in understanding competitive outlook of the market.
 Dialysis Market Report Highlights
Aspects
Details
BY TYPE

Hemodialysis (HD)

Conventional Hemodialysis
Short daily hemodialysis
Nocturnal hemodialysis

Peritoneal dialysis (PD)

Continuous Ambulatory Peritoneal Dialysis (CAPD)
Automated Peritoneal Dialysis (APD)

BY PRODUCT AND SERVICES

EQUIPMENT

.Dialysis Machines
Water Treatment Systems
Others dialysis equipment

Consumables

Dialyzers
Catheters
Other dialysis consumables

Dialysis Drugs
Services

BY END USERS

In-center dialysis
Home dialysis

BY REGION

North America (U.S, Canada, Mexico)
Europe (Germany, UK, France, Italy, Spain, Rest of Europe)
Asia-Pacific (Japan, China, India, Australia, South Korea, Taiwan, Rest of Asia-Pacific)
LAMEA (Brazil, Saudi Arabia, South Africa, Rest of LAMEA)

Key Market Players
FRESENIUS SE AND CO. KGAA, ASAHI KASEI CORPORATION, B. BRAUN MELSUNGEN AG, BAXTER INTERNATIONAL INC., BECTON, DICKINSON AND COMPANY (C. R. BARD, INC.), DAVITA, ANGIODYNAMICS INC., DIAVERUM DEUTSCHLAND GmbH., NIKKISO CO. LTD., NIPRO CORPORATION