The global dietary fibers market size was valued at $7,900.0 million in 2020, and is projected to reach $21,672.9 million by 2030, registering a CAGR of 11.1%.
Dietary fibers are present in various food items and are derived mainly from plant foods such as fruits, vegetables, and legumes. These fibers help the body transport waste, reduce risk of diabetes and heart diseases by decreasing blood sugar and cholesterol, and keep weight in control. Dietary fibers are applicable in different industries such as pharmaceuticals, foods & beverages, and animal feed.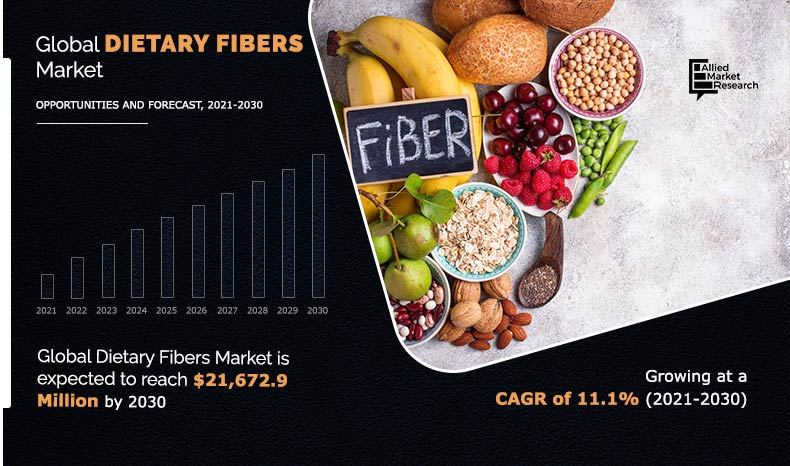 A major factor influencing market growth is rise in consumer preference for natural products. Growth in concerns about preventive healthcare and efficacy of dietary fibers on health drive the market growth. Dietary fiber food demand has increased due to increase in functional food consumption, which, in addition to providing basic nutrition, have the potential to improve health.
Obesity, digestive problems, gastrointestinal infections, and other ailments affect vast majority of people. Taking this into consideration, market players are developing dietary fiber products to help with the treatment of such diseases. Impact of growing health concerns on the dietary fibers market is moderate at the moment, but it is expected to increase in the future.
However, excessive content of dietary fibers in the diet can lead to diarrhea, reduced mineral absorption, and removal of good cholesterol, which restricts the market growth of dietary fibers. The foods and beverages industry growth due to increased consumer spending and favorable government support is expected to be a major driver for the dietary fibers market growth. The dietary fibers market demand is expected to be driven by rise in demand for fortified foods among health-conscious consumers. Thus, stringent government regulations regarding dietary fibers are expected to hinder the market growth.
Rise in awareness of health benefits of dietary fibers, combined with growth in urban population is expected to provide a significant growth opportunity. The dietary fibers market is expected to grow due to increase in number of working women and rise in purchasing ability of healthy food products.
COVID-19 had a moderate impact on the market for dietary fibers. Dietary fibers are widely used in a variety of products, including dietary supplements, animal feed, and pharmaceuticals. Products containing dietary fibers are also used to improve muscle mass and immunity. This factor led to a high demand for dietary fiber products in the market.
Growth in health concerns and increase in consumer awareness have increased consumer demand for dietary fibers, resulting in increase in functional food demand. In addition to available health and dietary supplements, consumers prefer dietary supplements as they are plant-based. As a result, consumers are adopting dietary fibers in their daily diets, which propels the market growth.
Significant increase in demand for dietary supplements across all age groups, combined with an increase in global disposable income is a major driving factor in growth of dietary fibers. Consumers all over the world are becoming more concerned with changes in their quality of life and are paying close attention to foods they consume. As a result of increased demand for fortified foods from emerging markets, the dietary fibers market is expected to witness lucrative opportunities for growth.
Rise in popularity of bakery and confectionary items is one of the major factors that drive growth of dietary fibers consumption. To fortify and boost nutritional content of products, soluble dietary fibers are widely applied in baking and confectionary.
As per dietary fibers market analysis, the market is segmented on the basis of raw material, product, application, and region. On the basis of raw material, the market is categorized into fruits & vegetables, cereals & grains, legumes, nuts & seeds. According to product, the market is fragmented into soluble dietary fibers and insoluble dietary fibers. As per application, the market is divided into food & beverages, pharmaceuticals, animal feed, and others. Region-wise, the market is analyzed across North America (the U.S., Canada, and Mexico), Europe (the UK, Finland, Spain, Germany, France, Italy, and rest of Europe), Asia-Pacific (China, Japan, India, South Korea, Australia, New Zealand, and rest of Asia-Pacific), and LAMEA (Brazil, South Africa, Saudi Arabia, and rest of LAMEA).
As per the dietary fibers market trends, based on raw material, the cereals & grains segment is the dominating segment that garnered 46.5% of the dietary fibers market share in 2020. The legumes segment is anticipated to be the fastest- growing, owing to its increased production and usage for making dietary fibers.
As per dietary fibers market analysis, on the basis of product, the insoluble dietary fibers segment is expected to be the fastest-growing, owing to the fact that insoluble dietary fibers derived from oats, wheat, corn, potato, peas, rice, and legumes aid in prevention of constipation, excessive cholesterol, and obesity. Hence its demand is growing across the globe.
On the basis of application, the food & beverages segment dominated the market and garnered a market share of 45.6%, owing to its increased usage in production of functional food and increased awareness regarding consumption of dietary fibers among the population.
Region wise, North America was the largest dietary fibers market, owing to increased awareness among consumers, high disposable income, increased demand for functional food, and desire for healthy and active lifestyle among the population.
The prominent dietary fibers industry players include Cargill, DuPont, Ingredion Inc., Kerry Inc., Tate & Lyle, Farbest Brands, J. RETTENMAIER & SÖHNE GmbH + Co KG, Taiyo International, AGT Food and Ingredients, and Batory Foods.
Key players are investing in the research and development of the dietary fibers and exploring the potential uses and application of the dietary fibers.
The most important growth strategy used by market players is product launch, which is followed by collaboration and agreement, expansion, joint venture, and acquisition. To diversify their product offerings, several businesses have developed innovative products. Product launches are used by a variety of businesses to broaden their market reach and serve international customers.
Key Market Segments
By Raw Material
Fruits & Vegetables
Cereals & Grains
Legumes
Nuts & Seeds
By Product
Soluble dietary fibers
Insoluble dietary fibers
By Application
Food & Beverage
Pharmaceuticals
Animal Feed
Others
By Region
North America
Europe

UK
Finland
Spain
Germany
France
Italy
Rest of Europe

Asia-Pacific

China
Japan
India
South Korea
Australia
New Zealand
Rest of Asia-Pacific

LAMEA

Brazil
South Africa
Saudi Arabia
Rest of LAMEA