The global eucalyptus oil market size was valued at $135.5 million in 2020, and is projected to reach $252.0 million by 2030, registering a CAGR of 6.6% from 2021 to 2030. The conventional segment was the highest contributor to the market, with $72.9 million in 2020, and is estimated to reach $130.3 million by 2030, at a CAGR of 6.2% during the forecast period. The organic segment is estimated to reach $121.7 million by 2030 at a CAGR of 7.1%. Further Asia-Pacific is estimated to reach $71.8 million by 2030, at a significant CAGR of 8.0%. North America and Europe collectively accounted for around 69.4% share in 2020, with the former constituting around 40.3% share. Asia-Pacific and Europe are expected to witness considerable CAGRs of 8.0% and 6.9%, respectively, during the forecast period. The cumulative share of these two segments was 54.0% in 2020, and is anticipated to reach 58.5% by 2030.
The leaves of eucalyptus trees, such as blue mallee gums, narrow-leaved peppermint gum, and tasmanian blue gum, are used to extract eucalyptus oil. 1,8-cineole, a natural chemical molecule with anti-inflammatory effects, is the major component of eucalyptus oil. Eucalyptus oil may be found in anything from medications to cleansers. A huge amount of eucalyptus leaves are required to make a single ounce of oil. It is used as fragrance in soaps, detergents, and perfumes, as well as a food flavoring. It is also used as a spot and stain remover and a wool wash component in homes. It is used in the mining industry as a flotation agent. Eucalyptus oil has long been used in Ayurveda as an antiseptic and to treat respiratory illnesses. Dried eucalyptus leaf is employed as a flavoring ingredient, in mouthwash, antiseptic, liniment, ointment, toothpaste, cough drops, and lozenges. Such various use of eucalyptus plant makes the eucalyptus oil market to flourish in forecasted period.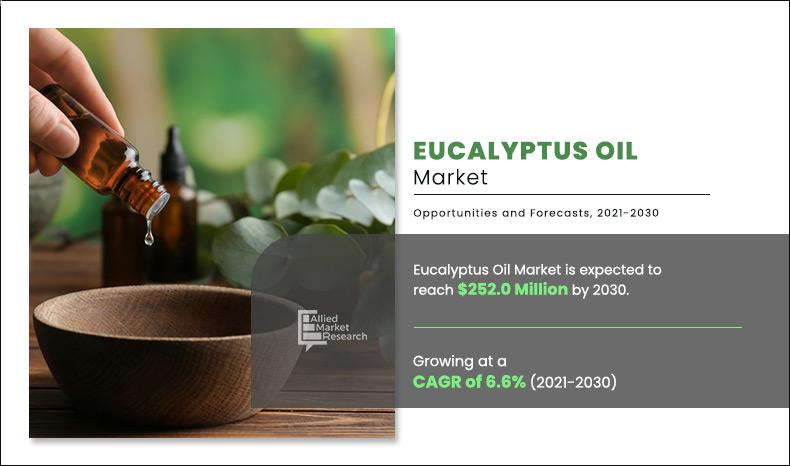 Flavors and fragrances in personal care, as well as food and beverage goods, are the main drivers of the global eucalyptus oil industry. Furthermore, altering consumer tastes towards natural-ingredient, antimicrobial characteristics of eucalyptus oil have led to its use in medicinal supplements and pharmaceutical goods, aiding customers with high blood pressure and respiratory problems to raise demand for eucalyptus oil thus driving the global eucalyptus oil market to grow. Production of eucalyptus oil necessitates large expenditures in specialized equipment, which may stifle the global eucalyptus oil market expansion.
Furthermore, the growing use of eucalyptus oil in a variety of applications has been seen, which is projected to promote market expansion in the near future. Market participants are expanding globally through partnerships and acquisitions, as well as releasing new application solutions.
COVID-19 has caused widespread disruption in all economic sectors and industries globally. Lockdown procedures devised and executed by countries globally as a health policy to reduce the impact of the pandemic's spread on the human population are mostly to blame for the disruptions. The COVID-19 lockdown measures have resulted in production halts, restrictions on persons and goods movement, border closures, logistical constraints, and a slowdown in trade and economic activity.  Throughout the pandemic, this has had a negative influence on the eucalyptus oil market. As eucalyptus oil is a non-essential product, its supply has been hampered by transportation restrictions. Furthermore, because of the rise in usage of eucalyptus oil in the pharmaceutical business, the eucalyptus oil market was stabilized in the short term.
Eucalyptus Oil Market

---
By Product
Organic is the fastest growing segment.
The eucalyptus oil market analysis is segmented on the basis of nature, application, distribution channel, and region. By nature, the market is classified into organic and conventional. By application, the market is divided into food & beverages, therapeutics & cosmetics, aromatherapy, and fragrances. By distribution channel, the market is divided into hypermarkets/supermarkets, specialty stores, online channels, and others. By region, the market is studied across North America (U.S., Canada, & Mexico), Europe (Germany, UK, France, Italy, Spain, and Rest of Europe), Asia-Pacific (China, India, Japan, Australia, Indonesia and the Rest of Asia Pacific) and LAMEA (Brazil, Argentina, South Africa, Saudi Arabia, UAE, and the Rest of LAMEA).
On the basis of nature, the eucalyptus oil market is divided into organic and conventional. The conventional segment accounted for the highest share in 2020. Eucalyptus is the world's second-most-planted multipurpose woody tree species. It is a valuable hardwood tree for the paper and timber industries. Pesticides and fertilizers are used in traditional eucalyptus plantations, which results in high productivity and product availability on the market. Furthermore, as the usage of eucalyptus in many industries grows, so has the market demand, necessitating the immediate availability of goods. Organic insecticides and fertilizers have also become more popular, leading in the rise of conventional portion of the market.
Eucalyptus Oil Market

---
By Application
The Aromatherapy segment was the fastest growing segment
On the basis of application, the therapeutics & cosmetics segment accounted for the largest portion of the global eucalyptus oil market share in 2020, and is estimated to dominate the market during the forecast period. Growing cosmetics businesses' efforts to replace chemical ingredients with natural products, as well as rise in consumer awareness of natural cosmetics' health benefits, are expected to help the eucalyptus oil market grow. Cineole or eucalyptol, tannins, and flavonoids are some of the natural compounds found in eucalyptus oil. Eucalyptus oil helps to keep the skin hydrated, alleviate irritation, and prevent UVB-induced collagen breakdown by boosting ceramide formation. As a result, it is utilized as a natural ingredient in cleansers, shower gels, beauty oils, and bath salts, among other cosmetic and personal care products.
Depending on distribution channel, the hypermarkets/supermarkets segment accounted for the highest share in 2020. Hypermarkets/supermarkets provide consumers with the ease of shopping for a range of things under one roof. Customers benefit from hypermarkets/supermarkets by having access to a vast choice of products, product discounts, sales person assistance, and speedy checkouts. Advantages are projected to propel hypermarket/supermarket growth in the predicted term.
Eucalyptus Oil Market

---
By Distribution Channel
The online channels segment was the fastest growing segment.
Region-wise, Asia-Pacific is the fastest growing regional segment during the forecast period, followed by Europe. North America held the highest share in 2020. China and the U.S. were the most prominent country accounting for a sizeable share in the global eucalyptus oil market.
Key players in the eucalyptus oil market analysis have relied on product launch as their key strategic move to stay relevant in the global market. The key players in the eucalyptus oil industry profiled in the report are Doterra International, LLC, Now Health Group, Inc., Young Living Essential Oils, LLC, NHR Organic Oils, Integria Healthcare (Australia) Pty Ltd., Plant Therapy Essential Oils, Biolandes SA, Emu Ridge Eucalyptus, Sensient Technologies Corporation, and Symrise AG
Eucalyptus Oil Market

---
By Region
Asia-Pacific was the most prominent regional segment.
Key Benefits For Stakeholders
The report provides a quantitative analysis of the current eucalyptus oil market trends, estimations, and dynamics of the market size from 2020 to 2030 to identify the prevailing opportunities.
Porter's five forces analysis highlights the potency of the buyers and suppliers to enable stakeholders to make profit-oriented business decisions and strengthen their supplier–buyer network.
In-depth analysis and the market size and segmentation assists to determine the prevailing eucalyptus oil market opportunities.
The major countries in each region are mapped according to their revenue contribution to the market.
The market player positioning segment facilitates benchmarking and provides a clear understanding of the present position of the market players in the industry.
 Eucalyptus Oil Market Report Highlights
Aspects
Details
By Nature
By Application

Food & Beverages
Therapeutics & Cosmetics
Aromatherapy
Fragrances

By Distribution Channels

Hypermarkets/Supermarkets
Specialty Stores
Online Channels
Others

By Region

North America (U.S., Canada, Mexico)
Europe (Germany, UK, France, Italy, Spain, Rest of Europe)
Asia-Pacific (China, Japan, India, Australia, Indonesia, Rest of Asia-Pacific)
LAMEA (Brazil, Argentina, UAE, South Africa, Rest of LAMEA)