The global Food Preservatives market size was valued at $2,511.5 million in 2020, and is projected to reach $3,671.7 million by 2031, registering a CAGR of 3.4% from 2022 to 2031. The synthetic segment was the highest revenue contributor to the market, with $1,348.4 million in 2020, and is estimated to reach $1,884.6 million by 2031, with a CAGR of 3.0%.
Food preservation is the process of treating food with preservatives to prevent or reduce decomposition caused by microbes such as bacteria, fungi, and others, hence increased food shelf life. It includes limiting lipid oxidation, which produces rancidity.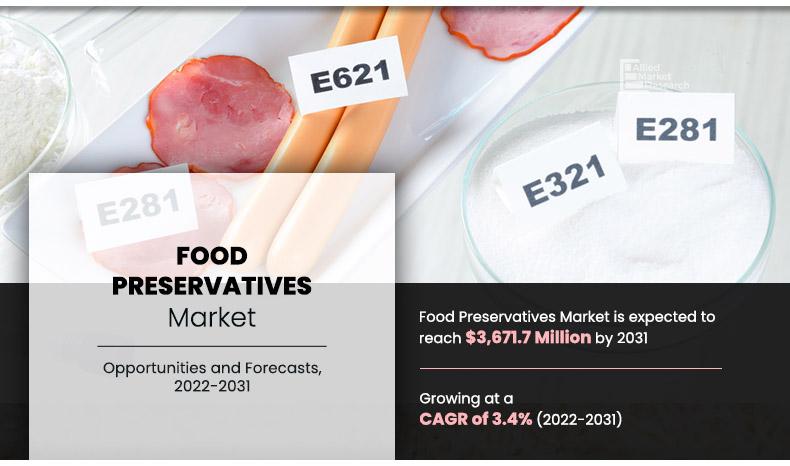 At the moment, most individuals choose to buy ready-to-eat meals rather than prepare it at home. These foods contain a variety of additives and preservatives to maintain quality and decrease spoiling caused by various bacteria, which is projected to increase demand for food preservatives in the near future. During the projected period, the health risks associated with these food preservatives are expected to hinder Food Preservatives market growth.
Increased work hours have significantly altered consumer lifestyles and, as a result, their eating habits. These developments necessitate food products that are easy to consume and have a longer shelf life. As a result, the role of food preservatives in the food and beverage industry has become increasingly significant. The surge in demand for goods with a longer shelf life has had a significant impact on the food processing industry. Overall, preservatives' well-proven storage efficacy has improved food delivery methods, competitive pricing, and provided value to food goods.
Organic products are in high demand among health-conscious consumers; as a result, producers are increasingly turning to natural preservatives in food production. As a result, manufacturers have developed natural preservatives such as rosemary extracts, which are effective in keeping food shelf stable and adding flavor to it.
Despite their critical function in food safety and shelf life extension, the preference for natural preservatives over synthetic ones is posing a challenge for food and beverage preservative users. Natural foods are perceived to be healthier than those containing synthetic preservatives by consumers. Unprocessed cheese drives growth in the U.S. cheese market, indicating that customers are seeking higher quality goods. Affluent buyers look for artisanal, handcrafted, and small batch meals in the food business. High-income cheese consumers prefer raw cheese with a deeper flavor profile than processed cheese with synthetic preservatives.
The significance of natural preservatives has become increasingly significant as the demand for natural food items grows. Following the 2008 economic downturn, the shipment of natural food items in the U.S. increased significantly through 2010. Furthermore, consumer desire for foods with fewer chemical preservatives has created a new business potential for natural preservatives such as nisin and natamycin. Natural preservatives are used in conjunction with chemical preservatives in applications such as dairy and frozen foods in the U.S., and natural preservatives are now utilized entirely in new sorts of foods such as sausages. Natural preservatives' application range is continuously expanding, including baked goods, meat, and convenience foods.
The expanding global population increases the demand on manufacturers to make, extract, and maintain finite resources. Food prices have grown as a result of high energy prices and rise in raw material costs, harming low-income consumers. Water scarcity has put additional strain on food resources, particularly in Africa and Northern Asia. Science and technology advancements assist in prolonging the shelf life of foods to a greater level. The requirement for marketing food preservatives to the smallest food and beverage firms is anticipated to aid in increasing Food Preservatives market size.
Consumption of functional beverages has increased as people become more aware of the health advantages of functional foods. Beverage makers are focused on innovation to establish a market advantage by including natural preservatives into their formulation process. Corbion, for example, announced the commencement of a project in March 2021 to boost its capacity for generating lactic acid and lactic acid derivatives. Lactic acid and its derivatives are viewed as critical enablers of corporate growth by manufacturers across a wide range of industries. Corbion's mission is to aid in the preservation of what is important, whether it be food &food production, human health, or the environment, and natural resources.
Segment Review
The food preservatives market is segmented based on type, function, application, and region. Based on type, it is bifurcated into natural and synthetic. The natural food preservatives segment is further classified into sugar, salt, vinegar, honey, alcohol, edible oil, nicin, rosemary extracts, onion, and natamycin. The synthetic food preservatives segment is further categorized into sorbates, benzoates, propionates, and others. Sorbates are further bifurcated into sorbic acid and potassium sorbate. Benzoates are classified as benzoic acid and sodium benzoate. Propionates are also categorized into propionic acid, sodium propionate, and calcium propionate. The others segment is classified into nitrites, sulfur dioxide, lactic acid, sodium diacetate, acetic acid. On the basis of function, the market is divided into antimicrobials, antioxidants, and others. The application areas of the industry are broadly classified into bakery, meat, poultry, and seafood, oils & fats, dairy & frozen foods, snacks, confectionery, beverages, and others. The market is analyzed across North America, Europe, Asia-Pacific, and LAMEA.
On the basis of product type, the Food Preservatives market is divided into natural and synthetic.Synthetic kind is extensively utilized as it is inexpensive and simple to produce. They can be customized to meet the needs of the application. In addition, the expansion in demand for diverse packaged foods has boosted the use of synthetic preservatives in recent years.
On the basis of function, the Food Preservatives market is divided into antimicrobials, antioxidants, and others.Anti-microbial preservatives dominate the global market, followed by anti-oxidants. Sorbates, benzoates, and other compounds are anti-microbial preservatives that are generally regarded as safe (GRAS) in the U.S.
On the basis of application, Food Preservatives market is divided into bakery, meat, poultry, seafood, oils & fats, dairy & frozen foods, snacks, confectionery, beverages, and others. Meat, poultry and seafood segment was the largest contributor in 2021. Meat preservatives are widely used since meat is widely consumed throughout the world, particularly in major regions such as North America, Asia-Pacific, Europe, and Latin America. The economy is improving in these areas, allowing consumers to consume meat on a regular basis. The meat begins to decompose as soon as the blood ceases to pulse in the veins, necessitating its preservation until consumption.
The market analysis focuses on the food preservativesmarketgrowth prospects, restraints, and opportunities of the global market. The study provides Porter's five forces analysis to understand the impact of various factors such as competitive intensity of competitors, bargaining power of suppliers, threat of substitutes, threat of new entrants, and bargaining power of buyers of the 
Food Preservatives Market Share
The key players profiled in the report include Danisco A/S, Akzo Nobel N.V., Kemin Industries, Inc., Cargill, Incorporated, Hawkins Watts Limited, Celanese Corporation, Univar Inc., and Koninklijke DSM N.V. The other market players (not profiled in report) in the value chain include Brenntag Solutions Group, Inc., Tate & Lyle, Galactic, Kerry Group, E. I. du Pont de Nemours and Company, PuracBiochem B.V., Kilo Ltd., Ajinomoto Co. Inc., and Albemarle Corporation.
Covid-19 Impact Analysis
The COVID-19 pandemic has resulted in increased sales of retail and off-the-shelf products related to travel restrictions around the world. As a result, a large portion of the global population began stockpiling foodstuffs and other food products for their houses. This finally had a favorable effect on industrial demand for food preservatives in the medium run. 
Bakery, frozen meals, snacks, and other application categories saw extended demand during the pandemic. In addition, there has been an increase in customer demand for Ready-to-Eat (RTE) meals, which has offered equal potential for food preservative manufacturers in the recent term.
During the pandemic, the baking business expanded rapidly, and consumers' shift toward ready-to-eat meals in grocery stores contributed greatly to the demand for food preservatives. Manufacturers are currently focused on several launches of plant-based food preservatives to meet the baking industry's newer demand and innate needs.
Key Benefits For Stakeholders
The report provides an extensive analysis of the current and emerging food preservativesmarkettrends and opportunities.
The report provides detailed qualitative and quantitative analysis of the currenttrends and future estimations that help evaluate the prevailing food preservativesmarket opportunities in the market.
The food preservativesmarketforecast is offered along with information related to key drivers, restraints, and opportunities.
Thefood preservatives market analysis is conducted by following key product positioning and monitoring the top competitors within the market framework.
The food preservatives marketprovides extensive qualitative insights on the potential and niche segments or regions exhibiting favorable growth.