Biosimilars Market Overview :
The global biosimilars market was valued at $2,552.0 million in 2014 and is expected to reach $26,551.3 million by 2020, supported by a CAGR of 49.1% during the forecast period 2015 to 2020. Biosimilars or follow-on-biologics are the "copied" and licensed versions of those reference biologics that have undergone patent expiration. Biosimilars development and validation with reference biologics is a crucial aspect of the overall development process. Regulations for biosimilars play a vital role in maintaining the viability and balance between original and biosimilars products. Various regulatory authorities such as EMA and FDA actively regulate the biosimilars commercialization and development.
The market is driven by factors such rising prevalence of chronic diseases such as cancer and diabetes supplement the growing demands of pharmaceutical drugs, especially for the high priced patented drugs. However, the market growth is limited by the high cost of reference products increases the financial burden on patients as well as reimbursement service providers. The lack in economies of scale due to lower demand is a factor that results in these high costs. Furthermore, the growth of the biosimilars market is hampered due to the lack of regulatory guidelines, consumers brand preferences, reluctance of physicians to prescribed biosimilars and the high capital required for research and development. Countries from the European Union presently dominate the market owing to the favorable government regulations in this region. North America biosimilars market is currently witnessing restrictions due to the flexible and ineffective regulations.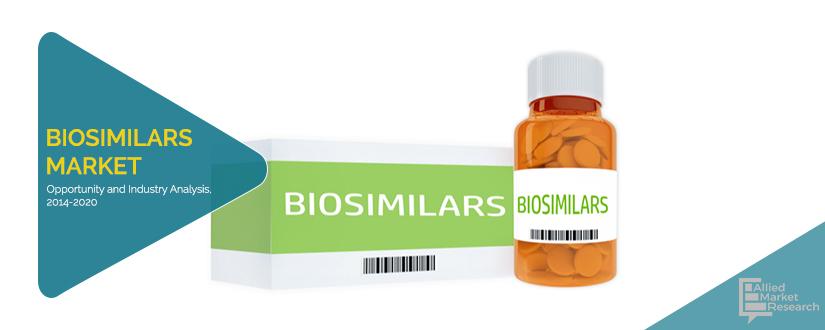 Get more information on this report : Request Sample Pages
Biosimilars Market Segmentation
Segment review
The product segment in the biosimilars market comprises of Human Growth Hormone, Erythropoietin, Monoclonal Antibodies, Insulin, Interferon, Colony Stimulating Factors and others. The biosimilars applications market is segmented into blood disorders, oncology diseases, chronic and autoimmune diseases and growth hormone deficiency. The application of biosimilars in blood disease treatment is the highest revenue generating segment owing to the high-priced reference biologics and frequent application.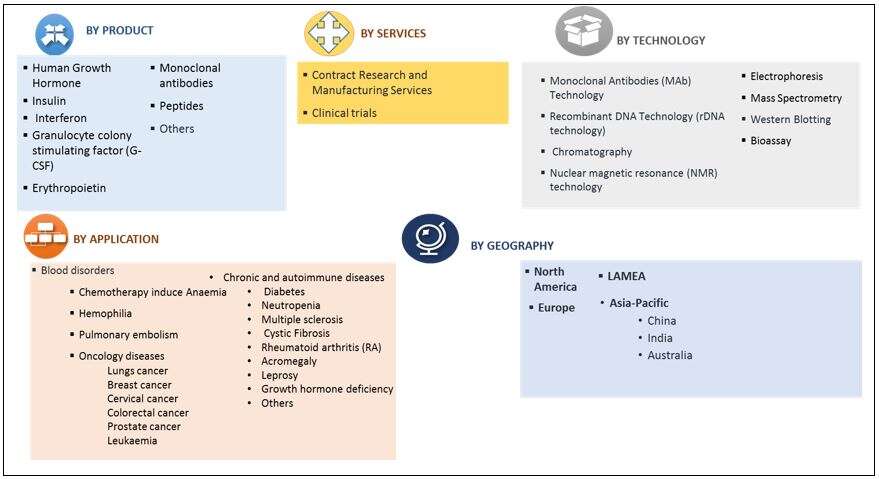 Get more information on this report : Request Sample Pages
However, biosimilars applications in autoimmune and chronic diseases exhibit the highest potential due to the changing off patent scenario. Biopharmaceutical industry is vastly dependent on the advanced technologies used in various procedures of development and manufacturing. These technologies are acting as a mandate for every single operation in biopharmaceutical and healthcare research industry. Some of the significant technologies are discussed in the report includes, Monoclonal Antibodies (MAb) Technology, Recombinant DNA Technology (rDNA technology), Nuclear magnetic resonance (NMR) technology, Chromatography, Electrophoresis, Mass Spectrometry, Western Blotting and Bioassay. Monoclonal antibody technology and bioassay technologies are the most significant technologies used in biosimilar development and validation. Based on geography, the biosimilars market is segmented across North America, Europe, Asia-Pacific and LAMEA. Asia Pacific and LAMEA exhibit a large scale demand for biosimilars due to the growing prevalence of chronic diseases in these regions
Manufacturers are the most important stakeholders for the biosimilars; pharmaceutical companies are largely focusing on the development of novel pharmaceuticals, especially for the blockbuster drugs. However, patent protections and availability of other intellectual rights are protecting these formulations from imitation. In such scenario, the pharmaceutical companies are shifting their focus over the development of biosimilars and for that these companies are adopting approval and clinical trials strategies.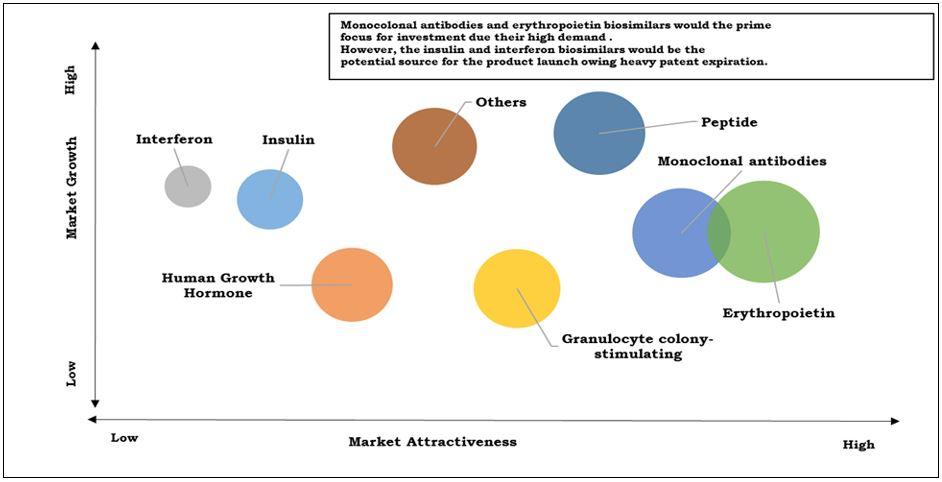 Get more information on this report : Request Sample Pages
Approval and clinical trials stand as principal strategy for the biosimilars market. The companies such as Sandoz, Merck Serono, and Celltrion are continuously seeking approvals across different geographies. These companies are subsidiaries of global companies such as Merck and Novartis, which enable them to invest into the biosimilar studies. Clinical trials and investments in product development are equally important as approvals. The strategies adopted by the companies are in integrated manner where clinical trials conducted for commercialization and approvals. Approval strategies accounted for 28.6% of overall strategies; while, clinical trials accounted 32.1%. Other strategies are currently following these strategies, as these strategies are the platform strategies for the others. License, partnership, product launch, joint venture, and co-development are some of the other strategies adopted by the companies who had received approval from the authorities and have successfully imitated the original biologics.
The Global biosimilars products market is segmented into Human growth hormone, Erythropoietin, Monoclonal antibodies, Insulin, Interferon, G-CSF, peptide and other biosimilars. Patent expiration is a key factor that largely influences the biosimilars market. Most of the blockbuster patents would expire by the end of 2014; a factor that would provide competitive advantage to local pharmaceutical manufacturers over global players.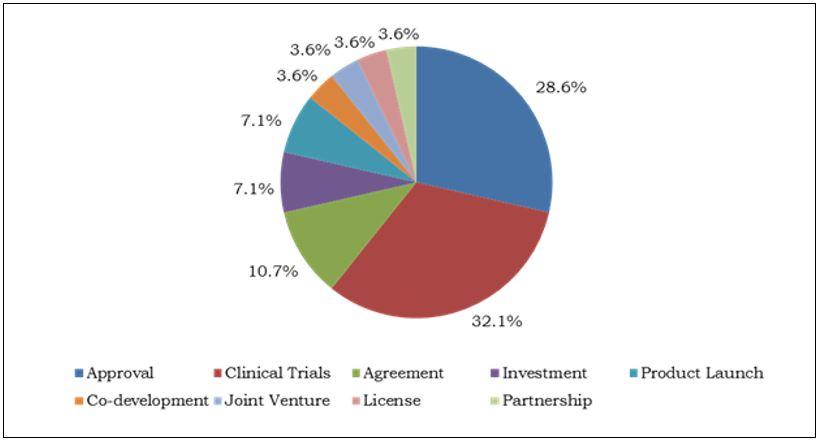 Get more information on this report : Request Sample Pages
Most of the lucrative products in biosimilars industries are monoclonal antibodies, G-CSF erythropoietin and peptide. These products are currently commanding the biosimilars market and have received approval for commercialization in many geographies. Companies manufacturing these biosimilars are achieving economies of scale in the market; thus, receiving cost advantage in a price sensitive market. Further advancement in technologies would lead to the development of more competent biosimilars, such as Insulin and these biosimilars would outperform the existing biosimilars. `The companies that launched biosimilars in 2011 are generating high revenues by providing low cost biosimilar products. Growing awareness and low cost are the factors driving the market growth for monoclonal antibodies and human growth hormone biosimilars in current market.
The key players profiled in this report include Novartis (Sandoz), Synthon Pharmaceuticals, Inc., Teva Pharmaceutical Industries Ltd., LG Life Sciences, Celltrion, Biocon, Hospira, Merck Serono (Merck Group), Biogen idec, Inc., and Genentech (Roche Group).
Key Benefits For Stakeholders
The study provides an in-depth analysis of the biosimilars market along with the current trends and future estimations to elucidate the imminent investment pockets.
It offers biosimilars market analysis from 2014 to 2020, which is expected to enable the stakeholders to capitalize on the prevailing opportunities in the market.
A comprehensive analysis of four regions is provided to determine the prevailing opportunities.
The profiles and growth strategies of the key players are thoroughly analyzed to understand the competitive outlook of the global biosimilars market growth.
Key Market Segments
By Types
Human growth hormone
Erythropoietin
Monoclonal antibodies
Insulin
Interferon
Granulocyte-Colony Stimulating Factor
Others
By Applications
Blood disorders
Oncology diseases
Chronic and autoimmune diseases
Growth hormone deficiencies
Others
By Geography
North America
Europe
Asia-Pacific
LAMEA
LIST OF KEY COMPANIES
Novartis (Sandoz)
Synthon Pharmaceuticals, Inc.
Teva Pharmaceutical Industries Ltd.
LG Life Sciences
Celltrion
Biocon
Hospira
Merck Serono (Merck Group)
Biogen idec, Inc.
Genentech (Roche Group).