The gluten-free products market size was valued at $4.3 billion in 2019, and is estimated to reach $7.5 billion by 2027, registering a CAGR of 7.2% from 2020 to 2027. Gluten-free diet is essential for people with gluten allergies and celiac disease, a condition which causes inflammation in small intestines. The gluten-free food helps improve cholesterol levels, digestive systems, and increases energy levels. Most of the gluten-free foods available are healthy, and help in the weight loss with right combinations and proportions of other foods. Gluten-free food products exclude protein "gluten", which is found in grains such as wheat, barley, and rye.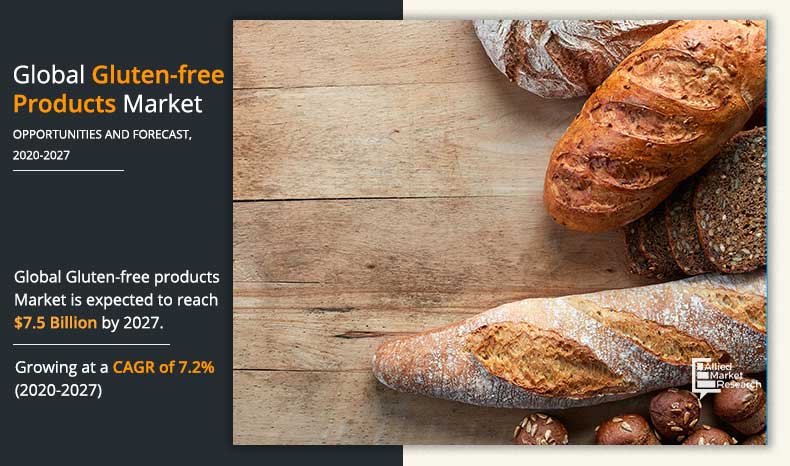 Increase in number of celiac disease patients and gluten intolerance is expected to fuel the market growth in the near future. More than 80% of this population is not aware that they are suffering from celiac disease. There is growth in the availability of gluten-free products owing to the rise in number of celiac disease patients. Moreover, growth in demand from millennial, improvement in marketing activities, and improved distribution channels drive the market growth. The impact of these drivers is expected to increase significantly due to increase in investments by small and medium-sized food manufacturing companies. However, price sensitivity is a factor projected to restrain the gluten-free products market growth.
Surge in number of working women has increased the dependency of the consumers on gluten-free ready meals and convenience free food. This in turn has led to increase in demand for shelf stable and convenience food, fueling the growth of gluten-free products market. Furthermore, rapid surge in number of large retail formats worldwide, including convenience stores, specialty stores, and drugstores & pharmacies, fuel the demand for gluten-free products. Growing concerns about health-relateddiseases such as physical inactivity and vaccine-preventable diseases and others is expected to influence the consumers to buy the gluten-free products. Rise in demand for gluten free products offers lucrative opportunities for manufacturers.
The manufacturers have been focusing on providing gluten-free products with a range of options along with the higher quality, taste, and nutritional value to the consumers for maintaining the competitive position in the gluten-free products market. 
The gluten-free products market is segmented on the basis of type, distribution channel, and region. By type, it is categorized into gluten-free baby food, gluten-free pasta, gluten-free bakery products, and gluten-free ready meals. By distribution channel, it is divided into convenience stores, specialty stores, drugstores & pharmacies, and others. Region wise, it is analyzed across North America (U.S., Canada, and Mexico), Europe (Germany, France, UK, Italy, Spain, and rest of Europe), Asia-Pacific (China, Japan, Australia, India, and rest of Asia-Pacific), and LAMEA (the Middle East, Latin America, and Africa).
On the basis of type, the gluten-free bakery products segment accounted for the maximum gluten-free products market share in 2019. Bakery productshas been the one of the most preferred choice of gluten-free products among the consumers, due to increase in demand from millennials coupled with surge in need for nutritional rich foods. In addition, enhancement in baby food processing technologies owing to increased investment in R&D of food processing, coupled with strengthening distribution network of baby food products items and high-shelf life of gluten-free baby food are expected to contribute significantly to the growth of gluten-free baby food market segment. 
Gluten-Free Products Market

---
By Type
The Gluten-free bakery products segment helds the major share in 2019
According to the gluten-free products market analysis, on the basis of distribution channel, the convenience stores segment spearheads the market, which accounted for around half of the share in gluten-free products market in 2019, and is expected dominate throughout the gluten-free products market forecast period. Convenience stores helps manufacturers to introduce their product in the market and cater large consumer base. Consumers pay more attention to the overall shopping experience while buying products at convenience stores.
Gluten-Free Products Market

---
By Distribution Channel
The drugstore & pharmacies segment helds the higest CAGR of 8.10% from 2020-2027
Region wise, Europewas the prominent market in 2019, which accounted for the maximum share in the gluten-free products market. This is attributed to the increase in demand from millennial and surge in marketing activities. Improvement of distribution channels are also driving the growth of the gluten-free food market in Europe. Asia-Pacific and North America are expected to gain a major demand for gluten-free products during the forecast period. This is attributed toincrease in investments by several small and midsized food manufacturing companies in the developing countries. Moreover, factors such as increase in demand for convenience by consumers, rise in disposable income, and changes in consumer behavior in the region are expected to gain a major traction in the market. 
Gluten-Free Products Market

---
By Region
The Europe region helds the higest market share of 47.50% in 2019
The players in the gluten-free products markethave adopted various development alstrategies to expand their market share, increase profitability, and remain competitive in the market. The key players profiled in this report include ConAgra food Inc., Hain Celestial Group, Inc., General Mills, Inc., Kellogg Company, The Kraft Heinz Company, Freedom Foods Group Limited, Mondelez International Inc., Koninklijke Wessanen N.V., Quinoa Corporation, and Valeo Foods Group Limited.
Key Benefits For Stakeholders
The report provides a quantitative analysis of the currentgluten-free products market trends, estimations, and dynamics of the market size from 2019 to 2027 to identify the prevailing opportunities.

Porter's five forces analysis highlights the potency of buyers and suppliers to enable stakeholders to make profit-oriented business decisions and strengthen their supplier–buyer network.

In-depth analysis and the market size and segmentation assists to determine the prevailinggluten-free products market opportunities.

The major countries in each region are mapped according to their revenue contribution to the market. 

The market player positioning segment facilitates benchmarking and provides a clear understanding of the present position of the market players in the gluten-free products industry.
 Gluten-Free Products Market Report Highlights
Aspects
Details
By Type

Gluten-free Baby Food
Gluten-free Pasta
Gluten-free Bakery Products
Gluten-free Ready Meals

By Distribution Channel

Convenience Stores
Specialty Stores
Drugstore & Pharmacy
Others

By Region

North America (U.S., Canada, Mexico)
Europe (Germany, France, UK, Italy, Spain, Rest of Europe)
Asia-Pacific (China, Japan, India, Australia, Rest of Asia-Pacific)
LAMEA (Latin America, Middle East, Africa)

Key Market Players
Freedom Foods Group Limited., General Mills, Inc., Kellogg Company, Koninklijke Wessanen N.V, MONDELEZ INTERNATIONAL INC, ConAgra Brands, Inc., Quinoa Corporation, THE HAIN CELESTIAL GROUP, INC, THE KRAFT HEINZ COMPANY, VALEO FOODS GROUP LTD