Hemp Tea Market Research, 2031
The global hemp tea market was valued at $56.2 million in 2021, and is projected to reach $392.8 million by 2031, growing at a CAGR of 22.1% from 2022 to 2031. Hemp tea is a type of herbal tea made from the hemp plant's buds, leaves, stems, flowers, and seeds. The hemp tea flavor has an earthy and slightly bitter taste and a relaxing scent. During the harvest of hemp tea ingredients from the hemp plant, the main goal is to ensure that the tea contains a significant amount of antioxidants and CBD (cannabidiol). The market for hemp tea has recently expanded as a result of rising consumer demand for the beverage.
The uncertainties led by the COVID-19 pandemic has negatively impacted the hemp tea market growth owing to fluctuations in the prices of raw materials and delay in the approval and legalization process across several countries. However, post-pandemic the hemp tea market is anticipated to grow at a rapid pace as various cannabidiol (CBD) research studies have shown promising results in treating coronavirus. Also, hemp tea is rich in antioxidants and it is caffeine-free which helps in reducing anxiety and chronic pain. These aspects are anticipated to boost the hemp tea market share post-pandemic times.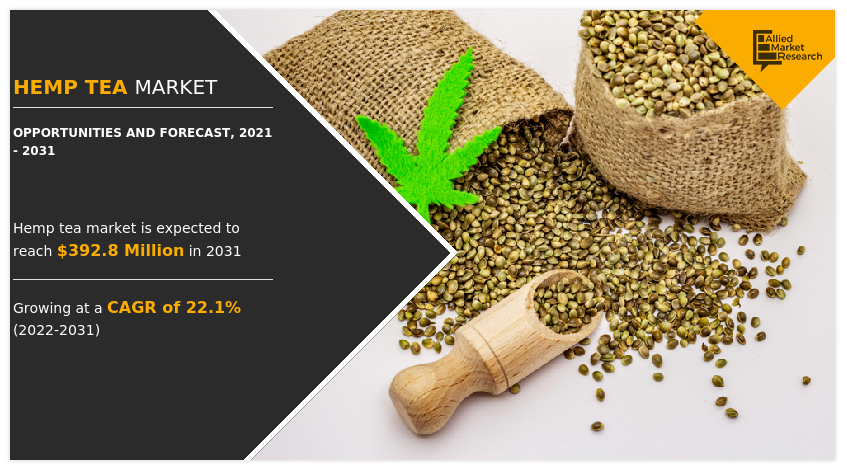 Throughout the world, hemp tea is gaining significant popularity. Hemp tea has many health benefits, including lowering blood pressure, lowering anxiety, and lowering depression. It is also an excellent source of antioxidants, vitamins, and minerals, all of which contribute to better health. Due to the benefits of hemp tea, many people have been intrigued to try these new plant-based herbal items. Hemp tea has long been known to provide analgesic, anti-inflammatory, and anti-anxiety effects. The negative effects of stress on the body and mind are reduced by its anti-stress capabilities. During the analysis period, these factors are anticipated to drive the hemp tea market demand.
The market for hemp-based products like hemp tea has experienced rapid product development due to the rising global appeal of plant-based superfoods. The market is expected to grow as a result of the enormous growth in demand for hemp seeds and hemp protein. The growing understanding of hemp's numerous alleged health benefits is another factor contributing to the rising popularity of veganism.
As hemp tea is made from the cannabis plant, a well-known source of marijuana. As a result, some people confuse hemp tea with cannabis products that can make them euphoric. As a result, most individuals hold back from consuming hemp tea demand for hemp tea will most likely decline as a result of this factor. The government of several countries has also imposed limitations on the manufacturing and sale of cannabis-related goods in those countries. These factors are also anticipated to hinder the hemp tea market size in the upcoming years. 
Hemp cultivation is becoming legalized in many parts of the world, manufacturers and research institutions are being motivated to create new products based on industrial hemp raw material. By meeting the rising customer demand for fresh flavors and locally sourced beverages, the top market players stand to gain significantly from the chance to diversify their product offerings and launch new hemp tea variants. In order to assist market expansion, major companies are working to establish methods including product creation, merger and acquisition, partnerships, and collaborations.
Some of the major hemp tea market players include ItsHemp, Willie's Remedy, Clipper Teas, Buddha Teas, Traditional Medicinals, The Tea Can Company, Cannabiniers, Colorado Harvest Company, Charlotte's Web, and Green Roads
The global hemp tea market is segmented on the basis of distribution channel and region. By distribution channel, the market is sub-segmented into online/direct-to-consumer, convenience stores, and others. By region, the market is analyzed across North America, Europe, Asia-Pacific, and LAMEA.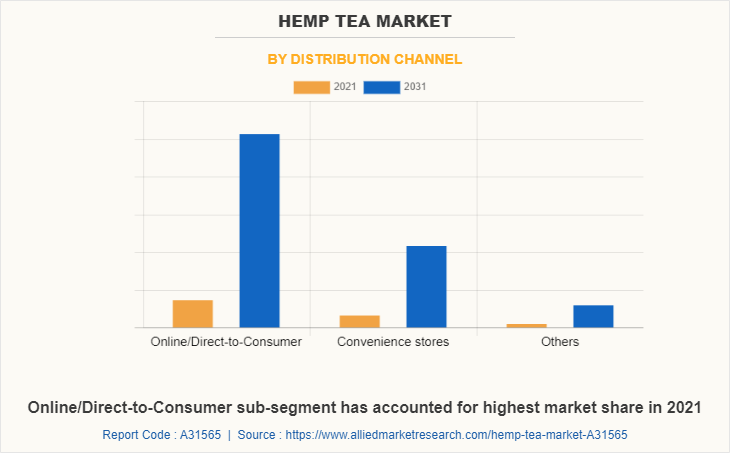 By distribution channel, the online/direct-to-consumer sub-segment has accounted for the highest market share in 2021. The rise in popularity of internet shopping among consumers, which takes less time and effort, is credited with the growth. Since businesses have begun releasing their products online, buyers can now buy goods more easily regardless of location. When choosing a product online, people can choose from a wide range of possibilities. Along with this, businesses provide a variety of fresh offers and schemes that draw customers in. The increased popularity of Internet shopping among customers has contributed to the growth of online/direct-to-consumer sub-segment which is anticipated to boost the hemp tea market share during the analysis timeframe.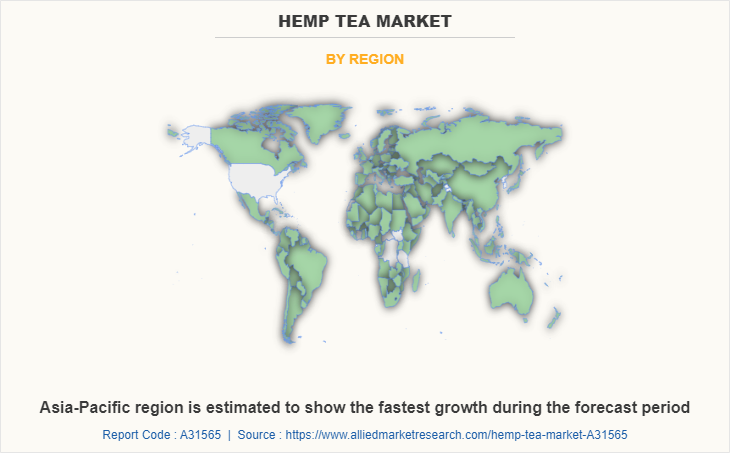 By region, North America has dominated the hemp tea industry in 2021. This growth is majorly attributed to the growing demand for plant-based beverages, which aid in maintaining good health. When hemp tea is consumed, it helps to reduce body weight and boost the immune system. In addition, major market players have focused on introducing new products to meet the rising demand for new flavors in beverages.
In Asia-Pacific, growing awareness of hemp tea and its health benefits is creating enormous opportunities for market growth. Application of innovative products and services by market players, increased product development spending and expected expansion of key players' distribution networks are some of the major factors enhancing the hemp tea demand in the Asia-Pacific region.
COVID-19 Impact on Hemp Tea Industry
The COVID-19 pandemic had a devastating effect on many economies around the world. Over 100 countries have been affected by the pandemic. To control the spread of this disease and avoid the consequences, governments around the world have declared partial or complete lockdown, affecting many industries including hemp tea.

Governments all over the world have implemented stringent regulations and travel restrictions to prevent the deadly coronavirus from spreading, which has reduced the movement of goods and the sourcing of raw materials to companies that produce hemp-based products. This resulted in fewer hemp products, such as hemp tea, hemp-infused cosmetics, lotions, and oils being produced, which led market revenue to fall.

In September 2021, Ferris Holding, Inc., a renowned co-packer and manufacturer situated in Las Vegas, Nevada, was acquired by Hemp, Inc., according to a press release. Hemp, Inc. can grow its new product releases in the international hemp industry due to the acquisition. These factors are expected to drive the hemp tea market growth.
Key Benefits For Stakeholders
The report provides an exclusive and comprehensive analysis of the global hemp tea market

trends along with the hemp tea market forecast.

The report elucidates the hemp tea market opportunities along with key drivers, and restraints of the market. It is a compilation of detailed information, inputs from industry participants and industry experts across the value chain, and quantitative and qualitative assessment by industry analysts.

Porter's five forces analysis helps analyze the potential of the buyers & suppliers and the competitive scenario of the market

for strategy building

The report entailing the hemp tea market analysis maps the qualitative sway of various industry factors on market segments as well as geographies

The data in this report aims at market dynamics, trends, and developments affecting the industry growth
 Hemp Tea Market Report Highlights
Aspects
Details
Market Size By 2031
USD 392.8 million
Growth Rate
CAGR of 22.1%
Forecast period
2021 - 2031
Report Pages
305
By Distribution Channel

Online/Direct-to-Consumer
Convenience stores
Others

By Region

North America (U.S., Canada, Mexico)
Europe (Germany, United Kingdom, France, Spain, Italy, Rest of Europe)
Asia-Pacific (China, Japan, India, South Korea, Australia, Rest of Asia-Pacific)
LAMEA (Brazil, Saudi Arabia, UAE, South Africa, Rest of LAMEA)

Key Market Players
Traditional Medicinals, Green Roads, Buddha Teas, The Tea Can Company, Willie's Remedy, Clipper Teas, Colorado Harvest Company, ItsHemp, Charlotte's Web, Cannabiniers