Home Insurance Market Outlook - 2027
The global home insurance market was valued at $225.42 billion in 2019, and is projected to reach $395.04 billion by 2027, registering a CAGR of 7.3% from 2020 to 2027. Home insurance is a kind of property insurance, that provides financial protection to an individual against all the losses and damages happened to the residence. It is sometimes referred as homeowner's insurance, household insurance, or private property insurance. Home insurance is a package policy, which covers not only damages to the property but also the liability, or legal responsibility, for any injuries and property damage by policyholders. This includes damages caused by household pets, fire, theft, and vandalism. However, there are some natural disasters that are not covered under standard home insurance policy. These include flood, earthquakes, and poor home maintenance.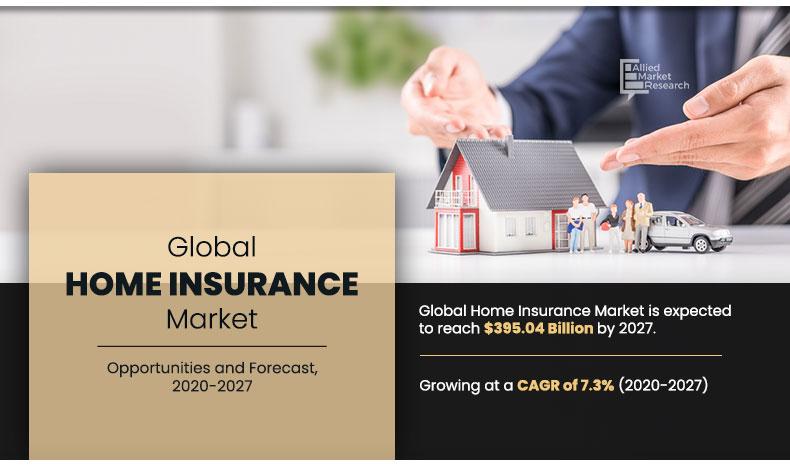 Get more information on this report : Request Sample Pages
Growth in global number of households, increase in initiatives by government, and rise in number of accidents and man-made disasters are the major factors that drive the growth of the global home insurance market. However, lack of awareness regarding home insurance policy hampers the growth of the market. On the contrary, untapped potential of emerging economies and new technological developments in the home insurance industry are expected to provide lucrative opportunity for the market expansion during the forecast period.
Region wise, the home insurance market was dominated by North America in 2019, and is expected to retain its position during the forecast period. The major factors that drive the growth of the market in this region include the presence of key players in the U.S. resulting into large-scale purchases of H0-3 homeowner's coverage in the country to protect lifetime investment. However, Asia-Pacific is expected to witness significant growth rate during the forecast period because of its emerging economies, surge in population, and middle-income segment. Moreover, government of various countries such as Japan, Malaysia, Australia, and Thailand focus on formulating regulations that mandate the home insurance for all residents, which provide lucrative opportunities for the market expansion in this region.
The report focuses on the growth prospects, restraints, and trends of the global home insurance analysis. The study provides Porter's five forces analysis to understand the impact of various factors such as bargaining power of suppliers, competitive intensity of competitors, threat of new entrants, threat of substitutes, and bargaining power of buyers on the global home insurance market share.
Home Insurance Market

---
By Coverage
Comprehensive coverage accounted for the largest market share in 2019.
Get more information on this report : Request Sample Pages
Segment review
The home insurance market is segmented into coverage, end user, and region. On the basis of coverage, the market is categorized into comprehensive coverage, dwelling coverage, content coverage, and other optional coverages. By end user, it is bifurcated into landlords and tenants. Region-wise, the market is analyzed across North America, Europe, Asia-Pacific, and LAMEA.
Home Insurance Market COVID-19 impact analysis
The home insurance industry has recorded continuous investments for its developments and has become a massive contributor to the economic growth. However, this industry has been moderately affected by the outbreak of the COVID-19 pandemic, leading to economic instability. In addition, it has been observed that increased uncertainty with respect to income and employment influenced individuals to postpone new house purchases. According to several studies, 80% of households have delayed their decision of home buying because mortgage lenders require homeowner insurance, which is expense for homebuyers while buying house. However, due to financial instability or liquidity crunch during crisis the demand for home insurance has been moderately reduced. During COVID-19 pandemic, everyone started staying at home so insurance companies are expecting an increase in the insurance claims. Therefore, COVID-19 brings an opportunity for home insurers to expand their business by offering flexible payment plans to support consumers through the pandemic. For instance, Allstate Insurance Company supports customers by packing back $1 billion through Shelter-in-Place Payback scheme.
Home Insurance Market

---
By End User
Tenants segment is projected as one of the most lucrative segments.
Get more information on this report : Request Sample Pages
Top impacting factors
Rise in number of natural disasters and man-made hazards
Rise in demand for home insurance on accidents such as interior or exterior damage of home, damage of assets or injury, theft, and fire builds pressure on insurance companies to invest and develop such products that have less proliferation, high coverage, and provide financial security in the form of medical injury or any other damages boost the home insurance market growth. In recent years, there has been an increase in the number of accidents, in terms of natural catastrophes includes floods, earthquakes, vandalism, and landslides, which has resulted in an increase in the need for home insurance. Majority of the homeowners depend on home insurance to prevent themselves from future financial losses such as injuries to other's property, family members, and pets. In addition, home insurance incorporates such coverage, which helps to compensate policyholder family members after his/her death.
New technological developments in the home insurance industry
Increase in technologies such as geo-location, application program interface (API), artificial intelligence (AI), data analytics, blockchain, and big data provides innovative opportunities for insurers in the market. With these technological developments, home insurance distribution platforms are expected to enhance productivity for providing various coverage includes ALE Additional Living Expenses, Renter's insurance, and others seamlessly at the point-of-purchase. Moreover, digital transformation enables home insurance companies to create highly personalized user experiences with their customers. Further, to maintain home insurance market position, insurers are considering use of big data analytics that offer possibilities of generating large premiums. In addition, technologies help in data collection, cater to customer specific needs, calculate risk, and detect fraud. Therefore, easy accessibility and convenient home insurance offerings by technological advancements are expected to provide lucrative opportunities for insurers in the home insurance market.
Home Insurance Market

---
By Region
Asia-Pacific would exhibit the highest CAGR of 12.8% during 2020-2027.
Get more information on this report : Request Sample Pages
Key Benefits For Stakeholders 
The study provides an in-depth analysis of the global home insurance market trends and future estimations to elucidate the imminent investment pockets.
Information about key drivers, restraints, and opportunities and their impact analysis on the global home insurance market size is provided in the report.
Porter's five forces analysis illustrates the potency of the buyers and suppliers operating in the home insurance industry.
The quantitative analysis of the home insurance market from 2019 to 2027 is provided to determine the market potential.                                                  
 Key Market Segments & Key Market Players
Segments
Sub-segments
By Coverage

Comprehensive Coverage
Dwelling Coverage
Content Coverage
Other Optional Coverages



By End User


By Region

North America
Europe

UK
Germany
France
Italy
Spain
Netherlands
Rest of Europe

Asia-Pacific

China
Japan
India
Australia
New Zealand
Rest of Asia-Pacific

LAMEA

Latin America
Middle East
Africa



Key Market Players

ALLIANZ
ADMIRAL
Allstate Insurance Company
American International Group, Inc.
AXA
Chubb
Liberty Mutual Insurance Company
PICC
State Farm Mutual Automobile Insurance Company
Zurich