The global immunity boosting food market size was valued at $21,670.0 million in 2020, and is projected to reach $46,947.6 million by 2030, registering a CAGR of 8.2% from 2021 to 2030. 
Immunity boosting food serves as a nutritional food that helps boost immunity and improve the gut health of the human body. Immunity boosting food products are mainly extracted from natural ingredients such as super food and probiotics & prebiotics.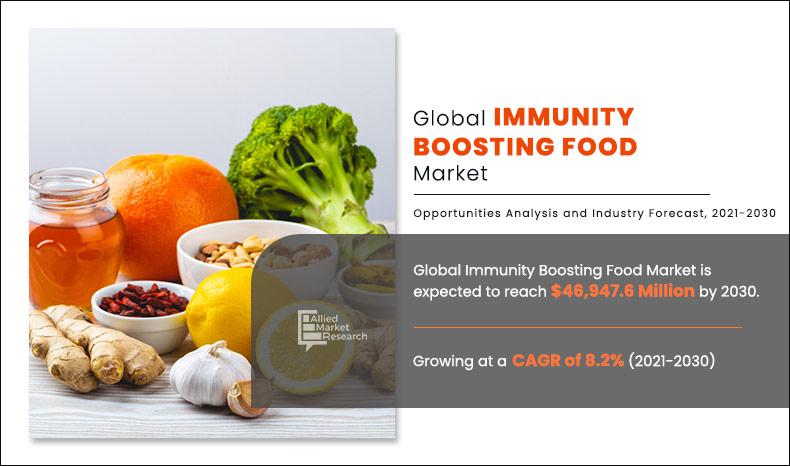 A major factor influencing market growth is rising consumer preference for natural products. Rise in concerns of consumers about preventive healthcare and the efficacy of immunity boosting food on health are driving the market growth. Immunity boosting food demand has increased due to an increase in functional food consumption, which, in addition to providing basic nutrition, helps improve health.
Food and beverage industry growth due to increased consumer spending and favorable government support is expected to be a major driving factor for the immunity boosting food market growth. Immunity boosting food market growth is expected to be driven by rise in demand for organic food among health-conscious consumers. However, the perishable nature of immunity boosting food is hindering the growth of the market. 
Increase in awareness about health benefits of immunity boosting food combined with rise in geriatric population, is expected to provide a significant growth opportunity. The immunity boosting food market is expected to witness growth, due to an increase in number of rising purchasing ability of healthy food products in consumers.
The rise in sales through online sales channel and increase in elderly population provides excellent opportunities for the growth of the global immunity boosting food market. The rise in demand for probiotic products such as yogurt and kefir, are driving the immunity boosting food market expansion during the forecast period.
COVID-19 had a positive impact on the immunity boosting food market. Immunity boosting food are widely used in a variety of products, including dietary supplements, pharmaceuticals, and nutraceuticals. Products containing immunity boosting food are used to improve muscle mass and immunity. This factor led to a high demand for immunity boosting food products in the market.
Growing health concerns and increased consumer awareness have increased consumer demand for immunity boosting food, resulting in an increase in super food and probiotic products demand. In addition to available medical health supplements, consumers prefer immunity boosting food dietary supplements as they are plant-based.
A significant increase in demand for dietary supplements across all age groups, combined with an increase in global disposable income, is a major driving factor for the market growth. Consumers all over the world are becoming more concerned with changes in their quality of life and are paying close attention to the food they consume. As a result of the increased demand for immunity boosting food products from emerging markets, the immunity boosting food market is expected to provide lucrative opportunities for growth.
According to the immunity boosting food market analysis, the immunity boosting food market is segmented on the basis of nature, product, end use, distribution channel, and region. On the basis of nature, it is categorized into organic and conventional. As per product, it is divided into super food, probiotics & prebiotics, and dairy-based products. According to end use, it is fragmented into infants & children and adults. On the basis of distribution channel, it is categorized into supermarkets & hypermarkets, convenience stores, specialty stores, and online sales channel. Region-wise, the immunity boosting food market is analyzed across North America, Europe, Asia-Pacific, and LAMEA. 
By nature, the conventional segment garnered the highest immunity boosting food market share in 2020, due to low price of conventional immunity boosting food products. On the basis of products, the super food segment is anticipated to dominate with the highest market share according to immunity boosting food market forecast. This is attributed to the growing demand for super food due to therapeutic and functional properties. 
By end use, the adults segment led the market with largest share in 2020. This is due to factors such as easy availability and wide acceptability of the immunity boosting food among the elderly population. By distribution channel, the specialty stores segment garnered the highest market share in 2020, due to availability of a wide variety of immunity boosting food in the stores.
The most important growth strategy used by market players is product launch, which is followed by collaboration and agreement, expansion, partnership, joint venture, and acquisition. To diversify their product offerings, several businesses have developed innovative products. Product launches are used by a variety of businesses to broaden their market reach and serve international customers.
The prominent immunity boosting food industry players include Danone, Nestle, Cargill, ADM, Fonterra group Cooperative Limited, Associated British Foods Plc, Blue Diamond Growers, Diamond Foods, LLC., Dole Food Company Inc., Pinnacle Foods Corp., Olam International, and Hines Nut Company.
Key Benefits For Stakeholders
This report provides a quantitative analysis of current immunity boosting food market trends, estimations, and dynamics of the global immunity boosting food market from 2021 to 2030 to identify the prevailing immunity boosting food market opportunities.
Porter's five forces analysis highlights the potency of the buyers and suppliers to enable stakeholders to make profit-oriented business decisions and strengthen their supplier–buyer network.
In-depth analysis of the market segmentation assists to determine the prevailing market opportunities.
Major countries in each region are mapped according to their revenue contribution to the global industry. The market player positioning segment facilitates benchmarking while providing a clear understanding of the present position of the key market players.
The report includes analyses of the regional as well as global market, key players, market segments, application areas, and growth strategies.
Key Market Segments
By Nature
By Product
Super food
Probiotics & Prebiotics
Dairy based Products
By End Use
By Distribution Channel
Supermarkets & Hypermarkets
Convenience Stores
Specialty Stores
Online Sales Channel
By Region
North America
Europe 

UK
Finland
Sweden
Denmark
Poland
Italy
Rest of Europe

Asia-Pacific

China
Japan
India
Singapore
Australia
New Zealand
Rest of Asia-Pacific

LAMEA

Brazil
South Africa
Saudi Arabia
Rest of LAMEA