Jalapeno Salt Market Research, 2030
The global jalapeno salt market was valued at $965.10 million in 2020, and is projected to reach $1.8 billion by 2030, growing at a CAGR of 6.6% from 2021 to 2030. 
With an unprecedented COVID-19 pandemic, the jalapeno salt market has been adversely affected during the Covid-19 pandemic. The complete shutdown of restaurants, hotels and others during the pandemic period has affected the jalapeno salt. Moreover, the delays and disruptions at country borders have impacted the transportation and delivery of jalapeno salt products globally.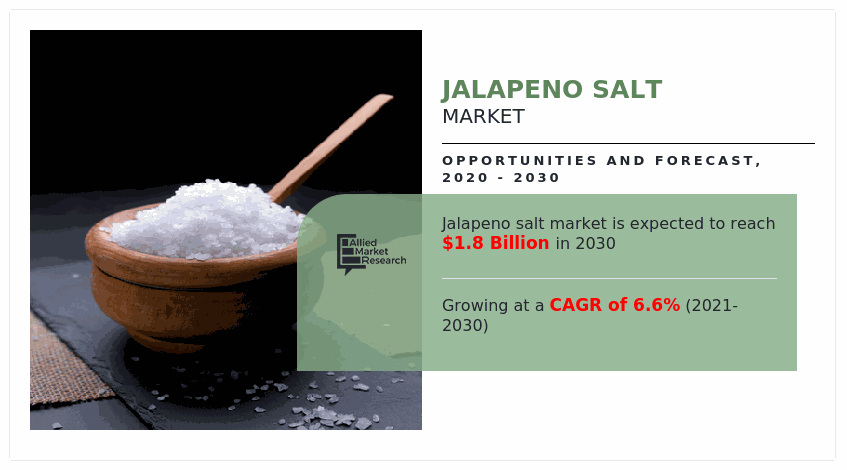 Increase in popularity of jalapeno salt in fast food restaurants, also known as quick service restaurants (QSRs), boosts growth of the global jalapeno salt market. Among emerging economies, China, India, and Brazil dominate, in terms of fast food consumption, owing to their large population base and growth in number of QSRs such as McDonalds, Burger King, Wendy's, and Subway. The business of QSR chains in India is expected to grow eight-fold, owing to rise in disposable income and increase in urbanization, thereby, increasing consumption of fast food, which directly contributes toward growth of the jalapeno salt market. According to the India Brand Equity Foundation (IBEF), by 2025, about 530 million people in India are expected to reside in urban areas, which offer an attractive opportunity toward global QSR chains. Thus, growth in urban population across the globe is expected to present a potential opportunity for manufacturers of jalapeno salt.
Convenience foods refer to products, which require minimal processing and can be prepared easily without much efforts. Preference for on-the-go food products, which are readily available in the market has increased, owing to changes in eating habits and busy lifestyle. For instance, availability of various jalapeno salt flavor in the market to make sandwiches, burger, and pizza at home easily without much efforts significantly contributes toward growth of the jalapeno salt market. Moreover, easy availability of convenience foods on online and offline platforms help in increasing consumer base for the jalapeno salt market.
The jalapeno salt industry is segmented on the basis of flavors, end user, distribution channel, and region. On the basis of flavor, the jalapeno salt market is divided into lime, garlic, bacon, and sea salt. By end user, it is divided into residential, food service, and food processing. On the basis of distribution channel, it is categorized into business-to-business and business-to-consumer. Region wise, the market is studied across North America, Europe, Asia-Pacific, and LAMEA.
By flavor, the lime segment constitute a major jalapeno salt market share; however, the bacon segment is projected to experience growth at the highest CAGR during the forecast period. Lime flavored jalapeno is highly utilized in processed food majorly in the chips. In addition, lime jalapeno salt is also sprinkled over homemade tortilla chips to give food a refreshing lime flavor with a touch of spiciness Therefore, owing to the above-mentioned factors, demand for lime flavored jalapeno salt growing.
By end user, the food service segment lead in terms of market share and is expected to continue to grow with robust CAGR during the forecast period.
On the basis of distribution channel, the market is categorized into business-to-business and business-to-consumer. The business-to-business segment held major share in the market, and is projected to remain dominant during the forecast period. The major factor driving growth for business-to-business jalapeno salt sales is the rising outdoor dining trend among consumers.
By region, North America accounted for highest jalapeno salt market size in 2020, and is expected to grow at a significant CAGR during the jalapeno salt market forecast period.
Key players profiled in the report are Anheuser-Busch InBev, Beijing Enterprises Holdings Limited, Carlsberg Group, Diageo PLC, Dogfish Head Craft Brewery, Inc, Heineken Holding NV., Squatters Pubs and Craft Jalapeno salts, Sierra Nevada Brewing Co., The Boston Jalapeno Salt Company, Inc, and United Breweries Limited.
COVID-19 Impact Analysis
COVID-19 is an infectious disease that originated in Hubei province of the Wuhan city in China in late December 2020.

The global coronavirus pandemic has created a number of challenges for exporters in developing and developed countries. The challenges witnessed by exporters of jalapeno salt products are likely to remain for the foreseeable future as different states and governments around the world attempt to tackle COVID-19 with various measures.

Implementation of curfew and the practice of maintaining social distancing globally affect the domestic as well as international production, which in turn, hampers growth of the overall jalapeno salt

market demand.

Import and export restrictions on goods and quarantine & lockdown measures imposed by governments are key challenges exporters are facing during this pandemic.

Delays and disruptions at country borders have impacted the transportation and delivery of jalapeno salt.
Key Benefits For Stakeholders
This report provides a quantitative analysis of the market segments, current trends, estimations, and dynamics of the jalapeno salt market analysis from 2020 to 2030 to identify the prevailing jalapeno salt market opportunity.
The market research is offered along with information related to key drivers, restraints, and opportunities.
Porter's five forces analysis highlights the potency of buyers and suppliers to enable stakeholders make profit-oriented business decisions and strengthen their supplier-buyer network.
In-depth analysis of the jalapeno salt market segmentation assists to determine the prevailing market opportunities.
Major countries in each region are mapped according to their revenue contribution to the global market.
Market player positioning facilitates benchmarking and provides a clear understanding of the present position of the market players.
The report includes the analysis of the regional as well as global jalapeno salt market trends, key players, market segments, application areas, and jalapeno salt market growth strategies.
 Jalapeno Salt Market Report Highlights
Aspects
Details
By Flavors

Lime
Garlic
Bacon
Sea Salt

By End User

Residential
Food Service
Food Processing

By Distribution Channel

Business-To-Business
Business-To-Consumer

By Region

North America (U.S., Canada, Mexico)
Europe (U.K., Germany, France, Russia, Italy, Spain, Rest Of Europe)
Asia-Pacific (China, Japan, India, Australia And New Zealand, South Korea, Rest of Asia-Pacific)
LAMEA (Brazil, South Africa, Turkey, Saudi Arabia, Rest of LAMEA)

Key Market Players
Home and Heritage, Bacon Salt, Dave's Jalapeno Salt, Lesley Elizabeth, Inc, Bolner's Fiesta Products, Inc., Caravel Gourmet, The J.C. Spice Company, Olde Thompson, Hippy Pilgrim, Caribbean Spice Belize