The global oxygen concentrators market was valued at $3,300.00 million in 2020, and is estimated to reach $6,063.90 million by 2030, growing at a CAGR of 5.90% from 2021 to 2030. 
During COVID-19 pandemic, rise in number of cases has essentially accelerated demand for oxygen concentrators for intensive care
Oxygen concentrators are often used by medical care workers for therapeutic and diagnostic purposes. Medical oxygen gas systems, for example, oxygen concentrators and compressed oxygen gas cylinders are considerably utilized in homecare settings, and are normally chosen by old patients who experience challenges in mobility and rely upon a steady oxygen supply.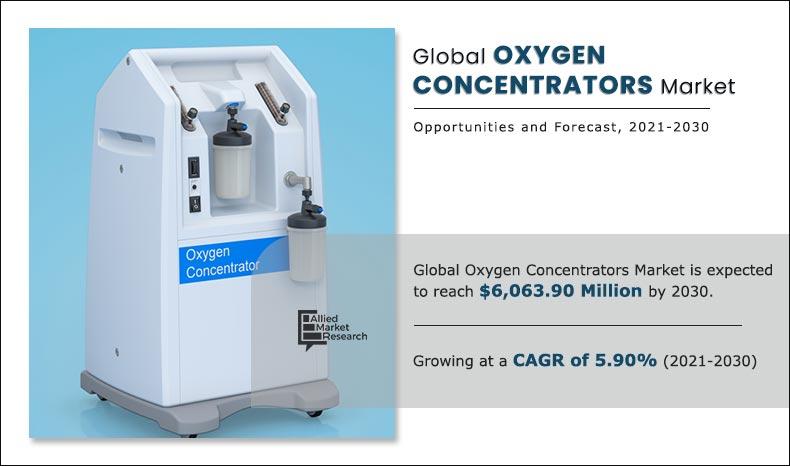 Some common chronic medical illnesses, such as chronic obstructive pulmonary disease (COPD), emphysema, and chronic bronchitis, which are common long-term effects of smoking, necessitate oxygen treatment or supplemental oxygen to provide adequate oxygen levels. Furthermore, many types of oxygen systems are used to deliver a controlled amount of oxygen to patients. Additionally, medical oxygen gas is high purity oxygen that is created for usage in the human body and is used for clinical therapies.
Furthermore, rising prevalence of COVID-19 cases across the globe and growing cases of chronic diseases are supplementing the market growth. Optimal medical infrastructure utilization became a high priority for governments worldwide during the COVID-19 pandemic. Furthermore, special attention is drawn to both the import and local manufacture of medical oxygen gas to ensure its uninterrupted supply to designated COVID-19 hospitals identified by the local administration. For example; as per Worldometer, as of April 27th, 2021, there are 19,172,322 active cases of COVID-19 across the globe. Thus, oxygen gas cylinders are required for increasing demand from medical clinics, home care settings, and others. Oxygen concentrators are available in various sizes relying on the requirement. In hospitals, oxygen gas treatment is executed on patients for the therapy of chronic health issue to improve energy levels, rest, and superior quality life of patients. Oxygen is generally utilized in medical clinics for the therapy of various intense and chronic diseases. These clinical oxygen chambers are generally utilized in ambulances to manage emergency circumstances. Oxygen concentrators have huge need for patients facing different infections such as asthma and others.
Increase in daily exposure to environmental pollution is driving the market. Additionally, increase in population susceptible to indoor air pollutants as well as increase in population of active smokers is also responsible for propelling the growth of the market. However, high cost of oxygen concentrators and stringent regulatory procedures are hampering the growth of the market. Furthermore, high growth potential in emerging market and increase in geriatric population will create lucrative growth opportunities for the oxygen concentrators market during the forecast period.
Oxygen Concentrators Market Segmentation
The global oxygen concentrators market is segmented into technology, product, end user, and region. By technology, the market is categorized into pulse flow and continuous flow. By product, the market is bifurcated into portable and fixed. By end user, it is divided into hospital, home healthcare, and ambulatory surgical centers & physician offices.
Region-wise, the market is analyzed across North America (the U.S., Canada, and Mexico), Europe (Germany, France, the UK, Italy, Spain, and the rest of Europe), Asia-Pacific (Japan, China, India, Australia, South Korea, and the rest of Asia-Pacific), and LAMEA (Brazil, South Africa, Saudi Arabia, and the rest of LAMEA).
Segment review
Depending on technology, the continuous flow segment dominated the market in 2020, and is expected to continue this trend during the forecast period. This is attributed to the rise in lifestyle habits, such as smoking & consumption of alcohol, and increase in geriatric population, which are expected to boost the market growth. On the basis of product, the fixed segment dominated the market in 2020, and is expected to continue this trend during the forecast period. This is attributed to the increasing instances of chronic diseases such as cardiovascular diseases, respiratory diseases, and gastrointestinal disorders.
North America was the largest shareholder in the global oxygen concentrators market in 2020, owing to rising prevalence of COVID-19 cases and surge in geriatric population in this region followed by Europe.
According to the U.S. Centers for Disease Control and Prevention, the U.S. has the need of more than seven billion respirators in the long run to combat a worst-case spread of a severe respiratory outbreak, such as COVID-19, which can be fulfilled by medical devices such as oxygen cylinders. This is the major factor driving the growth of the global oxygen concentrators market in North America. However, Asia-Pacific is anticipated to register the highest CAGR during the forecast period due to rapidly increasing prevalence of chronic diseases, infectious diseases, and cardiovascular diseases as well as surge in need for oxygen cylinders in this region due to higher population, development in health care infrastructure, and rise in number of hospitals equipped with advanced medical facilities that boost the market growth in this region.
Some of the major companies that operate in the global oxygen concentrators market are Koninklijke Philips N.V., Invacare Corporation, DeVilbiss Healthcare LLC, Inogen, Inc., Chart Industries, Inc. (AirSep), Nidek Medical, O2 Concepts, Teijin Limited, Supera Anesthesia Innovations, and GCE Group.
Key Benefits For Stakeholders
This report provides an extensive analysis of the current and emerging market trends and dynamics in the global oxygen concentrators market to identify the prevailing opportunities.
This study presents the competitive landscape of the global market to predict the competitive environment across regions.
Comprehensive analysis of factors that drive and restrict the market growth is provided.
Region & country-wise analysis is provided to understand the market trends and dynamics.
Key Market Segments
By Technology 
Pulse Flow 
Continuous Flow
By Product
By End User
Hospital 
Home Healthcare
Ambulatory Surgical Centers & Physician Offices
By Region
North America
Europe

Germany
France
UK
Italy
Spain
Rest of Europe

Asia-Pacific

Japan
China
India
Australia
Rest of Asia-Pacific

LAMEA

Brazil
South Africa
Saudi Arabia
Rest of LAMEA
Key Market Players 
Koninklijke Philips N.V.
Invacare Corporation
DeVilbiss Healthcare LLC
Inogen, Inc.
Chart Industries, Inc. (AirSep)
Nidek Medical
O2 Concepts
Teijin Limited
Supera Anesthesia Innovations
GCE Group