The global organic electronic market size is expected to reach from $46.12 billion in 2019 to $159.11 billion by 2027, growing at a CAGR of 21.0% from 2020 to 2027. Organic electronics are unlike conventional inorganic semiconductors. Organic electronic materials are engineered using organic (carbon-based) polymers or molecules using artificial technology developed in the context of organic & polymer chemistry. The organic electronics use various materials such as semiconductor material, conductive material and dielectric & substrate material for construction. Further, these are used in various applications such as that of displays, lighting, battery, conductive ink and others, which increases the demand in the organic electronics market. 
COVID-19 scenario to impact Semiconductor segment in the organic electronic market negatively.
Organic semiconductors are non-metallic materials that offer semiconducting properties. These semiconductors have several advantages as compared to inorganic semiconductors such as mechanical flexibility, lightweight, and low cost; thereby offering opportunity to develop devices using low cost fabrication techniques. Rise in awareness for sustainable development and as organic semiconductors are biodegradable; thus, are increasingly preferred over their counterparts, thereby, increasing the organic electronic market demand. The dielectric material creates demand and opportunities for various applications in consumer electronics, automotive, digital signage, medical and security.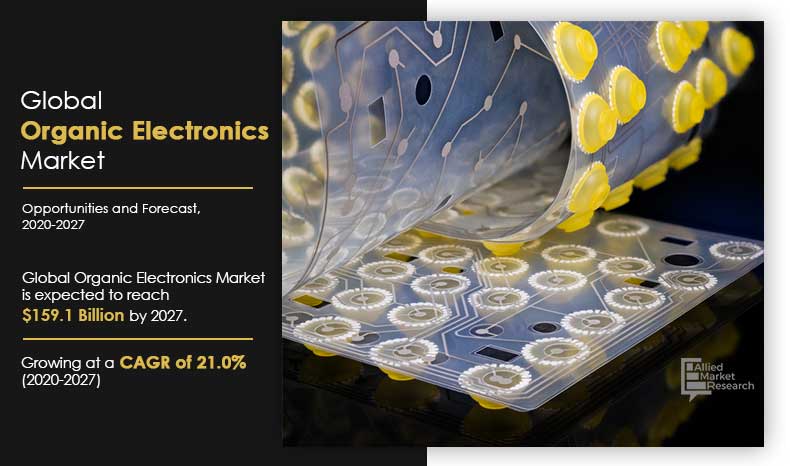 The advancement of display technology creates demand in the organic electronic industry Organic-LEDs (OLEDs) among the latest and most advanced display technologies. OLED displays are used in mobile phones, laptops, most prominently in televisions and other display panel electronic devices. The OLED display offers various advantages to the users which are enhanced image quality in terms of better contrast, higher brightness, fuller viewing angle, a wider color range, much faster refresh rates, and lower power consumptions. Therefore, increasing advantages have also allowed the displays to be ultra-thin, flexible, foldable and transparent displays.
As per the organic electronic market analysis, the market is segmented into material, application and region. The material is further categorized into semiconductor, conductive and dielectric & substrate. The application segment is classified into display, lighting, battery, conductive ink and others. Region wise, the market is analyzed across North America, Europe, Asia-Pacific, and LAMEA.
Top Impacting Factors
Increase in demand due to adoption of technologies supporting sustainable development, demand for various applications, and need of organic electronic in latest technologies are the factors that drive the organic electronic market growth. Whereas, degradation of efficiency of organic electronics after a period and technical in-compatibility hampers the organic electronic market growth. However, the increase in R&D activities for various applications is expected to create organic electronic market opportunity. 
Some major factors impacting the organic electronic market growth are given below:
Increase in demand due to adoption of technologies supporting sustainable development 
Over the years the development of eco-friendly technologies and their adoption has picked up the rate of its penetration. The use of clean energy such as organic batteries, use of biodegradable materials for technological developments such as OLEDs increases the market demand for organic electronics. As, organic devices are easier to dispose in environment and thus, are also promoted by governments across the world. Further, the organic electronics operates on low energy, thereby, providing energy saving solutions. 
Organic Electronic Market

---
By Material
Semiconductor segment is projected as one of the most lucrative segments.
The demand for various applications
The need of organic films in display screens for enhanced performance in terms of color, brightness, contrast and refresh rates rises the market demand. Modern day lighting and display technologies are major applications for organic electronics. Organic semiconductors are also in high demand for smart textiles. In the healthcare sector, organic semiconductors have application in skin cancer treatment, which increase the organic electronic market demand. 
Need of organic electronic for development of latest technologies 
Further, the advancement of organic electronics has increased its demand in the consumer electronics vertical. The organic electronics offers the manufacturers and developers with the advantages of being light weight and flexibility in the organic electronic material when compared to inorganic material. Therefore, the organic batteries and organic films for displays can be installed in devices with newer sophisticated designs such as that of foldable smartphones, curved display TVs, among other such electronic devices.
Organic Electronic Market

---
By Application
Display segment generated the highest revenue in 2019.
Degradation of efficiency of organic electronics after a period and technical in-compatibility
Organic electronics however, have few disadvantages, one among them is the degradation of organic components over time, which reduces their functional efficiency. For instance, it is observed that OLED TVs after a period tend to reduce quality of display output, in terms of brightness and vibrant colors. 
Competition Analysis
Key players which have a major organic electronic market share include AGC INC., BASF SE, COVESTRO AG, Evonik Industries AG, H.C. Starck Inc., Heliatek GmbH, Merck Group, Novaled GmbH, POLYIC GMBH & CO. KG and Sumitomo Corporation, which are profiled in this report. 
Organic Electronic Market

---
By Geography
Asia-Pacific region would exhibit the highest CAGR of 21.9% during 2020-2027
Key Benefits For Stakeholders
This study comprises analytical depiction of the global organic electronic market size along with the current organic electronic market trends and future estimations to depict the imminent investment pockets.
The overall organic electronic analysis is determined to understand the profitable trends to gain a stronger foothold.
The report presents information related to key drivers, restraints, and opportunities with a detailed impact analysis.
The current organic electronic forecast is quantitatively analyzed from 2019 to 2027 to benchmark the financial competency.
Porter's five forces analysis illustrates the potency of the buyers and suppliers in the organic electronic market.
 Organic Electronic Market Report Highlights
Aspects
Details
By Application

Display
Lighting
Battery
Conductive ink
Others

By Material

Semiconductor
Conductive
Dielectric and Substrate

By Region

North America (U.S., CANADA, MEXICO)
Europe (GERMANY, FRANCE, UK, REST OF EUROPE)
Asia-Pacific (CHINA, JAPAN, INDIA, AUSTRALIA, REST OF ASIA-PACIFIC)
LAMEA (LATIN AMERICA, MIDDLE EAST, AFRICA)

Key Market Players
POLYIC GMBH & CO. KG, H.C. STARCK INC., NOVALED GMBH, EVONIK INDUSTRIES AG, HELIATEK GMBH, COVESTRO AG, AGC INC., MERCK KGAA, SUMITOMO CORPORATION, BASF SE