The probiotic yeast market size was valued at $294.0 million in 2020, and is estimated to reach $948.4 million by 2030, registering a CAGR of 11.8% from 2021 to 2030.  
Probiotics are living microorganisms that medically benefit the health of the host. Although most probiotics are bacteria, the yeast strain Saccharomyces boulardii has been proven to be an effective probiotic in double-blind clinical studies. Due to the natural resistance of yeast to antibacterial antibiotics, probiotic yeast is considered to be more effective than probiotics. In animal feed, the use of probiotic yeast has shown a positive health effect by increasing fiber digestibility and stimulating animal performance, which increases the production yield of meat, milk and eggs. According to Central Food Technology Research Institute of Mysore (CFTRI), probiotic yeasts based food is used to decrease the toxic intensity of deadly fungi that have become resistant to widely used antifungal drugs.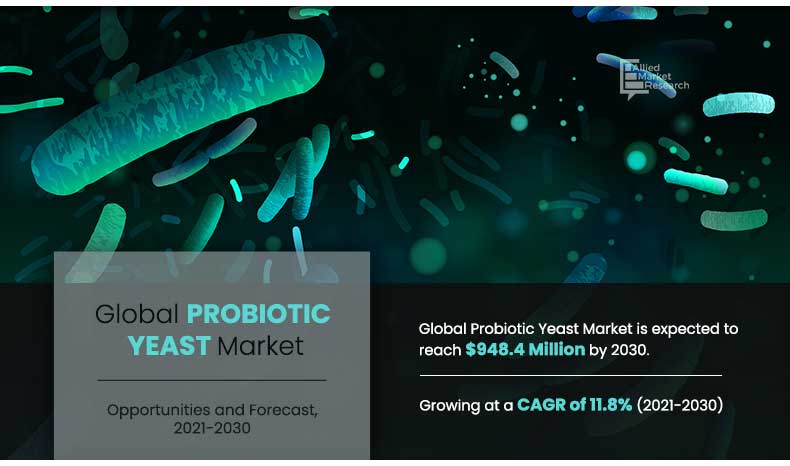 Get more information on this report : Request Sample Pages
Probiotics yeast are gaining significant traction in the pharmaceutical and food and beverages industry as probiotics yeast, particularly saccharomyces boulardii based probiotic fight against diarrhea and reduce the duration of diarrhea in infants and children. It is viable medicinal ingredient that when introduced in sufficient quantities, beneficially affect human organism through their effects in the intestinal tract. 
Growing urbanized population, increasing spending on the health related products and growing diarrhea and blood pressure linked diseases are majorly driving the growth of the probiotic yeast market.
Furthermore, the demand of probiotic yeast functional food is growing rapidly due to increased awareness among consumers about the positive impact of probiotic yeast based food on the health. Increasing use of probiotic yeast especially saccharomyces boulardii in functional food and dietary supplement has been majorly contributing to the growth of the probiotic yeast market during the forecast period. With the increasing demand of probiotic yeast products, companies are investing huge in R&D centers for the treatment and prevention of gastrointestinal diseases.
People are heavily demanding super premium and luxuries food items such as functional food and dietary supplement for human and pet consumption which likely to garner the growth of the probiotic yeast market during the forecast period. 
Moreover, lack awareness among consumer about health benefits of probiotic yeast and availability of healthier substitutes are likely to restrain the growth of the probiotic yeast market.
Changes in lifestyle and food habits are likely to be a lucrative opportunities for probiotic yeast manufacturing companies. Consumer spending on probiotic yeast based luxury food items is growing rapidly, and fast food, bakery products, ice creams, and other such lifestyle food products are witnessing increased popularity. The probiotic yeast market is a niche market, which creates opportunities for small- & mid-sized companies to invest in this market. As the diversified players that dominate the food industry have limited presence, stakeholders are planning to invest and expand their business by innovating new products. Furthermore, rapid expansion of the retail sector is likely to offer opportunities for probiotic yeast based food product manufacturing companies to conveniently distribute their product to consumers.
With the outbreak of the COVID-19, market demand has increased for immune system enhancement products should stimulate the use of probiotics and have a positive impact on the market.  Corona virus simultaneously infects humans and certain types of bacteria in the human microbiome. All major treatment options for COVID-19 include drugs with antibacterial properties. The antibacterial effect of the drugs used ensures the elimination or inhibition of BB animalis ssp.lactis bacteria in human hosts also provide potential for probiotic applications.
According to the probiotic yeast market analysis, the probiotic yeast market segmented into form application, sales channel and region. On the basis of form, the market is categorized into powder and capsules.
By application, it is segregated into nutrition and supplement, food and beverages and animal feed. Depending on sales channel, it is bifurcated into online and offline. Region wise, it is analyzed across North America (the U.S., Canada, and Mexico), Europe (Germany, France, UK, Italy, Spain, Russia, Netherlands and Rest of Europe), Asia-Pacific (China, Japan, Australia, India, South Korea and Rest of Asia-Pacific), and LAMEA (Brazil, Argentina, Saudi Arabia, South Africa and Rest of LAMEA).
On the basis of form, the powder segment was valued at $236.8 million in 2020, and is expected to reach $752.4 million by 2030 at a CAGR of 11.7%. Two forms of probiotic yeast are available for consumption as it is easy to consume it as a capsules and in the powder form can be a better way to consume through the supplement in case of children. The growing popularity of probiotic yeast supplements and functional food that are available for humans as well as some animals is affecting the growth probiotic yeast market through powder segment.       
Probiotic Yeast Market

---
By Form
Powder

segment helds the major share of 80.5% in 2020
Get more information on this report : Request Sample Pages
On the basis of application, the nutrition and supplement segment accounted for the around one-third half of the global probiotic yeast market share in 2020, and is expected to sustain its share throughout probiotic yeast market forecast period. Probiotic yeast based nutrition and supplement products are primarily offered to children and adults, although probiotics have many health benefits for people of all ages, there is a difference between probiotics for children and probiotics for adults. The first difference is the type of bacterial strain used in the supplement. Another difference between probiotics for children and adults is the strength and dosage of the supplement. Although children's probiotic supplements are moderate, the dosage is usually one scoop (or tablet) per day, but adult probiotic supplements are more effective, and the dosage is usually two tablets per day. Finally, infant probiotics usually come in the form of liquids, measuring spoons, chewable tablets, or powders that can be mixed with food. Since children often try these supplements, liquid/powder/chewable probiotics often contain unwanted food. Ingredients such as artificial sweeteners make them more attractive to children. For adults, dietary supplements are usually provided in the form of probiotic capsules or tablets.
Probiotic Yeast Market

---
By Application
Nutrition and Supplement

segment helds the major share of 73.5% in 2020
Get more information on this report : Request Sample Pages
By sales channel, the offline segment was valued at $ 235.9 million in 2020, and is expected to reach $ 670.1 million by 2030, with a CAGR of 10.4%. This is majorly attributed to the growing demand of probiotic yeast from the various end use industries including nutrition and supplement industries and animal feed industries where considerable amount of probiotic yeast is getting demanded. Furthermore, increasing consumption of the probiotic yeast through functional food in the households is expected to drive probiotic yeast market growth through various offline sales channels such as retail stores, supermarket, hypermarkets, pharmacy, and specialty stores.
Probiotic Yeast Market

---
By Sales Channel
Offline

segment helds the major share of 80.2% in 2020
Get more information on this report : Request Sample Pages
North America nutraceuticals and pharmaceutical industries is driven by increased product development and innovation, which is projected to generate the more demand for probiotic yeast during the forecast period. Increased investment in R&D of stronger probiotic yeast strains that can provide more nutritional benefits is driving market growth in this region. The growing demand for nutritional supplements that strengthen the immune system and support a balanced lifestyle is expected to drive the market growth in the next few years.  Increasing attention to digestive and gut health supports the growth of the European market. Multiple benefits increase the demand for probiotics and prebiotic supplements. The region is driving demand for animal feed containing probiotics to increase milk production and animal productivity. The middle-class population continues to grow, and consumption trends are also developing. The growing demand for nutritional supplements by the elderly, pregnant women and children has promoted the development of the nutrition and health industry. In terms of the healthier functions of probiotic yeast, thus probiotic yeast market is expected to grow in the next few years.
Probiotic Yeast Market

---
By Region
North America

region helds the major share of 37.8 % in 2020
Get more information on this report : Request Sample Pages
The players operating in the global probiotic yeast market have adopted various developmental strategies to expand their market share, increase profitability, and remain competitive in the market. The key players profiled in this report include Alltech, AngelYeast Co., Ltd., Bronson, Chr. Hansen Holdings A/S , Florastor, Jarrow Formulas, Lallemand Inc., Life-Space, Now Foods and Seeking Health .
Key Benefits For Stakeholders
The report provides a quantitative analysis of the current probiotic yeast market trends, estimations, and dynamics of the market size from 2020 to 2030 to identify the prevailing opportunities.
Porter's five forces analysis highlights the potency of buyers and suppliers to enable stakeholders to make profit-oriented business decisions and strengthen their supplier–buyer network.
In-depth analysis and the market size and segmentation assist to determine the prevailing Probiotic yeast market opportunities.
The major countries in each region are mapped according to their revenue contribution to the market. 
The market player positioning segment facilitates benchmarking and provides a clear understanding of the present position of the market players in the probiotic yeast industry.
Key Market Segments
By Form
By application
Nutrition and Supplement
Food and Beverages
Animal feed
Sales Channel
Online
Offline
By Region
North America
Europe

Germany
France
UK
Italy
Spain
Russia
Netherlands
Rest of Europe

Asia-Pacific

China
Japan
Australia
India
South Korea
Rest of Asia-Pacific

LAMEA

Brazil
Argentina
Saudi Arabia
South Africa
Rest of LAMEA