Top 10 Cancer Drugs Market Outlook - 2026
The global top 10 cancer drugs market sales was valued at $63,619 million in 2018 and is expected to reach $129,948 million by 2026, registering a CAGR of 9.8% from 2019 to 2026.
Cancer is medical condition in which abnormal cells grow with the potential to invade or spread to other parts of the body. Different forms of the drugs used for the treatment of cancer majorly include, chemotherapy, targeted therapy, immunotherapy (biologic therapy), and others. It is estimated that cancer drugs market show significant market growth during the forecast period owing to increase in prevalence of various forms of cancer, surge in popularity of advance therapies such as biological & targeted drug therapies, development in screening procedures and rise in geriatric population worldwide, increase in R&D activities, and availability of cancer drugs are expected to boost the top 10 cancer drugs market growth.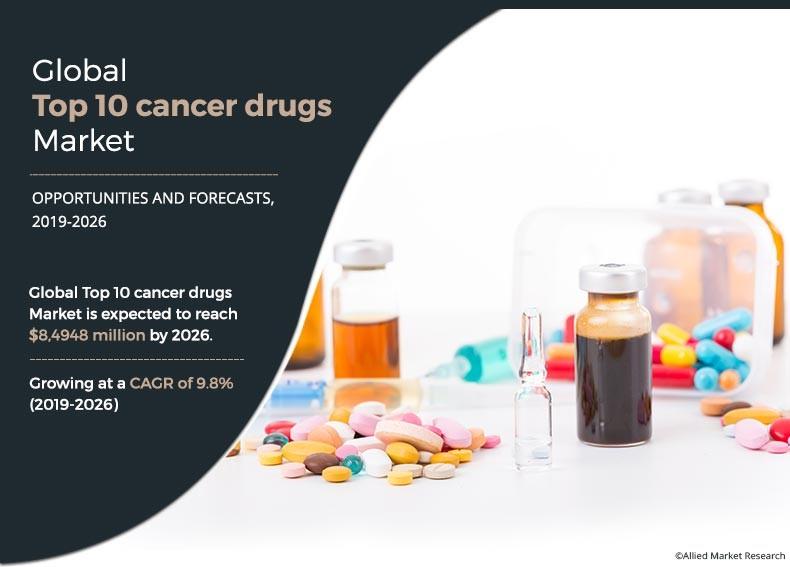 Top 10 Cancer Drugs Market Segmentation  
The top 10 cancer drugs market size is analyzed across Europe (Germany, UK, Italy, Spain, France, Czech Republic, Republic of Moldova, Poland, Hungary, Romania, Russia, Slovakia, Ukraine, Greece, and rest of Europe), Asia-Pacific (Japan, China, Australia, India, South Korea, Taiwan, and rest of Asia-Pacific), and LAMEA (Brazil, South Africa, Saudi Arabia, UAE, Qatar, Lebanon, Jordan, and rest of LAMEA). 
By Region
Europe is the second largest market for cancer therapeutics after North America owing to the strong presence of pharmaceutical companies in Europe that specialize in oncology drug development. Some of these companies include Roche, Novartis International AG, AstraZeneca, and others. The prevalence of cancer in Europe has increased significantly in the past few years. According to the World Health Organization (WHO, 2018), currently, more than three million cancer cases are registered every year in Europe. Moreover, factors such as high prevalence of cancer, increase in demand for effective medicines, high disposable income, and rise in disease awareness due to public & private initiatives drive the growth of the cancer therapeutics market in Europe. In addition, surge in geriatric population across the region boosts the market growth. However, Asia-Pacific is expected to exhibit fastest growth rate in the near future, owing to surge in awareness related advanced drug therapy. The other factors that boost the growth of the market include presence of huge patient base suffering and rise in healthcare expenditure in the region. Furthermore, the constantly evolving life science industry is anticipated to offer lucrative opportunities for market expansion in the developing economies such as India, China, and Malaysia. 
Major players operating in the market include AbbVie Inc., Astellas Pharma Inc., AstraZeneca PLC, Bristol-Myers Squibb Company, Celgene Corporation, F. Hoffmann-La Roche Ltd., Johnson & Johnson (Janssen Global Services, LLC,), Merck & Co., Inc., Novartis AG, and Pfizer Inc. 
Key Benefits for Top 10 Cancer Drugs Market:
This report entails a detailed quantitative analysis along with the current Top 10 cancer drugs market trends from 2019 to 2026 to identify the prevailing opportunities along with the strategic assessment.
The top 10 cancer drugs market forecast is studied from 2019 to 2026. 
The market size and estimations are based on a comprehensive analysis of key developments in the Top 10 cancer drugs industry. 
A qualitative analysis based on innovative products facilitates strategic business planning.
The development strategies adopted by the key market players are enlisted to understand the competitive scenario of the top 10 cancer drugs market.
Top 10 Cancer Drugs Market Segments:
By Region
Europe
Russia
Netherlands
Switzerland
Sweden
Belgium
Austria
Norway
Denmark
Poland
Finland
Portugal
Greece
Ireland
Czech Republic
Hungary
Romania
Ukraine
Asia-Pacific
Taiwan
Indonesia
New Zealand
Singapore
Malaysia
Vietnam
Myanmar
Sri Lanka
Macau
Nepal
LAMEA
Turkey
Venezuela
Colombia
Argentina
Iran
Israel
Chile
Algeria
United Arab Emirates
Puerto Rico
Morocco
Costa Rica
Lebanon
 Top 10 Cancer Drugs Market Report Highlights
Aspects
Details
By Region

Europe (Russia, Netherlands, Switzerland, Sweden, Belgium, Austria, Norway, Denmark, Poland, Finland, Portugal, Greece, Ireland, Czech Republic, Hungary, Romania, Ukraine)
Asia-Pacific (Taiwan, Indonesia, New Zealand, Singapore, Malaysia, Vietnam, Myanmar, Sri Lanka, Macau, Nepal)
LAMEA (Turkey, Venezuela, Colombia, Argentina, Iran, Israel, Chile, Algeria, UAE, Puerto Rico, Morocco, Costa Rica, Lebanon)

Key Market Players
ABBVIE INC, ASTELLAS PHARMA INC, ASTRAZENECA PLC, BRISTOL-MYERS SQUIBB COMPANY, CELGENE CORPORATION, F. HOFFMANN-LA ROCHE LTD, JOHNSON & JOHNSON (JANSSEN GLOBAL SERVICES, LLC,), MERCK & CO., INC, NOVARTIS AG, PFIZER INC