Anhydrous Milk Fat Market Research, 2031
The global anhydrous milk fat market size was valued at $3 billion in 2021, and is projected to reach $6 billion by 2031, growing at a CAGR of 7.2% from 2022 to 2031.
Anhydrous milk fat is made up of a variety of triacylglycerols, or glycerol esterified to three fatty acids, each having a unique physical characteristic. For instance, anhydrous milk fat has a high melting point and melts at a variety of temperatures. Normal melting point for anhydrous milk fat is higher than 40 °C. At this point, the anhydrous milk transforms into a clear liquid with a slight yellow tint from the presence of carotene. When anhydrous milk fat is cooled, it begins to crystallize and change into a soft, somewhat grainy, and pale white-yellow solid.
Manufacturers in the global anhydrous milk fat market might concentrate on providing specialized products to their customers, such as fractionated milk fats, to meet a constantly changing consumer trend regarding the use of dairy products.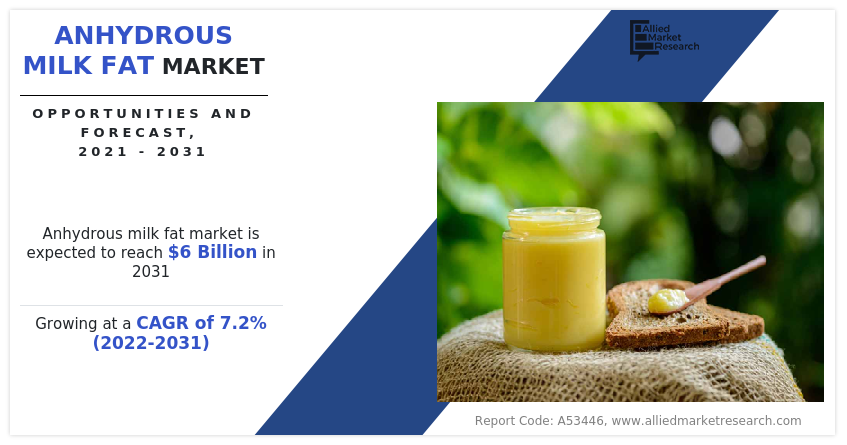 Consumers are altering their strategy for choosing healthier products; rather than focusing only on functional ingredients, they are emphasizing on more natural products and avoiding those that contain a lot of additives, preservatives, and stabilizers, even if the product advertises that it is low in fat. Anhydrous milk fats are growing in popularity as they offer consistent flavor, texture, mouthfeel, structure, and anti-bloom properties. In addition, consumers are unwilling to compromise on taste and are taking a holistic approach to their health, which is boosting the demand for products with buttery flavors.
Recombined liquid milk production is one of anhydrous milk fat's key applications. Skim milk powder is combined with water and anhydrous milk fat at low or medium heat. The anhydrous milk fat must be well emulsified and distributed throughout the milk product before being processed at a temperature greater than 40 °C. The melted anhydrous milk fat is continuously fed into a production line in large-scale manufacturing, where it is emulsified in a high-shear mixer. In a batch process, the melted anhydrous milk fat might be added to a milk powder solution in water, followed by emulsification, for instance in a homogenizer or mixing device. It could be essential to add the appropriate emulsifiers to establish a stable emulsion. If the mix's fat level is altered appropriately, cream, cultured milk products, cheese, and butter could also be produced by recombination.
The benefits of using milk fat in the bakery industry include the buttery flavor and creamy mouthfeel it gives to products such as puff pastry, croissants, and Danish pastries as well as the functional qualities, particularly those of the stearin fraction of anhydrous milk fat with a higher melting point and solid fat content, which are useful in such products. Anhydrous milk fat contains shortening features such as the crunchiness and is utilized in butter cookies where the flavor is the primary consideration. Fat blooming, which is a mold-like pale streak that appears on the surface of butter biscuits due to crystals of high-melting point fat, is a significant issue that can be solved by employing the olein portion of anhydrous milk fat.
Owing to its longer shelf life and low moisture content, anhydrous milk fat can be shipped easily over the world and stored at room temperature for several months. Anhydrous milk fat consumption used to be primarily restricted to nations such as Australia and New Zealand. However, the use of anhydrous milk fat in the European Union and the U.S. is anticipated to rise due to the rise in trend of fusion food products. Moreover, there are numerous uses for anhydrous milk fat in the fast food sector, which is anticipated to rise significantly over the next few years. This factor is expected to increase the demand for anhydrous milk fat globally. Anhydrous milk fat's high percentage of saturated fatty acids and cholesterol, together with its high cost in comparison to vegetable fats, has detrimental effects on health and may restrain market expansion.
Globally, consumers are turning away from dairy products' alternatives made of vegetable oil and shifting toward those made of dairy fats. This tendency may be explained by a change in taste preferences as well as a better understanding of the advantages of dairy fat for health. According to estimations, processed food consumption is anticipated to increase in emerging countries as a result of rise in consumer discretionary budgets and diets that are becoming more globally diversified.
The anhydrous milk fat market is segmented on the basis of nature, application, distribution channel, and region. By nature, the market is bifurcated into organic and conventional. By application, the market is divided into dairy, bakery, confectionary, and others. By distribution channel, it is classified into online and offline. The offline segment is further fragmented into supermarkets/hypermarkets, specialty stores, convenience stores, and others. Region wise, the market is analyzed across North America, Europe, Asia-Pacific, and LAMEA.
Anhydrous Milk Fat Market

---
By Nature
Organic is the fastest growing segment during the forecast period (2022-2031)
By nature, the conventional segment dominated the global anhydrous milk fat market in 2021 and is anticipated to maintain its dominance during the anhydrous milk fat market forecast period. In many different industries, particularly in the beverage and processed food sectors, conventional anhydrous milk fat is widely used. North America uses the most conventional anhydrous milk fat, followed by Asia-Pacific.
Anhydrous Milk Fat Market

---
By Application
Dairy segment was the dominant segment in 2021
By application, the dairy segment dominated the global anhydrous milk fat market in 2021. The low-melting fractions of anhydrous milk fat are used in butter and dairy fat spreads to improve their permeation at low temperatures. Anhydrous milk fat is utilized in the creation of blends, reduced-fat dairy spreads, and blended spreads.
Anhydrous Milk Fat Market

---
By Distribution Channel
Offline segment was the largest segment in 2021
By distribution channel, the online segment exhibits the fastest growth in the global anhydrous milk fat market during the forecast period (2022-2031). Online stores are widely used to buy anhydrous milk fat. This is a result of the ease of accessibility and benefits provided by internet platforms, including the capacity to transport goods to customers' homes and information about the product's quality.
Anhydrous Milk Fat Market

---
By Region
Asia-Pacific region was the highest revenue contributor in 2021
Region wise, Asia-Pacific dominated the market with the largest share during the forecast period. Manufacturers of anhydrous milk fat have a lot of potential opportunities in region. Anhydrous milk fat products from New Zealand are increasingly being exported to China and Australia, which is changing the market. India is a major consumer of ghee, a form of anhydrous milk fat. It is employed in the nation's different religious rituals in addition to being used in cooking. These factors have raised the demand for products containing butter oil, which has fueled the expansion of the anhydrous milk fat market in Asia-Pacific.
Owing to the rising need for milk fat utilized in the production of dairy products, a significant development of the anhydrous milk fat market is expected in North America. As dairy desserts such as ice cream, bakery treats, and other desserts have become more popular in the region, milk fats are in high demand. By adding anhydrous milk fat, processors can lower their expenses while extending the shelf life of their products. The food service industry's ongoing demand for reconstituted milk products is what is driving the growth of the anhydrous milk fat market in North America.
Anhydrous milk fat and other dairy products are commonly used in baking due to its versatility. . The retail bakery, confectionery, and in-store service industries are packed with innovative ideas; thus, the future is promising for the anhydrous milk fat industry. In addition, the COVID-19 outbreak pushed people to bake and cook at home, which boost the sales of anhydrous milk fat. Despite a historic increase in retail sales, the wholesale food service sectors, such as restaurants and schools, are rapidly closing down, disrupting supply chains and lowering revenues for those in the anhydrous milk fat industry. Owing to social distancing norms and mandates to stay at home, the food service sector is closed, which is anticipated to have a negative impact on anhydrous milk fat market growth.
The expanding food and beverage industry is driving the demand for anhydrous milk fat on a global scale. The sector is expanding due to rise in consumer demand for processed foods. Particularly in developed nations, the surge in consumption of dairy products such as cheese and spreads is promoting industry expansion. The increased investments in the dairy sector that are being made to increase production capacity are anticipated to boost the global market growth.
Customers like anhydrous milk fat as it is high in calcium and has critical elements including vitamins A, D, E, and K2, which help to maintain a healthy body. The consumption of anhydrous milk fat is growing due to the absence of any chemicals, preservatives, or fatty acids in it. Owing to the product's low moisture content and extended shelf life, manufacturers prefer to employ it, which is driving the demand in the industry.
The anhydrous milk fat market demand has increased as a result of surge in disposable income and a growth in consumer preference for western cuisine, particularly in emerging economies. The product also has a variety of uses in the fast-food sector, which is anticipated to expand significantly during the forecast period, helping to drive the anhydrous milk fat market's overall expansion.
The major players analyzed for the anhydrous milk fat market are Royal FrieslandCampina N.V., Asha Ram & Sons Pvt. Ltd, Lactalis Group, Interfood Holding BV, Vitusa Corp, Royal VIVBuisman, Polmlek Group, Gloria Argentina SA, United Global Agencies, and Eurial Ingredients & Nutrition. Key players operating in the anhydrous milk fat market have adopted product launch, business expansion, and mergers & acquisitions as key strategies to expand their anhydrous milk fat market share, increase profitability and remain competitive in the market.
To boost sales of their products, market players are emphasizing the newest marketing trends. Vendors are assisted by clever marketing strategies in outlining the advantages of consuming butter oil goods. Along with building consumer loyalty and trust, these strategies also aid in raising brand visibility and recognition. To persuade customers to purchase anhydrous milk fat products, vendors in the market are initiating marketing efforts on various social media platforms such as YouTube, Facebook, and Instagram.
Key Benefits For Stakeholders
This report provides a quantitative analysis of the anhydrous milk fat market size, segments, current trends, estimations, and dynamics of the anhydrous milk fat market analysis from 2021 to 2031 to identify the prevailing anhydrous milk fat market opportunity.
The market research is offered along with information related to key drivers, restraints, and opportunities.
Porter's five forces analysis highlights the potency of buyers and suppliers to enable stakeholders make profit-oriented business decisions and strengthen their supplier-buyer network.
In-depth analysis of the anhydrous milk fat market segmentation assists to determine the prevailing market opportunities.
Major countries in each region are mapped according to their revenue contribution to the global market.
Market player positioning facilitates benchmarking and provides a clear understanding of the present position of the market players.
The report includes the analysis of the regional as well as global anhydrous milk fat market trends, key players, market segments, application areas, and market growth strategies.
 Anhydrous Milk Fat Market Report Highlights
Aspects
Details
Market Size By 2031
USD 6 billion
Growth Rate
CAGR of 7.2%
Forecast period
2021 - 2031
Report Pages
250
Nature
Application

Dairy
Bakery
Confectionary
Others

Distribution Channel

Online
Offline

Sub-type

Supermarkets/hypermarkets
Convenience stores
Specialty stores
Others

By Region

North America (U.S., Canada, Mexico)
Europe (Germany, Netherlands, UK, France, Italy, Spain, Russia, Poland, Rest of Europe)
Asia-Pacific (China, Japan, India, Indonesia, Thailand, South Korea, Vietnam, Malaysia, Rest of Asia-Pacific)
LAMEA (Brazil, Argentina, United Arab Emirates, Saudi Arabia, South Africa, Rest of LAMEA)

Key Market Players
Royal VIVBuisman, Interfood Holding BV, Eurial Ingredients & Nutrition, Lactalis Group, Polmlek Group, Asha Ram & Sons Pvt. Ltd., Royal FrieslandCampina N.V., Gloria Argentina SA, Vitusa Corp, UGA Group