The dextrin market size was valued at $2,785.8 million in 2020 and is estimated to reach $4,032.7 million by 2030, registering a CAGR of 3.4 from 2021 to 2030.          
Dextrin is a colorless, gummy, low molecular carbohydrate that is odorless and tasteless. It is formed as a result of hydrolysis of either starch or glycogen.  Dextrin used in food is mostly made from non-wheat sources, like tapioca, rice, or potatoes. In these cases, dextrin can be available with absolutely gluten free. Dextrin is majorly used in the food industry. It is not directly used but as a substance needed in the processing and finishing of food. Other uses include using it as a stiffening agent in the textile industry, as an adhesive in glues and as a binding agent in the pharmaceutical industry. Growing number of food small and medium sized manufacturing units and increasing use of dextrin is expected to garner the growth of the product market during the forecast period.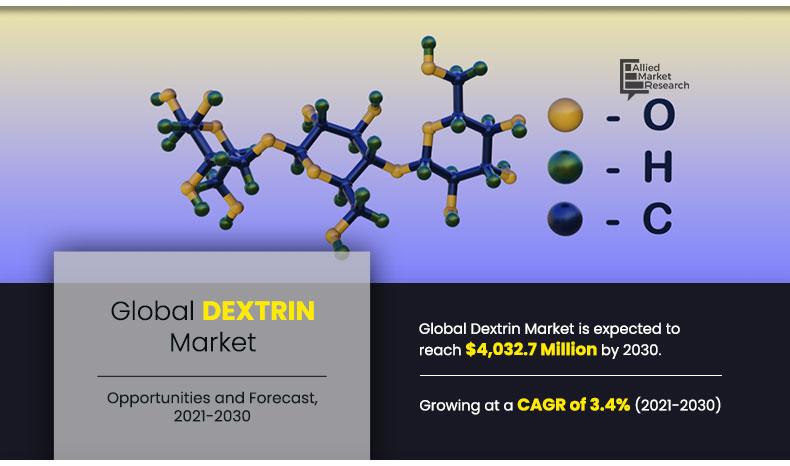 Get more information on this report : Request Sample Pages
Dextrin is high source of fiber, it is also considered a prebiotic. Increasing concern about health and growing demand for high nutritional and functional for human and animal consumption are expected to surge the global dextrin market growth. For instance, soluble dextrin comprised of at least 40% soluble fiber and having an average molecular weight of approximately 2500 atomic mass units. Owing to this rich source of fiber and average molecular weight, it is being considerably used in animal feed composition, thus increasing the demand for dextrin through animal feed sector. 
There are enormous human health benefits associated with dextrin such as maintain digestive health, main healthy blood sugar level and  It has been also shown to decrease triglyceride levels, which can increase your risk of strokes and heart disease. Thus, growing awareness regarding benefits of the dextrin in food and increasing use of dextrin in food and beverages, cosmetic and pharmaceutical industry is expected to upsurge the dextrin demand. 
The outbreak of COVID19 has largely and negatively impacted product market. This is attributed to the lockdown implemented across various countries, which has hampered food processing and other processing industries. The pandemic is having a profound impact on the world, and is still affecting many parts of the world. It is unlikely that the global product market will recover any time soon as manufacturing units are regaining their momentum. Lockdowns across the globe in 2020 and continuing restrictions in 2021 disrupted the supply chain posing challenges for manufactures in the dextrin market. Intense competition, pricing issues, and shifting consumer preferences will continue the downward pressure on vendors' profit margins.
According to the dextrin market analysis, the dextrin market segmented into type, application, and region. On the basis of type, the market is categorized into Maltodextrin, Cyclodextrin, Amylodextrin and Others. By application, it is bifurcated into Food, Pharmaceutical, Industrial, Cosmetics and Others. Region wise, it is analyzed across North America (the U.S., Canada, and Mexico), Europe (Germany, France, UK, Italy and Spain, Rest of Europe), Asia-Pacific (China, Japan, India, Australia, South Korea and Rest of Asia-Pacific), and LAMEA (Latin America, Middle East and Africa).
On the basis of type, the maltodextrin segment was the highest contributor to the dextrin market and is expected grow at CAGR of 3.1% during the forecast period. Maltodextrin, a polysaccharide, is derived from starch through partial hydrolysis and used as a food additive. It generally appears as a white hygroscopic spray-dried powder and is often used in soft and energy drinks, infant foods, breweries, ice-creams, candy and other types of processed foods. Easily digestible, absorbed rapidly and moderately sweet or flavorless some of the properties of the dextrin which makes it one of the ideal additive in food and beverages industry.    
Maltodextrin segment helds the major share of 53.1% in 2020
Get more information on this report : Request Sample Pages
According to the dextrin market trends, on the basis of application, the food segment has gained considerable share in global dextrin market and is estimated to reach $1,022.9 million by 2030, at a CAGR of 3.3%.  Dextrin has been gaining significant traction in the food and beverages industry as it is used as a crispness enhancer for food processing, in food batters, coatings, and glazes. Dextrin is likely to replace various artificial sweetening agents which are highly and frequently used in the food and beverage industry, such as aspartame, saccharin, sucrolose and alitame. Increasing consumption of ready-to-eat foods across the globe owing to hectic lifestyle is expected to fuel the demand for ready-to-eat products including bakery and confectionery products, which boosts the demand for dextrin during the forecast period.
Dextrin Market

---
By Application
Industrial segment helds the major share of 28.4% in 2020
Get more information on this report : Request Sample Pages
According to the dextrin market opportunities. Region wise, Asia-Pacific garnered the major share in product market in 2020, and is expected to maintain its dominance throughout the dextrin market forecast period.  Asia-Pacific has witnessed considerable development in the food industry, which is expected to fuel the growth of the product market. Moreover, Cosmetic and pharmaceutical industry in Asia pacific region specially in developing economies such as China and India are highly favoring the growth of the Asia Pacific dextrin market during the forecast period. 
Asia Pacific region helds the major share of 35.2% in 2020
Get more information on this report : Request Sample Pages
The players operating in the global product market have adopted various developmental strategies to expand their market share, increase profitability, and remain competitive in the market. The key players profiled in this report include Agridient Inc., American Key Products, Inc., Archer-Daniels-Midland Company (ADM), Cargill Inc., Emsland Group, Ingredion Incorporated, Meelunie B.V, Puris, Roquette Frères and TATE & LYLE PLC.
Key Benefits For Stakeholders
The report provides a quantitative analysis of the current trends, estimations, and dynamics of the market size from 2020-2030 to identify the prevailing opportunities.
Porter's five forces analysis highlights the potency of buyers and suppliers to enable stakeholders to make profit-oriented business decisions and strengthen their supplier–buyer network.
In-depth analysis and the market size and segmentation assist to determine the prevailing market opportunities.
The major countries in each region are mapped according to their revenue contribution to the Dextrin market share. 
The market player positioning segment facilitates benchmarking and provides a clear understanding of the present position of the market players in the dextrin industry.
Key Market Segments  
By Type
Maltodextrin
Cyclodextrin
Amylodextrin
Others 
By Application
Food
Pharmaceutical
industrial
Cosmetics
Others 
By Region
North America
Europe

Germany
France
UK
Italy
Spain
Rest of Europe

Asia-Pacific

China
Japan
India
Australia
South Korea
Rest of Asia-Pacific

LAMEA

Latin America
Middle East
Africa