Microgreens Market Research, 2028
The global microgreens market size was valued at $1.3 billion in 2019, and is projected to reach $2.2 billion by 2028, growing at a CAGR of 11.1% from 2021 to 2028.
COVID-19 pandemic has interrupted the supply chain of food products at local level as well, with only essential food items were allowed to transport. The emerging economies, such as China and India, were not able to meet the demand for microgreens, especially broccoli.
Microgreens are young, tender vegetable greens that are approximately 1-3 inches tall. They are harvested 7-14 days after germination, when they have two fully developed cotyledon leaves. Often called vegetable confetti. Microgreens are basically used to enhance the color, texture, or flavor of different foods such as pasta, pizza, omelets, and salads, due to their intense aromatic flavor and variety of colors and textures. They constituent a number of vitamins, minerals, and antioxidants.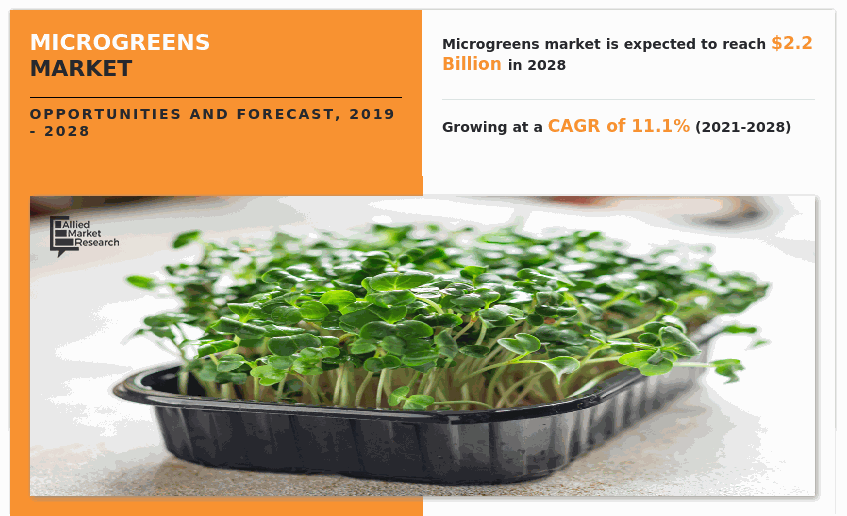 Increase in spending for premium food products, healthy functional & nutritional food and growth in adoption of indoor vertical and greenhouse farming are some of the factors driving the microgreens market growth during the forecast period. Indoor vertical and greenhouse farming is majorly used for the production of microgreens as it requires intense care through controlled environment. Furthermore, growth in cosmetics and personal care industry is likely to drive the growth of the product market during the forecast period, as microgreens-based oils and ingredients are majorly demanded for the production of consumer items such as shampoo and skincare products. Rise in adoption of farm mechanization and growth in awareness regarding the high-tech farming methods including hydroponics, aeroponics and aquaponics are expected to favor the Microgreens Market Growth.
The outbreak of the COVID-19 pandemic has negatively affected the Microgreens Market Demand. Sales of microgreens have witnessed significant decrease due to disturbed supply chain and closers of restaurants and grocery stores, which are vital distributing points and end users of the microgreens. 
According to microgreens market analysis, the market is segmented on the basis of type, farming, end user, and region. On the basis of type, the market is categorized into broccoli, cabbage, cauliflower, arugula, peas, basil, radish, cress and others. By farming, it is segregated into indoor vertical farming, commercial greenhouses and others. By end user, market is segmented into retail, food service, and others. Region wise, it is analyzed across North America (the U.S., Canada, and Mexico), Europe (Russia, Spain, Italy, France, Germany, UK, Rest of Europe), Asia-Pacific (China, Japan, India, South Korea, Australia and Rest of Asia-Pacific), and LAMEA (Latin America, Middle East, Africa) 
On the basis of type, the broccoli segment has been gaining major share in the global microgreens market and is expected to sustain its share during the forecast period. This is majorly attributed to health benefits associated broccoli microgreens such as fighting inflammation, cancer prevention, improved heart health, and improved digestion. Broccoli microgreens rich dark greens are a great addition to any mix due to their tangy flavor. Growth in health-conscious people and awareness regarding health benefits of the broccoli microgreens are likely to surge the growth of the global microgreens market though broccoli microgreens segment.  
Microgreens Market

---
By Type
Broccoli Microgreens segment helds the major share of 25.2% in 2019.
According to microgreens market trends, depending on farming, the vertical farming segment was valued at $776.0 million in 2019, and is expected to reach $1,361.1 million by 2028, with a CAGR of 11.3%. 
Indoor vertical farming is cultivation of the agriculture produce in controlled environment such as in building, where crops are provided with required environment such as temperature, light, appropriate water, and growth medium. This farming method has been gaining major traction in the global product market as it allows growers take production in any season and it increase the productivity of land. According to the United Nations, the world population is expected to reach 9.8 billion by 2050 and it is not possible to fulfill the food demand with conventional farming methods. Currently, agriculture production is decreasing day-by-day, owing to decreasing fertility of agriculture land and depletion of natural resources.
Microgreens Market

---
By Farming
Indoor Vertical Farming segment helds the major share of 60.81% in 2019.
On the basis of end user, the food service segment is projected to grow at $1,242.8 million by 2028, registering a CAGR of 10.5%. Microgreens are majorly used in restaurants as flavoring and garnishing agent, owing to its spicy taste and crunchy texture. It enhances taste and color of various food items prepared in the restaurants such as mix salad, juice, pastas, and omelets. Key players in the market are continuously evolving requirements for the commercial industry by modifying and innovating existing microgreens just like non-microgreens products. As a result, frequent product launches, especially for the food service segment have been witnessed in the past few years.
Microgreens Market

---
By End User
Food Service segment helds the major share of 59.2% in 2019.
Region wise, North America dominated the microgreens market in 2019, and is expected to sustain its dominance throughout the microgreens market forecast period. U.S. has been gaining major share in North America market and is expected to sustain its share during the forecast period. Rise and evolution of wellness focused diets, which include green vegetables salad and organic-based food items is expected to attract people toward the microgreens. In the U.S., the demand for microgreens is witnessing growth at a significant rate, owing to health benefits associated with its consumption such as reduce risk of heart diseases, chronic diseases, cancer, and Alzheimer. Consumers are increasingly opting for high protein consumption, resulting in strong requirement of high protein and low carb food products. Thus, vegetable growers are focusing on cultivation of microgreens along with vegetables and increasing area under protected cultivation. For instance, according to the FAO 2017 and Hickman 2019, the area under protected cultivation in the U.S. is 15,000 ha, which is majorly used for growing tomato, herbs, cucumber, capsicum, and strawberry. Furthermore, area under protected cultivation in Mexico is 40,862 ha. Thus, growing area under protected cultivation in North America is expected to favor the growth of the product market during the forecast period.
Microgreens Market

---
By Region
North America region helds the major share of 41.2% in 2019.
The players operating in the global microgreens market have adopted various developmental strategies to expand their microgreens market share, increase profitability, and remain competitive in the market. The key players profiled in this report include AeroFarms, Fresh Origins, Gotham Greens, Madar Farms, 2BFresh, The Chef's Garden Inc., Farmbox Greens LLC, Living Earth Farm, GoodLeaf Farms, and Bowery Farming. 
Key Benefits For Stakeholders
This report provides a quantitative analysis of the market segments, current trends, estimations, and dynamics of the microgreens market analysis from 2019 to 2028 to identify the prevailing microgreens market opportunities.
The market research is offered along with information related to key drivers, restraints, and Microgreens Market Opportunity.
Porter's five forces analysis highlights the potency of buyers and suppliers to enable stakeholders make profit-oriented business decisions and strengthen their supplier-buyer network.
In-depth analysis of the microgreens market segmentation assists to determine the prevailing market opportunities.
Major countries in each region are mapped according to their revenue contribution to the global Microgreens Industry.
Market player positioning facilitates benchmarking and provides a clear understanding of the present position of the Microgreens Industry players.
The report includes the analysis of the regional as well as global microgreens market trends, key players, market segments, application areas, and market growth strategies.
 Microgreens Market Report Highlights
Aspects
Details
By Type

Broccoli
Cabbage
Cauliflower
Arugula
Peas
Basil
Radish
Cress
Others

By Farming

Indoor vertical farming
Commercial greenhouse
Others

By End User

Retail
Food Service
Others

By Region

North America (U.S., Canada, Mexico)
Europe (Netherlands, Rest of Europe, Russia, Spain, Italy, France, Germany, U.K.)
Asia-Pacific (China, Japan, India, South Korea, Australia, Rest Of Asia Pacific)
LAMEA (Latin America, Middle East, Africa)

Key Market Players
AeroFarms, Fresh Origins, Gotham Greens, Madar Farms, 2BFresh, The Chef's Garden Inc., Farmbox Greens LLC, Living Earth Farm, Bowery Farming, Teshuva Agricultural Projects Ltd