Seaweed Extracts Market Research, 2032
The global seaweed extracts market was valued at $2 billion in 2022, and is projected to reach $3.5 billion by 2032, growing at a CAGR of 6.1% from 2023 to 2032.
Increase in demand for sustainable agriculture is growing at a rapid rate, which has driven the growth of seaweed extracts market. Moreover, expansion in product variety, integration of seaweed extracts in pharmaceuticals and cosmetic products, along with increased awareness regarding the benefits of seaweed extracts have increased the market opportunities for seaweed extracts.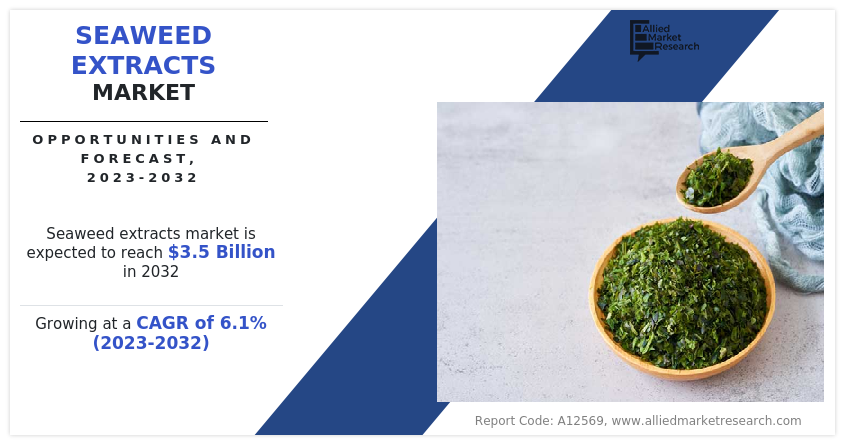 Seaweed extracts are sourced from marine plants such as ascophyllum, ecklonia (kelp), and various other species of seaweed that undergo a meticulous production process. The harvested seaweed is cleansed to eliminate saltwater content, which is then subjected to composting or water-based fermentation until the organic materials break down into a slurry.
Seaweed extracts slurry is used in agriculture for several purposes owing to its beneficial properties, which drives the growth of the market in agricultural sector. These extracts from seaweeds stimulate plant growth and improve yields in major crop plants such as carrot, cauliflower, wheat, lettuce, among others. As a result, these extracts help to stimulate root and shoot growth, which thus leads to increased overall plant growth and higher crop production. This may be particularly beneficial in regions such as Arctic and subarctic regions, northern European countries, and other high-altitude plateaus that have short growing seasons owing to high latitudes and cold climates. Farmers don't have a lot of time to grow and harvest their crops because the growing seasons are short. So, if they use seaweed extracts to speed up plant growth, it could help crops mature faster. This allows for quicker turnover between planting and harvesting, that enables multiple crop cycles within a single growing season. Thus, farmers may increase their profitability by selling more crops within the same growing season. Furthermore, the increasing reliance of the agricultural sector on seaweed extract for its beneficial properties directly drives the Seaweed Extracts Market Demand, which results in a surge in orders and sales for manufacturers. This expanded use of seaweed extracts in agriculture opens a new and potentially vast market segment for these key players operating in the market, diversifying their customer base and revenue streams.
The surge in the popularity of organic products in the market has led to a significant increase in the demand for seaweed extracts. The growth of sustainable and chemical-free practices in organic farming has made seaweed extracts a suitable choice for various agricultural products such as fertilizers and foliar sprays, which has driven the market share of seaweed extracts. This trend aligns with the growing trend of health-conscious consumers preferring organic and clean-label options in food and beverages, thereby boosting the demand for seaweed extracts in these product categories. For instance, New Frontier Foods produces Ocean's Halo Organic Ramen Noodle Bowls and Broths, which include seaweed extracts in their ingredients. These products cater to consumers seeking convenient and organic meal options. The demand for organic and nutrient-rich foods has the potential to enhance the value of food products infused with seaweed extracts, which may lead to increased sales and improved profit margins for manufacturers of organic food products. This may lead to increased demand for seaweed extracts in the organic food product sector. Furthermore, the seaweed extract market is expected to experience rapid growth as organic and clean-label food products continue to expand during the Seaweed Extracts Market Forecast.  
MARKET DYNAMICS
Seaweed extracts, known for their versatile applications within the agricultural industry, play a major role in promoting sustainable farming practices, which thereby facilitates the steady expansion of the seaweed extracts market. The reliance on pesticides and synthetic fertilizers presents a significant challenge for farmers practicing sustainable agriculture. As a result, seaweed extracts serve as vital biofertilizers and soil stabilizers, which thereby enhances soil productivity and helps to reduce the use of synthetic fertilizers among farmers. In addition, these extracts offer abundant micronutrients that consequently improve phosphorus accessibility and lead to increased production of food crops. Seaweed extracts enhance soil structure, help in water retention, and aid in metal binding, which thus enhances soil health and protects plant resilience against various biological and abiotic factors.  These benefits of seaweed extracts result in nutrient-enriched crops, improved soil quality, effective water management, and enhanced plant resilience. These benefits contribute to higher crop yields and the production of healthier and more resilient food crops for farmers. Manufacturers of seaweed extracts such as Agri Begri, Maxicrop, Bio Atlantis, and Olmix Group, have met the sustainable agricultural needs and demands by providing environmentally friendly, nutrient-rich, and disease-resistant solutions, which is expected to help farmers shift toward more sustainable practices, aligning with changing consumer and environmental priorities. 
Moreover, seaweed extracts represent a valuable biological resource because they are free from foreign seeds and pathogens. This characteristic has significantly increased the utilization of seaweed extracts in fertilizers and other agricultural applications. These attributes of seaweed extracts make them suitable for a wide range of crops, irrespective of whether these extracts are organic or conventional in nature. Seaweed extracts, being entirely natural, are well-suited for integration into farming practices, driving their adoption in the agricultural sector, thereby increasing the demand for seaweed extracts. Governments and regulatory bodies have initiated programs aimed at promoting sustainable agriculture through incentives and regulations. This favorable regulatory environment is expected  to boost the demand for seaweed extracts as a sustainable agricultural input. Increased interest in seaweed extracts stimulates innovation and research in the field. Many agricultural research institutions and universities may benefit from funding and opportunities to contribute to the development of seaweed-based agricultural solutions. Furthermore, increasing awareness among farmers regarding the benefits of seaweed extracts in agriculture, such as providing essential nutrients, improving stress tolerance, enhancing disease resistance, and reducing chemical inputs, is expected to boost Seaweed Extracts Market Growth.  
However, price volatility in seaweed extracts poses a challenge to the steady growth of the seaweed extracts market, that may impact various stakeholders within the industry in the coming years. The COVID-19 pandemic and the war in Ukraine have disrupted the seaweed supply chain, which had made it difficult and expensive to obtain seaweed for food manufacturers. In addition, seaweed extracts are produced using energy intensive processes such as drying and grinding. Rising energy prices have increased the cost of producing seaweed extracts. Moreover, climate change and environmental fluctuations affect the conditions for seaweed cultivation, which directly impacts both production and the quality of manufactured seaweed extracts. These fluctuations may disrupt supply chains, causing transportation delays and labor shortages, potentially leading to shortages of seaweed extracts in the market. Price fluctuations may reduce profit margins for both manufacturers and retailers within the seaweed extract market. As a result, manufacturers is expected struggle to maintain consistent pricing for their products, and retailers might find it challenging to set stable retail prices. This may result in lower profit margins for both, affecting the overall profitability. Furthermore, investors are less confident in supporting businesses in the seaweed extract market owing to the uncertainty and instability associated with price volatility in seaweed extract market. This is expected to impact the flow of capital into the industry, thus hampering the Seaweed Extracts Market Share.  
The increased utilization of seaweed extracts in animal feed presents significant opportunities within the seaweed extracts market. Historically, farmers have relied on seaweed as a valuable feed source for both livestock and aquaculture. With a yearly global production of 150,000 tons of seaweed meal, numerous prospects exist to enhance food efficiency in the livestock industry through marine resource utilization.  Incorporating seaweed extracts into animal diets is expected to enhance animal health and disease resistance by providing essential micronutrients. For instance, the consumption of seaweed extracts has been linked to reductions in conditions such as mastitis and bovine fever in cattle. As a result, macroalgae such as seaweed extracts are either directly administered to animals or processed into seaweed meals for use in feed. These extracts, rich in essential nutrients and bioactive compounds, significantly increase the nutritional content of animal diets, which in turn promotes the well-being and growth of livestock and aquaculture species.  
Certain seaweed extracts, such as those from red algae, have been found to significantly reduce methane production in the digestive systems of animals, such as cows and sheep. This is significant in addressing greenhouse gas emissions from livestock. Some regions, such as the U.S., Australia, Ireland, and New Zealand, along with governments, are promoting the use of seaweed-based animal feed as part of their efforts to reduce greenhouse gas emissions and support sustainable agriculture practices. The increasing use of seaweed extracts in animal feed, particularly for methane reduction, offers significant benefits to manufacturers in the market. It can result in increased demand, market expansion, product innovation, and long-term contracts between seaweed extract manufacturers and animal feed producers. Therefore, the increasing utilization of seaweed extracts in animal feed has substantial potential to boost the Seaweed Extracts Market Size in coming years. 
SEGMENTAL OVERVIEW
The seaweed extracts market is analyzed on the basis of source, form, application, and region. By source, it is divided into red seaweed, brown seaweed, and green seaweed. As per form, it is categorized into liquid, powder, and flakes. Depending on application, it is fragmented into food and beverages, agriculture, pharmaceuticals, and others. Region wise, it is analyzed across North America, Europe, Asia-Pacific, and LAMEA.
BY SOURCE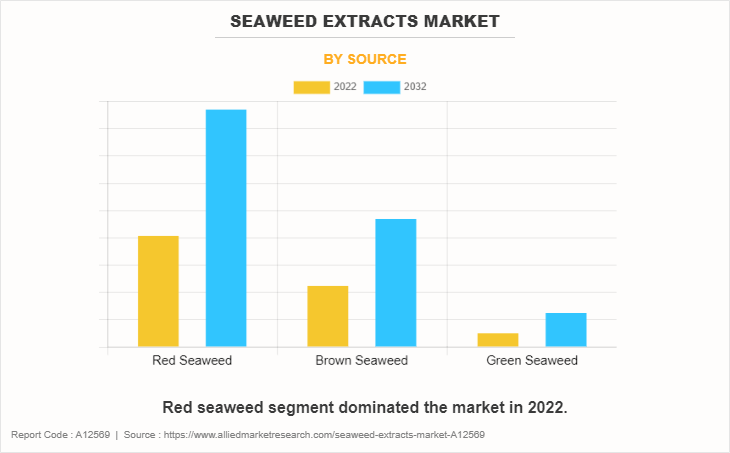 As per the source, the red seaweed segment dominated the seaweed extracts market in 2022 and is anticipated to maintain its dominance throughout the forecast period. Seaweed extracts derived from red seaweed, such as carrageenan and agar, have found extensive applications as thickeners and stabilizers in the food and beverage industry, driving the growth of the red seaweed segment. In addition, red seaweed extracts serve as functional ingredients in dietary supplements and functional food, aligning with consumer preferences for clean labels and health-conscious trends. Red seaweed extracts aren't just limited to one field; they're making waves in cosmetics and pharmaceuticals too. In the beauty world, these extracts are gaining popularity for their skin-loving qualities like anti-aging, skin brightening, soothing effects, environmental protection, collagen stimulation, and overall skin health improvement. This surge in demand is pushing their use in skincare products. On top of that, ongoing research is uncovering potential medicinal benefits, such as antiviral and anti-inflammatory properties, leading to an uptick in their use in the pharmaceutical industry. Furthermore, product variety and innovation have created new opportunities for market growth in this category.
BY FORM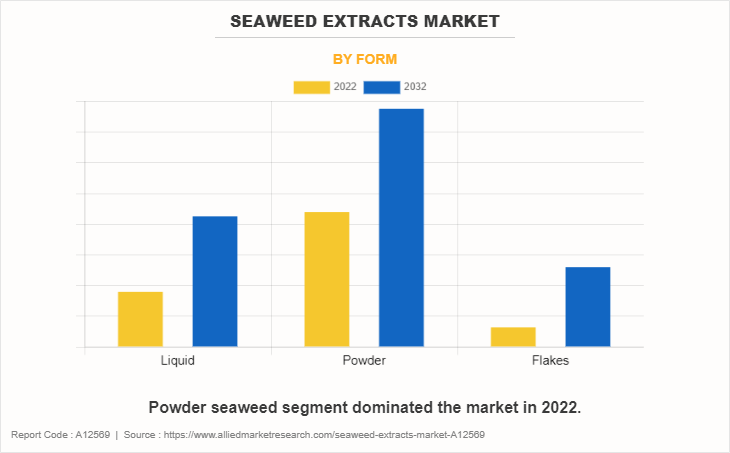 By form, the powder segment dominated the seaweed extracts market in 2022 and is anticipated to maintain its dominance throughout the forecast period. Powdered seaweed extract boosts a longer shelf life compared to other available forms. Its powder form is less prone to spoilage and quality degradation, making it usable for an extended period. It is also easier to mix and apply, leaving no residue behind. Furthermore, powdered seaweed extract offers versatility in its application, including uses such as foliar sprays and seed treatment. This versatility contributes to the increasing demand for powdered seaweed extracts in the market. 
BY APPLICATION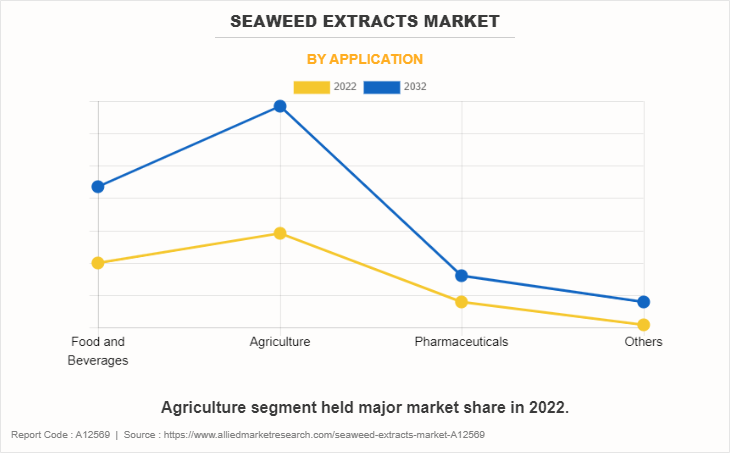 Depending on the application, the agriculture segment dominated the seaweed extracts market in 2022 and is anticipated to maintain its dominance throughout the forecast period. Farmers have discovered that seaweed extracts are like superfood for crops. They help plants grow better, shield them from environmental challenges, and boost their overall health. These extracts contain special plant-boosting ingredients that really kickstart seed growth and make roots stronger, resulting in healthier plants overall. That's why seaweed extracts are now a popular choice for farmers looking to give their crops a natural boost. The utilization of seaweed extracts serves as a natural means to boost the productivity of different crops and other agricultural produce. Thus, the application of seaweed extracts in agriculture is expected to increase with the growing demand for sustainable and organic fertilizers in the coming years.
BY REGION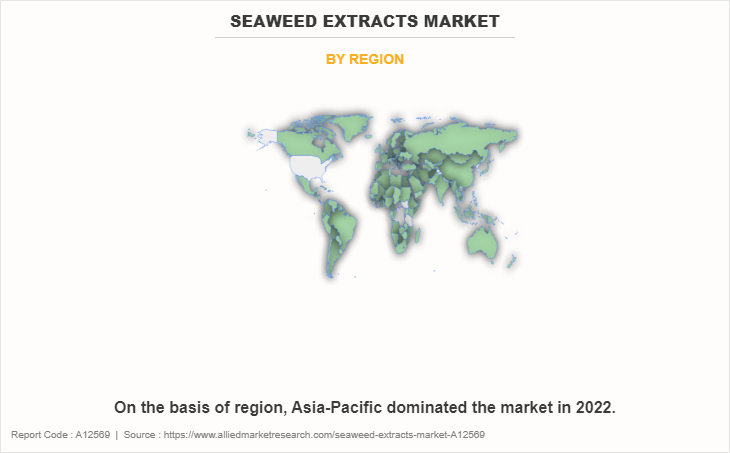 Region wise, Asia-Pacific is estimated to dominate the market with the largest share during the forecast period (2023-2032). The growth of the middle-class population contributes to the overall expansion of the agricultural market in Asia-Pacific region. This increased demand for food products necessitates innovative and sustainable farming practices, which, in turn, drives the adoption of seaweed extracts by farmers to enhance crop yields and quality. Moreover, the rise in the global popularity of Asian cuisines, the expansion of the health and wellness sector, and  a strong emphasis on coping with growth in population drive the increasing demand for seaweed extracts in the Asia-Pacific region. This trend is expected to continue as consumers actively seek healthier and more sustainable products. Furthermore, with evolving dynamics in the food service industry and a growing need for convenient products, the market for seaweed extracts is anticipated to expand in this region. 
COMPETITION ANALYSIS
The major players analyzed for the seaweed extracts industry include Suboneyo Chemicals Pharmaceuticals P Limited, Humate (Tianjin) International Limited, North American Kelp, Changsha New-Nutri Agriculture & Technology Co., Ltd., Sushil Corporation, Maine Coast Sea Vegetables, Inc., Ocean Rainforest, Inc., Kelpak, Technaflora Plant Products Ltd., and Tagrow Co., Ltd. 
Manufacturers of seaweed extracts are creating new products and formulae to meet the change in requirements of their customers. The key players have made investments in R&D to create novel combinations of extracts with enhanced functionality, stability, and selectivity and create new applications for existing seaweed extracts. Along with developing new products, enhancing production methods, and navigating regulatory requirements, manufacturers of seaweed extract frequently work with farmers, regulatory organizations, and other industry players. Manufacturers may increase their capacities, pool their knowledge, and create new solutions using seaweed extracts through these collaborations. Manufacturers are improving their production capacity and cutting costs, which may involve both investing in new production facilities and renovating current ones to keep up with the rising demand for seaweed extracts.   
The market for seaweed extracts is anticipated to expand owing to a rise in sustainability trends, public knowledge of the advantages of chemical free products, and development of new and effective seaweed extract. In addition, factors such as innovation, collaboration, product launch, and expansion, are opportunistic for market growth. 
Key Benefits For Stakeholders
This report provides a quantitative analysis of the market segments, current trends, estimations, and dynamics of the seaweed extracts market analysis from 2022 to 2032 to identify the prevailing seaweed extracts market opportunities.
The market research is offered along with information related to key drivers, restraints, and opportunities.
Porter's five forces analysis highlights the potency of buyers and suppliers to enable stakeholders make profit-oriented business decisions and strengthen their supplier-buyer network.
In-depth analysis of the seaweed extracts market segmentation assists to determine the prevailing market opportunities.
Major countries in each region are mapped according to their revenue contribution to the global market.
Market player positioning facilitates benchmarking and provides a clear understanding of the present position of the market players.
The report includes the analysis of the regional as well as global seaweed extracts market trends, key players, market segments, application areas, and market growth strategies.
 Seaweed Extracts Market Report Highlights
Aspects
Details
Market Size By 2032
USD 3.5 billion
Growth Rate
CAGR of 6.1%
Forecast period
2022 - 2032
Report Pages
298
By Source

Red Seaweed
Brown Seaweed
Green Seaweed

By Form
By Application

Food and Beverages
Agriculture
Pharmaceuticals
Others

By Region

North America (U.S., Canada, Mexico)
Europe (UK, Germany, Spain, Russia, France, Rest of Europe)
Asia-Pacific (China, Japan, South Korea, India, Australia, Rest of Asia-Pacific)
LAMEA (Brazil, Argentina, South Africa, Rest of LAMEA)

Key Market Players
Changsha New-Nutri Agriculture & Technology Co.,Ltd., Tagrow Co., Ltd., Technaflora Plant Products, Sushil Corporation, Ocean Rainforest, Inc., Suboneyo Chemicals Pharmaceuticals P Limited, Kelp Products International, Humate (Tianjin) International Limited, North American Kelp, Maine Coast Sea Vegetables, Inc.
Analyst Review
The perspectives of the leading CXOs in the seaweed extracts industry are presented in this section. The seaweed extracts market is an expanding segment, and the top executives are optimistic about its growth potential. Food & beverages applications for seaweed extracts include sauces, chocolates, candies, jams, and preservatives. Seaweed extracts are a rich source of vitamins, minerals, and other nutrients that have been shown to have a number of health benefits, including improved gut health, reduced inflammation, and boosted immunity, which is expected to increase the demand for these extracts in coming years. 
The CXOs state that increase in demand for food & beverages products, popularity of diet-based products, and increase in need for convenient and clean-labeled ingredients propel the market for seaweed extracts. Demand for seaweed extracts is further driven by shift in customer preferences and market dynamics, such as the effect of the COVID-19 pandemic on the food ingredient sector.???? ??? 
Seaweed extracts have gained widespread utilization across various industries, including cosmetics, pharmaceuticals, and agriculture. The escalating adoption of seaweed extracts, coupled with a growing awareness among farmers regarding their positive impact on crops, is anticipated to drive substantial market expansion. The seaweed extracts sector is characterized by intense competition attributable to the presence of numerous established industry players. Therefore, companies must differentiate their products, lower prices, and maintain high quality to succeed in this market. They need to focus on market dynamics as well as change in regulatory frameworks related to sales & distribution of food items around the globe.???? 
???