The Vegan Cheese market size was valued at $1,237.8 million in 2019, and is estimated to reach $4,425.6million by 2027, registering a CAGR of 15.5% from 2021 to 2027.         
Vegan cheese is entirely plant-based food product is one of the dairy alternatives. Various plant-based milk sources are used to make vegan cheese, which includes soy milk, coconut milk, peanut milk, almond milk, and oat milk. Growth in flexitarian and vegan population and rise in voice against animal slaughtering and concerning about their welfare are major attributes for the growth of the vegan cheese market during the forecast period. Vegan cheese in the diet adds benefits to individual physiological state. Furthermore, lactose indolent and dairy allergic people are increasingly inclining toward the plant-based foods. As plant-based food products provide protein, vitamins, and carbohydrates like dairy product.
The food service industry has been significantly contributing for the growth of the vegan cheese market as hotel, restaurants, and fastfood outlets are labeling their products with vegan cheese and also serving food with vegan cheese as appetizer. Furthermore, growth in urbanized and millennial population, which are potential and targeted consumer group are majorly influencing factors for the product growth. Young population is concerning for the heath and getting aware of benefits of plant-based dairy products including cheese.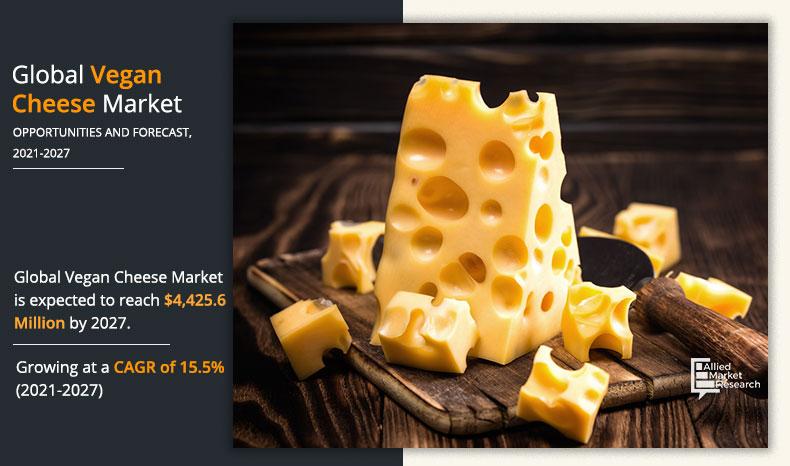 The report segments the vegan cheese market into product, source, end use, and region. On the basis of product, the market is categorized into mozzarella, cheddar, pepper jack, parmesan, gouda, and other. By source, it is segregated into soy milk, almond milk, rice milk, and other. According to end use, it is divided into household, food industry, and foodservice industry. Region wise, the market is analyzed across North America (the U.S., Canada, and Mexico), Europe (Germany, the UK, France, Russia, Italy, Spain, and rest of Europe), Asia-Pacific (China, India, Japan, Australia, South Korea, and rest of Asia-Pacific), and LAMEA (the Middle East, Latin America, and Africa).  
Vegan Cheese Market

---
By Product
Mozzarella segment helds the major share of 30.4% in 2019
On the basis of products, the parmesan segment accounted for the around one-third half of the global vegan cheese market share in 2019and is expected to sustain its share during the forecast period. Vegan parmesan cheese is widely used in Italian cuisines such as pasta, spaghetti, and macaroni. Thus, rise in demand for continental cuisines has fueled the need for vegan parmesan cheese. The intense flavor of parmesan and gluten and lactose free content as compared to dairy cheese further augments its demand. Moreover, development in technology and new techniques of cheese production, which aid in making high-quality cheese and reduce the cost of production are projected to provide lucrative opportunities for the market growth in the near future.
Vegan Cheese Market

---
By Source
Soy Milk segment helds the major share of 36.9% in 2019
Depending on source, the almond milk segment was valued at $387.7 million in 2019, and is expected to grow to $1317.6 million by 2027, with a CAGR of 14.7%. In developed countries including the U.S., Japan, and Canada, premium brand and quality almond-based dairy alternative products are in major demand, owing to high disposable income and growth in expenditure on functional food and high concentrated protein and carbohydrates products. Almond cheese is used in making of popular yogurt, which has been significant popularity as it is low in calories, sugar phosphorus, and enriched with vitamin D. Yogurt is produced using various fruits such as peaches, cherries, apricots, papaya, cactus pear, and blueberries, which makes it healthier and more nutritious.  
Vegan Cheese Market

---
By End Use
Household segment helds the major share of 61.5% in 2019
According to vegan cheese market analysis, by end use, the food industry segment is projected to grow at $1,052.3 million by 2027, registering a CAGR of 16.1%. Food industries are promoting their food product by labeling vegan, owing to growing veganism and rise in trend of flexitatrian diet. Growth in the food industry and dynamic changes in consumption pattern is further added to the growth of the vegan cheese market during the forecast period.    
Vegan Cheese Market

---
By Region
Europe region helds the higest market share of 42.0% in 2019
Region wise, Asia-Pacific is the fastest growing market for vegan cheese market and is expected to continue its growth throughout the vegan cheese market forecast period. This is majorly attributed to growing spending on nutritional. Growth in urbanization, increase in spending on health products, and awareness regarding the medicinal benefits of the plants based dairy products are expected to drive the vegan cheese market growth in Asia-Pacific during the forecast period. Furthermore, change in lifestyle and rise in trend of eating out and drastic changes in the food preference is further influencing the growth of the vegan cheese market.
The players in the vegan cheese market have adopted various developmental strategies to expand their market share, increase profitability, and remain competitive in the market. The key players profiled in this report include Bute Island Foods Ltd, GreenSpace Brands, violifefoods.com,    Vtopian Artisan Cheeses., Chicago Vegan Foods, Gardener Cheese Company, Tofutti Brands Inc., Kite Hill, DAIYA FOODS INC., and Nush Foods  
Key Benefits For Stakeholders
The report provides a quantitative analysis of the current vegan cheese market trends, estimations, and dynamics of the market size from 2019 to 2027 to identify the prevailing opportunities.
Porter's five forces analysis highlights the potency of buyers and suppliers to enable stakeholders to make profit-oriented business decisions and strengthen their supplier–buyer network.
In-depth analysis and the market size and segmentation assist to determine the prevailing vegan cheese market opportunities.
The major countries in each region are mapped according to their revenue contribution to the market. 
The market player positioning segment facilitates benchmarking and provides a clear understanding of the present position of the market players in the vegan cheese industry.
 Vegan Cheese Market Report Highlights
Aspects
Details
By Product

Mozzarella
Cheddar
Pepper Jack
Parmesan
Gouda
Other

By Source

Soy Milk
Almond Milk
Rice Milk
Other

By End Use

Household
Food Industry
Foodservice Industry

By Region

North America (U.S., Canada, Mexico)
Europe (Germany, UK, France, Russia, Italy, Spain, Rest of Europe)
Asia-Pacific (China, India, Japan, Australia, South Korea, Rest of Asia-Pacific)
LAMEA (Latin America, Middle East, Africa)

Key Market Players
BUTE ISLAND FOODS LTD., GREENSPACE BRANDS, VIOLIFEFOODS.COM, VTOPIAN ARTISAN CHEESES, CHICAGO VEGAN FOODS, GARDENER CHEESE COMPANY, TOFUTTI BRANDS INC., KITE HILL, DAIYA FOODS INC., NUSH FOODS